Masonic-Eastern Star Home for Children
Providing Quality Child Care for over 100 Years


Fremont Fair
July 12, 2021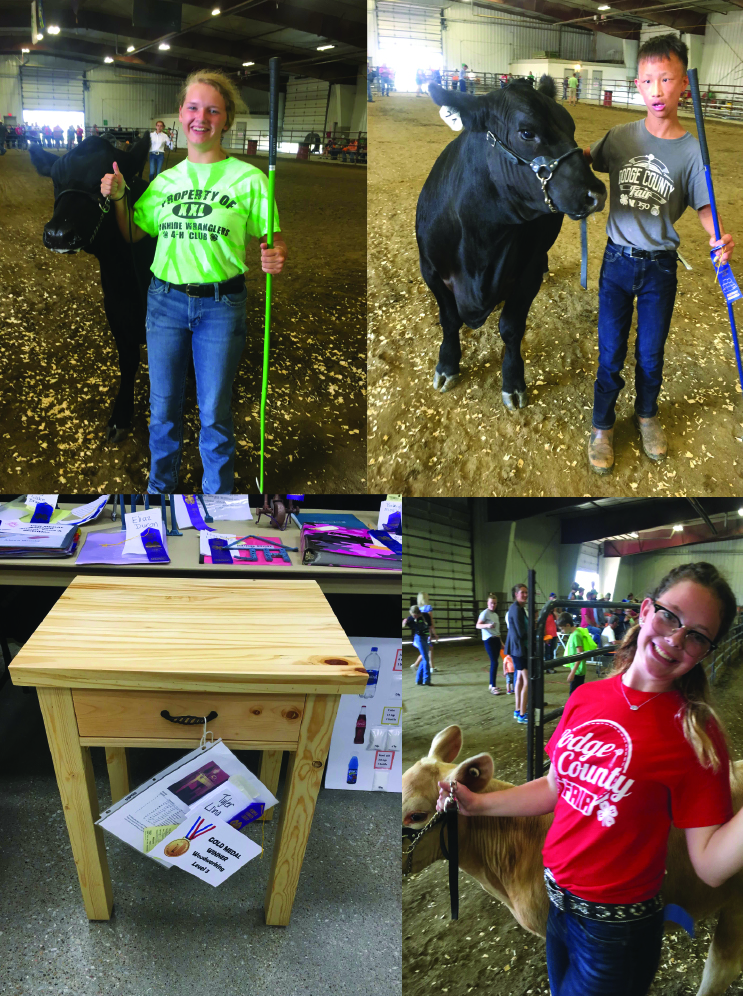 The Rawhide Wrangler 4-H Club earned eleven gold medals and two silver medals at the Fremont 4-H Fair, aka Fremont Expo. 4-H'ers from 9 counties compete annually during the month of July. Even with a lot of quality competition, the Children's Home's 4-H Club did very well.
Woodworking, dairy, welding, electrical and cooking seemed to be the projects that earned the highest marks.
The 4-H'ers will learn from this fair and make adjustments for the Dodge County Fair.
Summer Camp!
July 5, 2021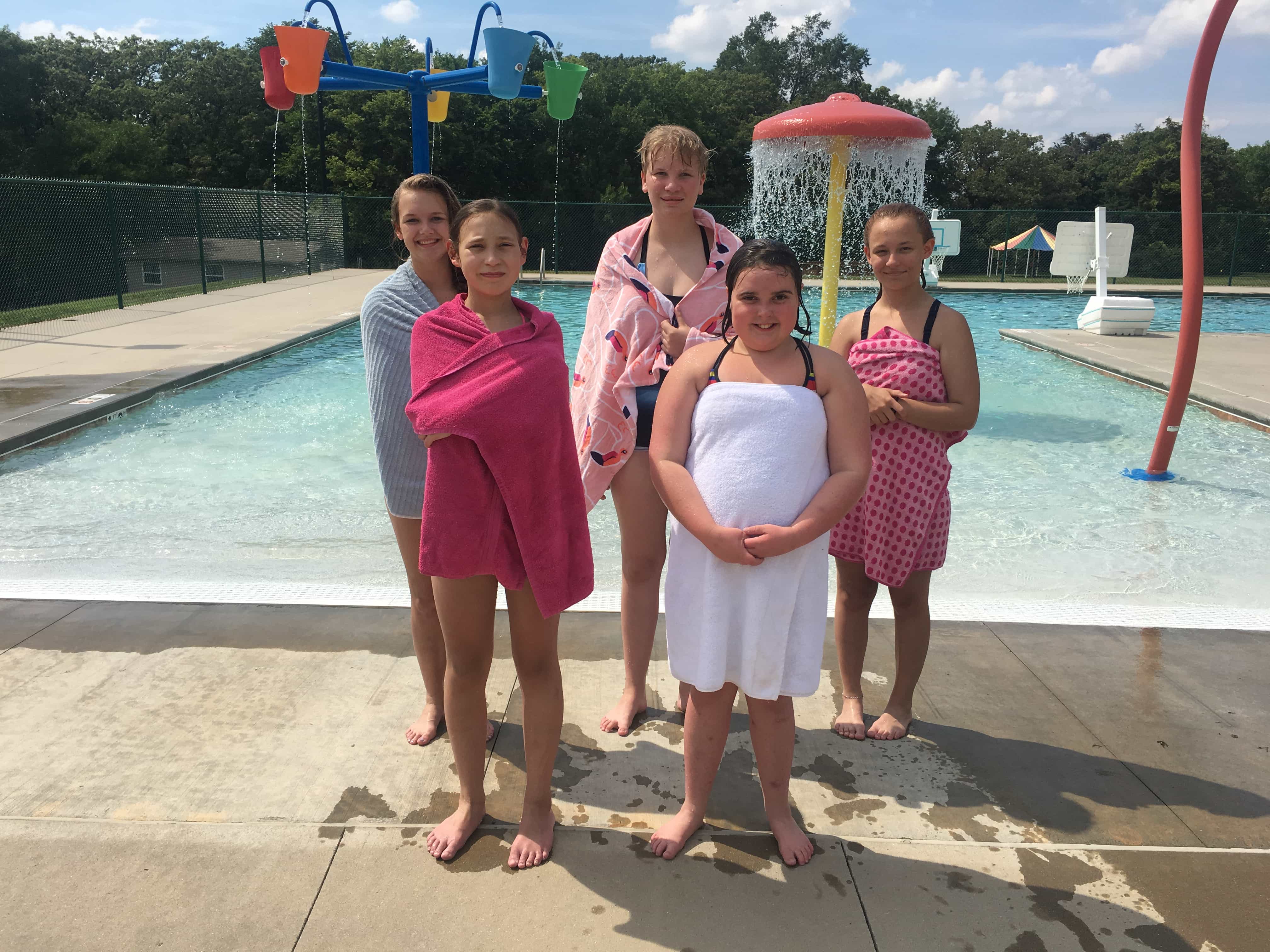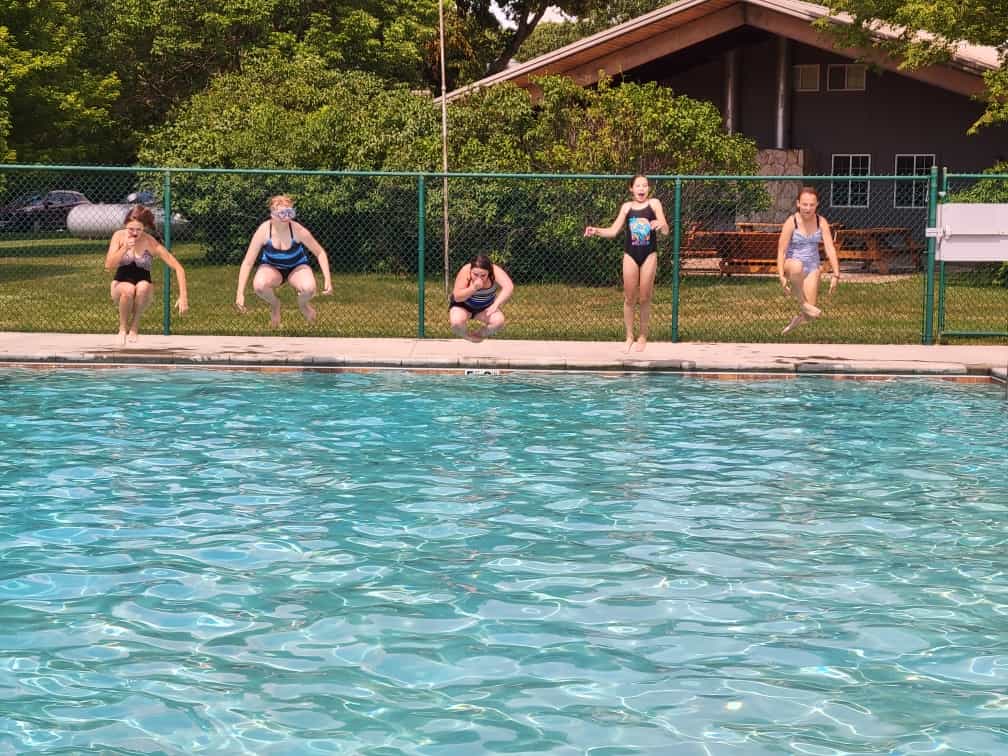 A former Children's Home resident, with great memories of summer camp, has been sponsoring summer camp activities for many years. She continues to this day.
Hiking, volleyball, zip lining, camp fire treats and swimming are some of the many summer camp activities that all of the children participate in. Swimming seems to be the favorite this year.
One girl, who is not from Nebraska, was relieved to know that there are no bears in Nebraska. She needed to know before she went hiking in the woods.
Fishing Derby
June 28, 2021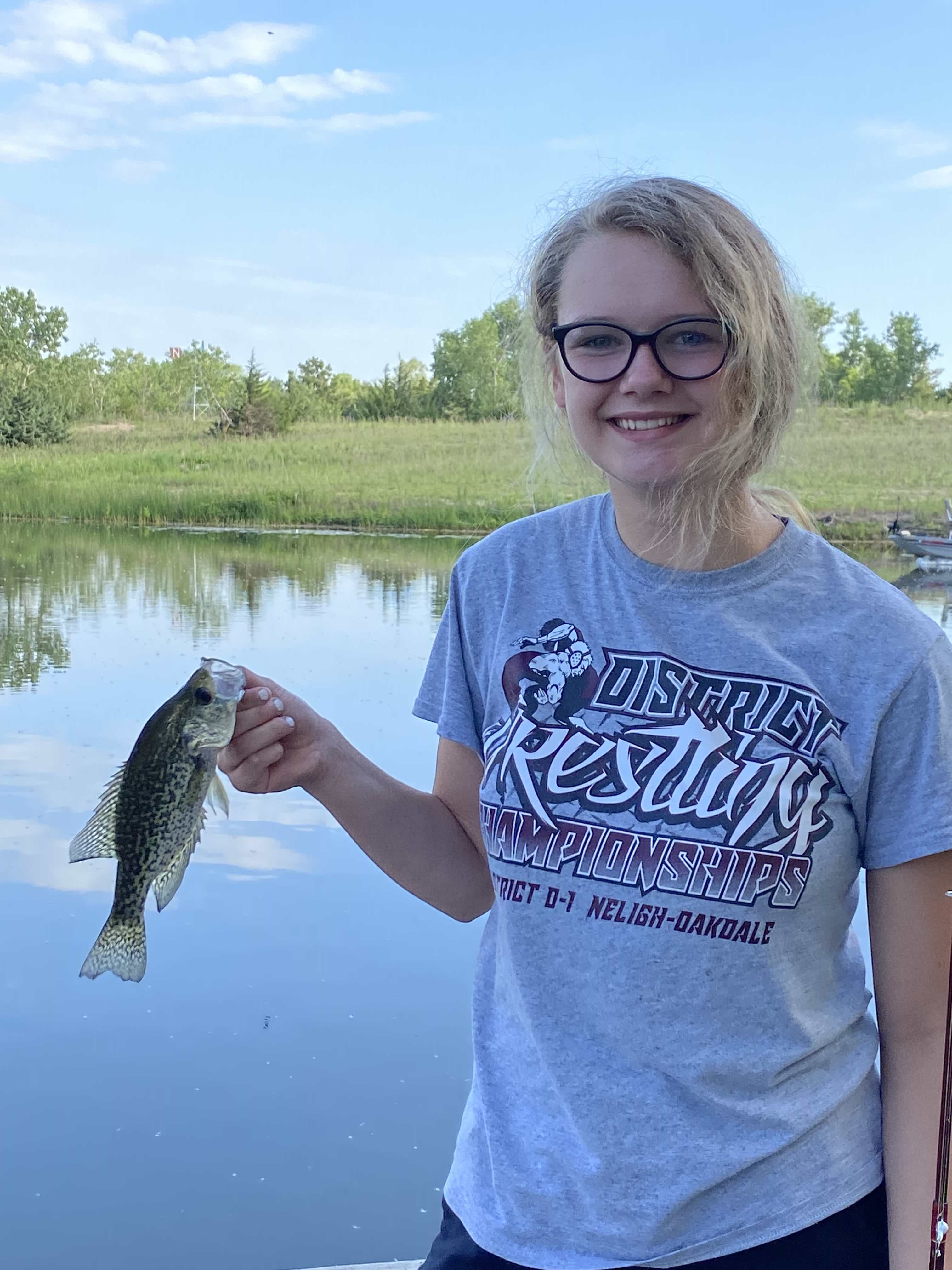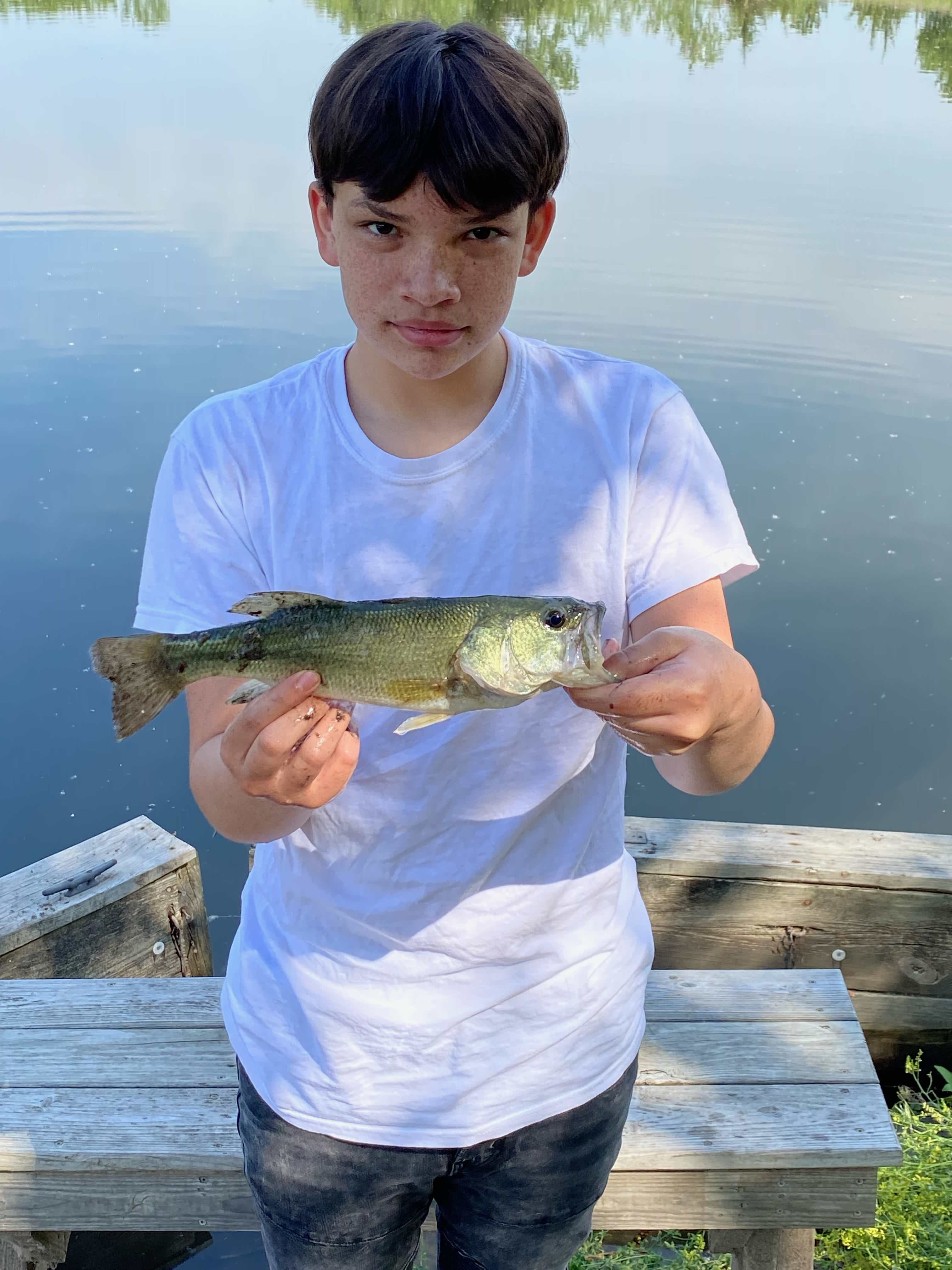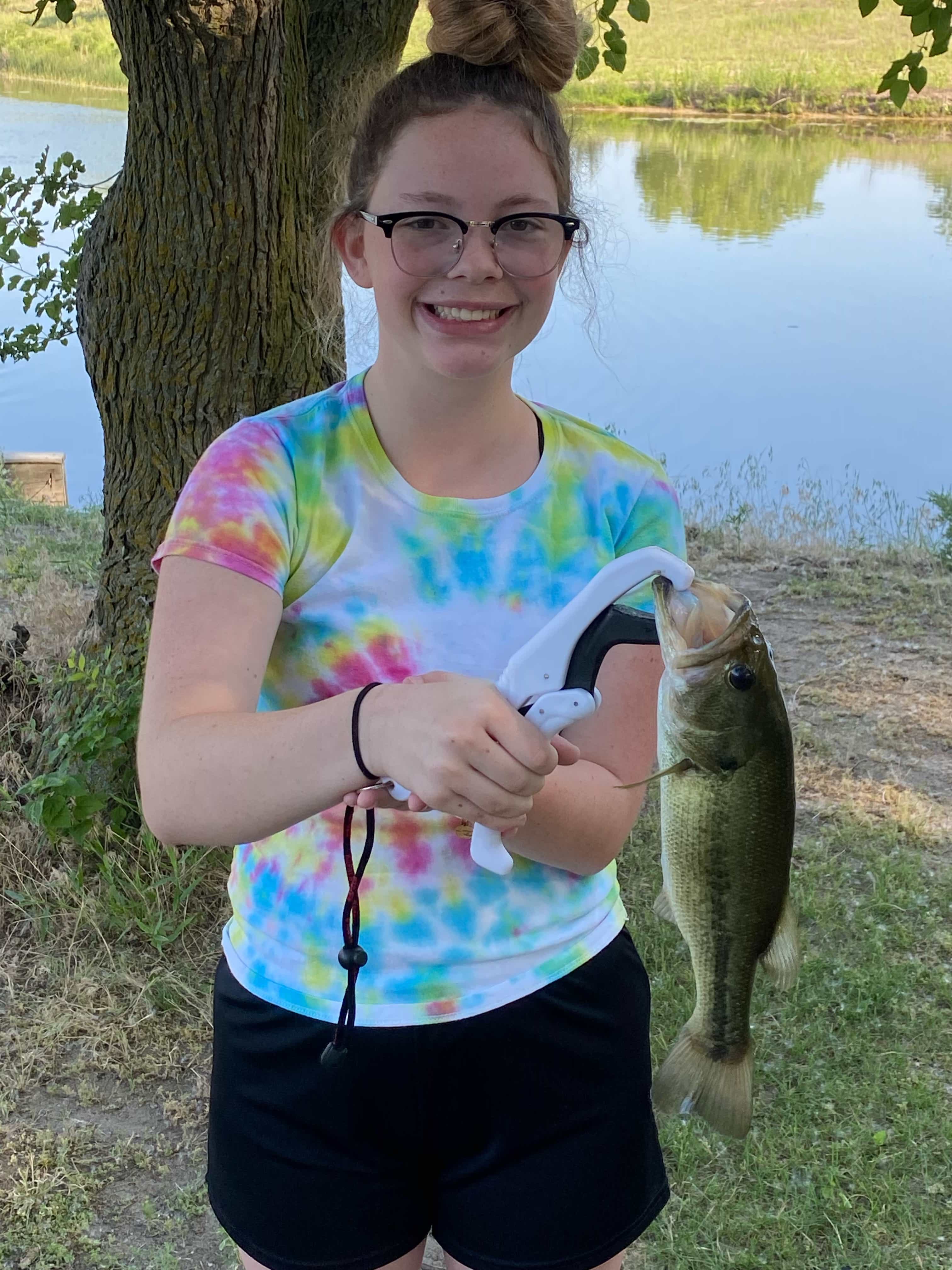 Great fun was had by all at the Children's Home's annual Fishing Derby. Everybody caught at least one fish and our college intern caught her first fish.
This event started with a group of Fremont Masons and members of the Rod and Gun Club in Fremont over 20 years ago.
As you can see in the photos, a few of our anglers are still leery of touching their prize catch.
Alex, McKenzie and Olivia were this year's winners.
Woodworking
June 21, 2021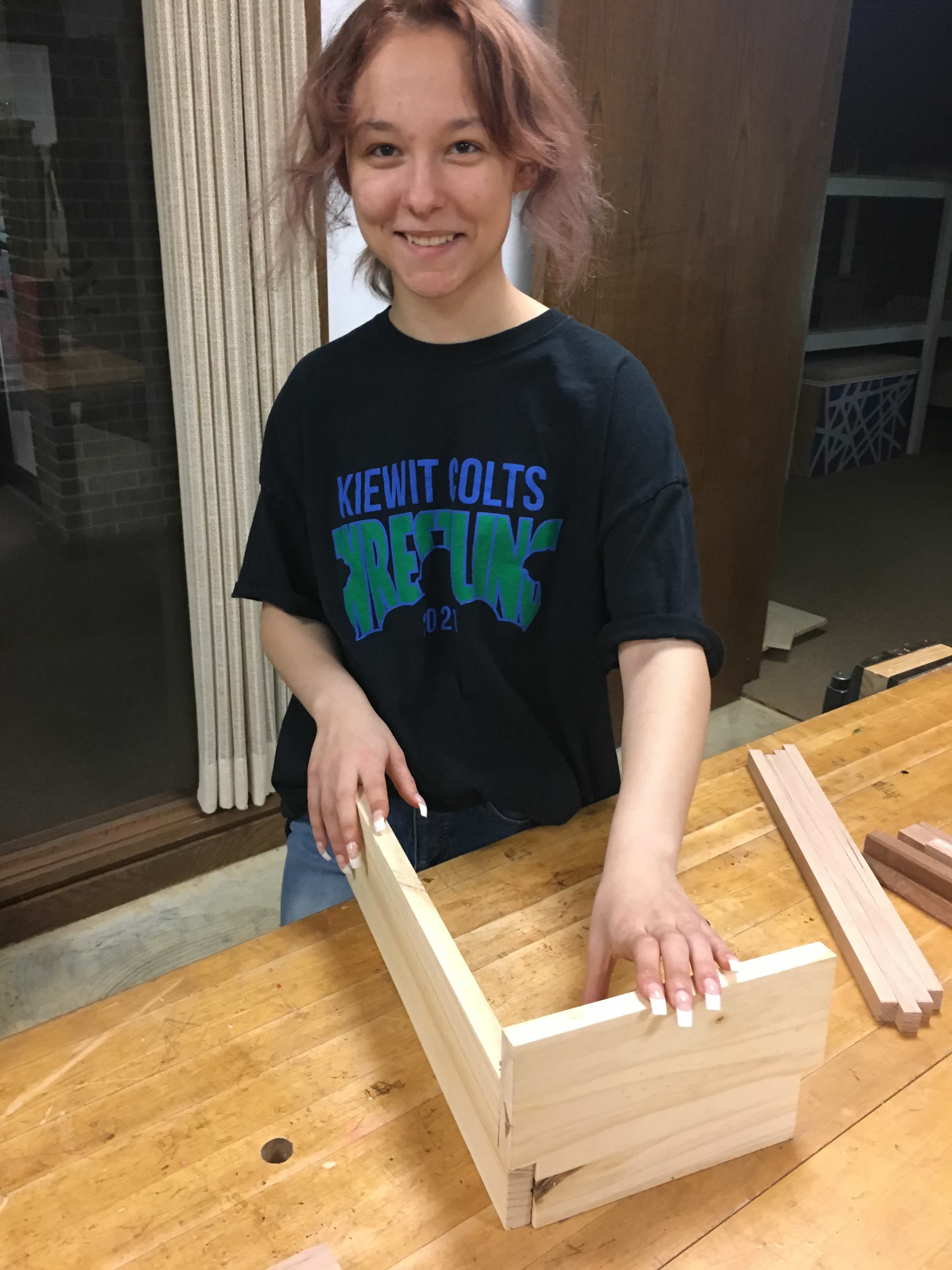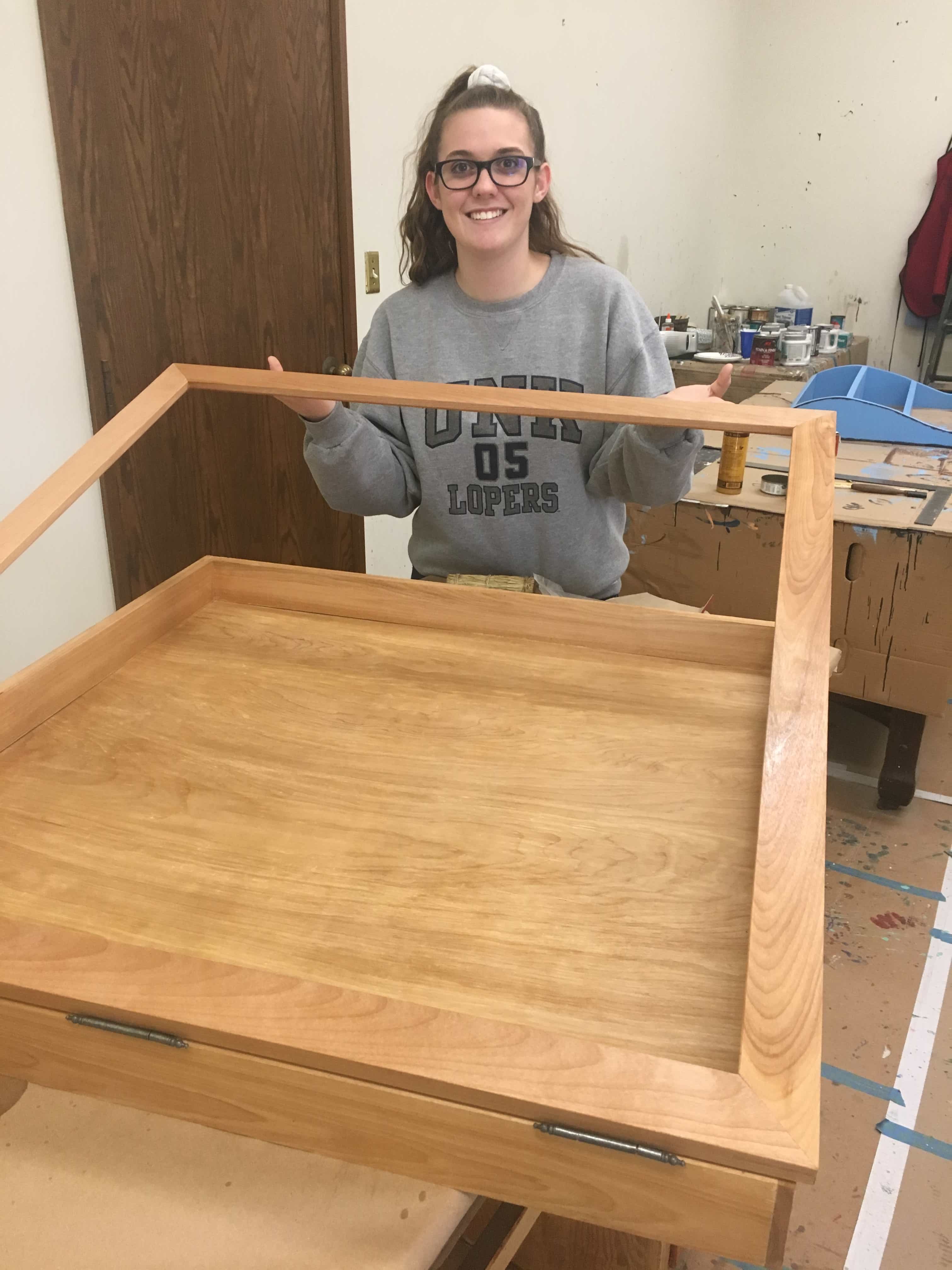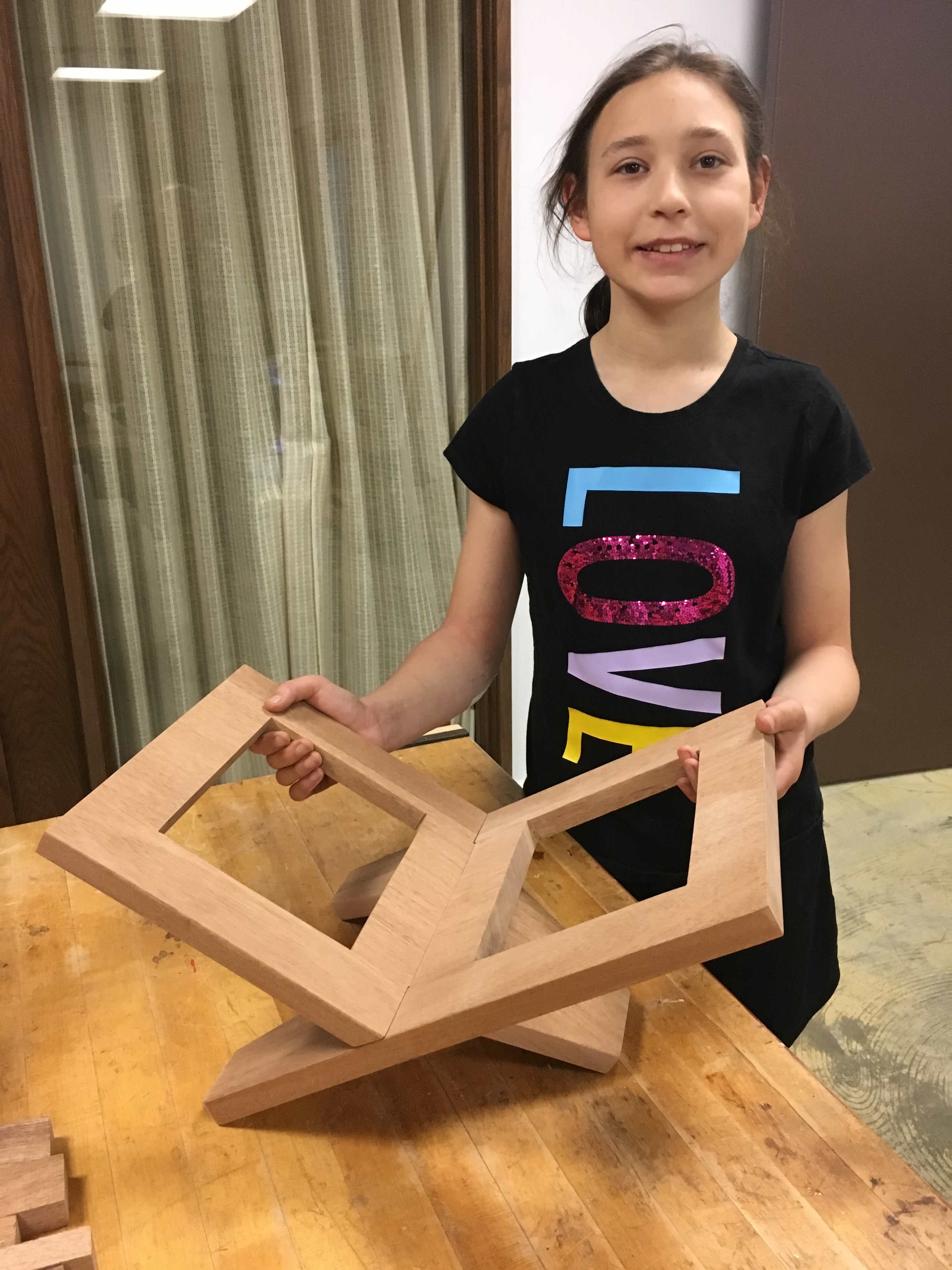 Woodworking is one of the favorite 4-H projects on campus. It's a very rewarding way to spend time and learn a new skill, because the Rawhide Wrangler 4-H Club's woodworking projects usually earn high awards at the fair.
The 4-H'ers only use electric tools for drilling holes and some sanding. Hand tools are used for the remainder of the projects
Hopefully, six or more woodworking projects will earn their way to the Nebraska State Fair this year.
Summer 4-H
June 7, 2021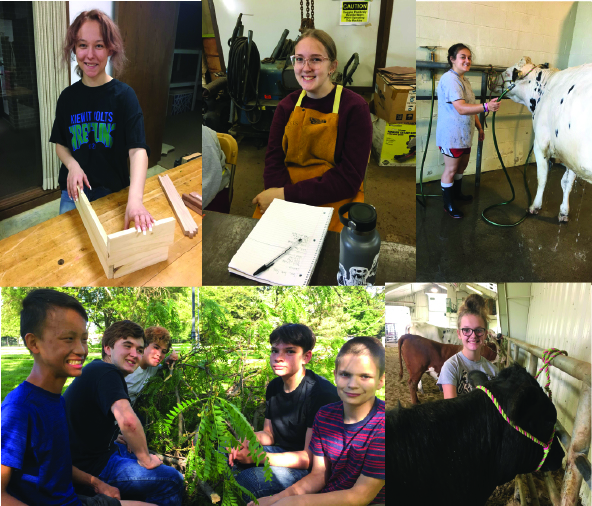 The first week of Summer 4-H went without a hitch. The members of the Rawhide Wranglers 4-H Club worked on livestock, welding, electrical and woodworking projects. They even had time to help remove a broken tree limb.
Most of the 4-H'ers got a jump start on their projects during the school year. Sewing, speech and wildlife projects were some of the many projects that got done before summer started.
The 4-H'ers are looking forward to participating in the Fremont Expo and Dodge County fair this summer. The Rawhide Wranglers 4-H Club's Achievement Day is scheduled for July 24th. A few of the 4-H projects will earn their way into the Nebraska State Fair at the end of the summer.
New 4-H'ers at M–ESHC
May 31, 2021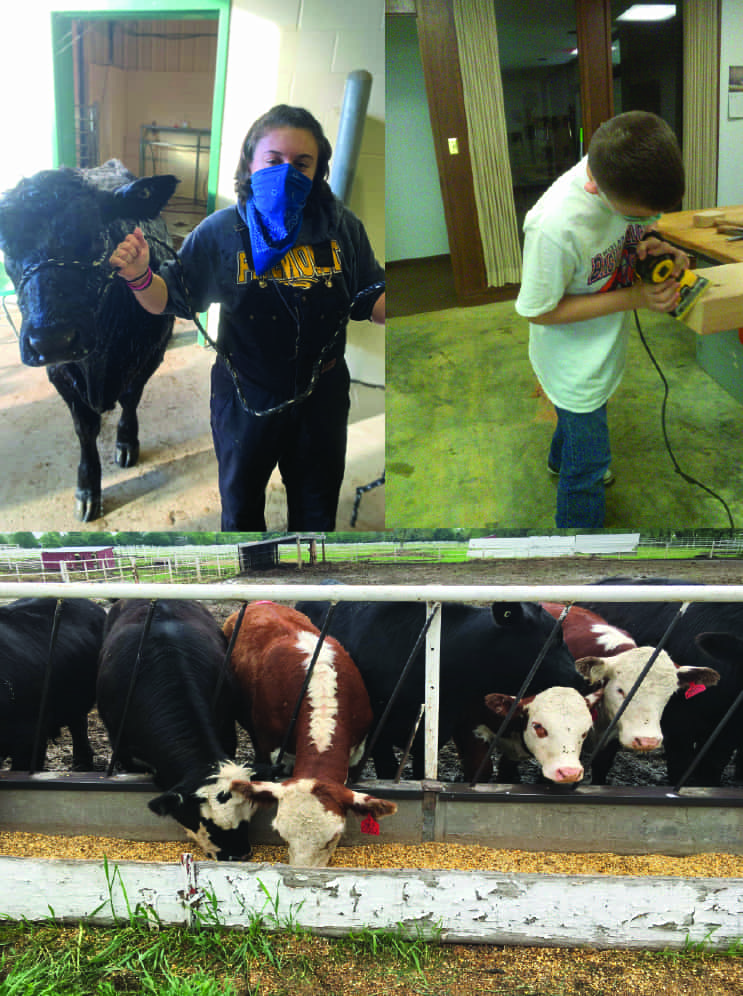 The best time for a child to become a member of the Rawhide Wrangler 4-H Club is at the beginning of summer 4-H, which is tomorrow. In addition to our existing club members, we will have 6 new members. None of the new members have any experience in 4-H. None of them toured the Children's Home with cowboy boots on, so they will be in for a different lifestyle. A lifestyle that they accepted after their tour.
Their summer will consist of learning about 4-H and working on their 4-H projects in the morning. Afternoons are dedicated to other activities that are usually not 4-H related.
Each new 4-H'er will receive a Welcome Kit. My thanks to those of you who participated in this project. It will be the icing on the cake for the new 4-H'ers.
Pictured are some examples of 4-H projects that the 4-H'ers will be working on.
Passing Grades
May 24, 2021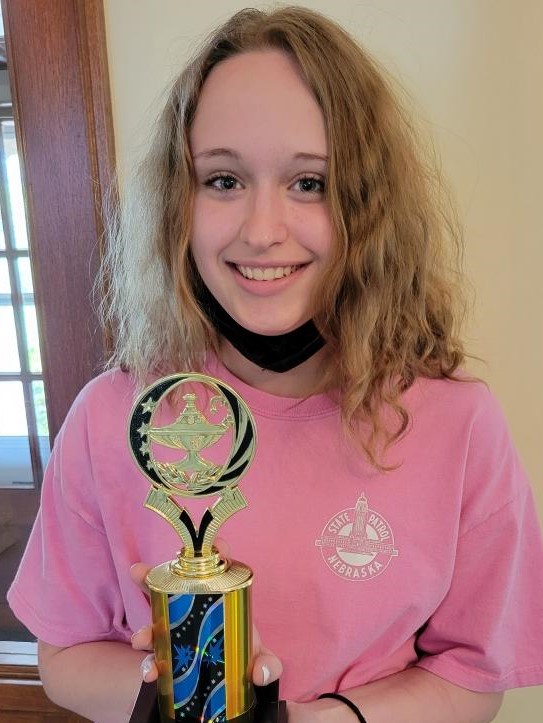 We are usually excited when students at the Children's Home earn all passing grades, but with all of the challenges and distractions that the pandemic has given us, we are very excited to report that every student earned passing grades during the fourth quarter of school.
There were a couple of students who had to study hard and do well on their final exams to pass their classes. They studied hard, passed their finals and got the job done.
Pictured is Taylar who earned a trophy for having the highest Grade Point Average during the third quarter of school.
Graduate
May 17, 2021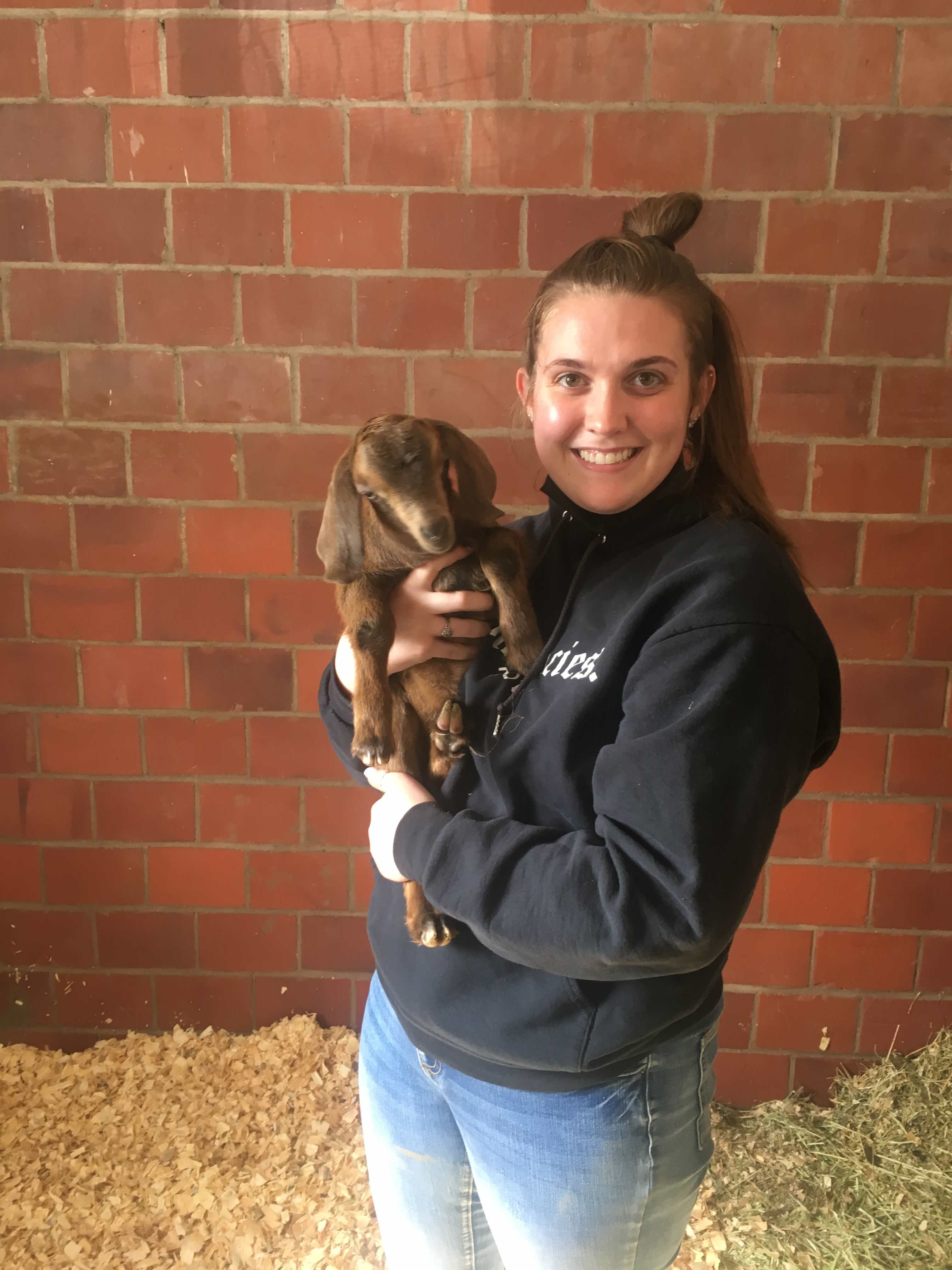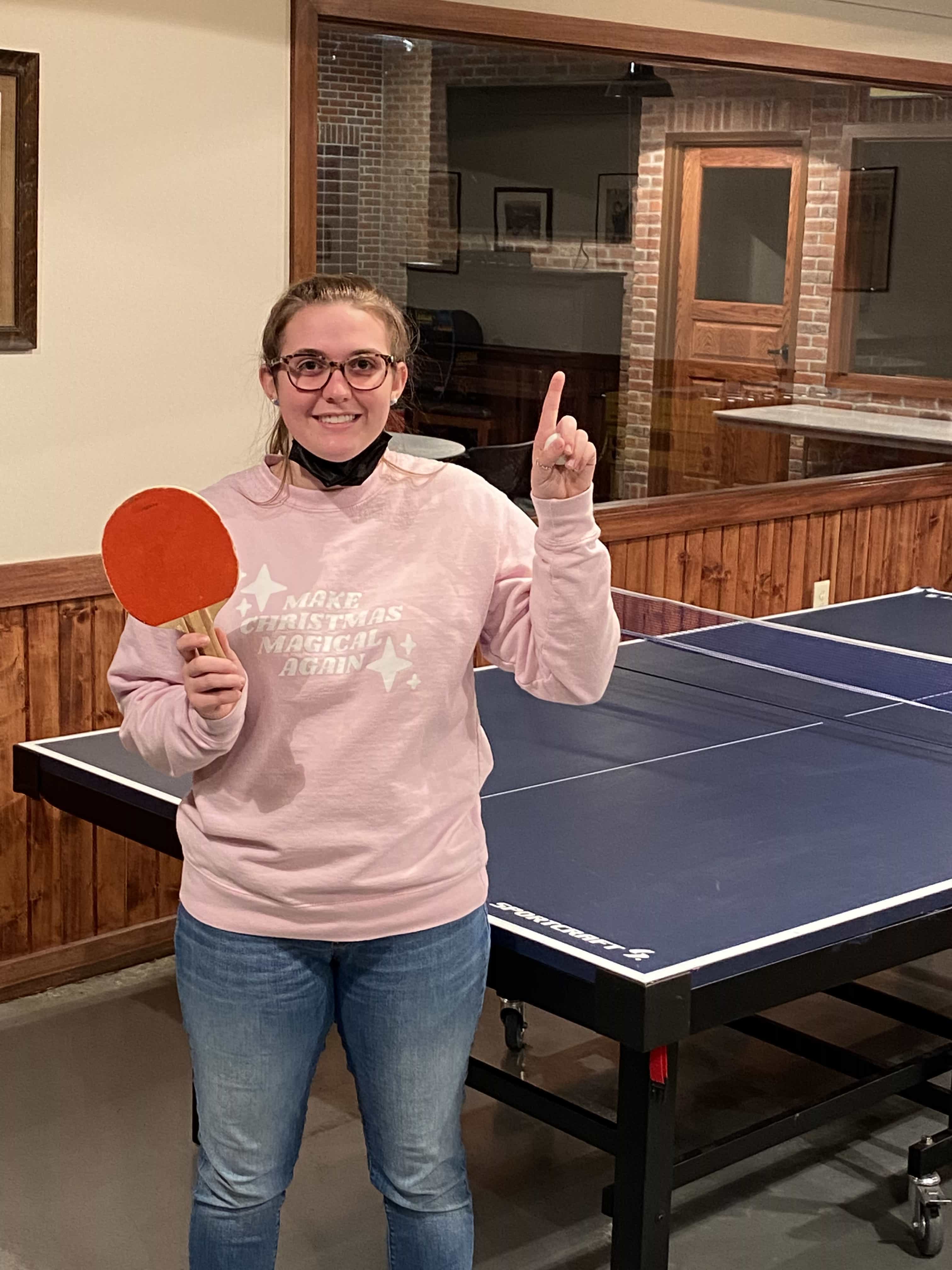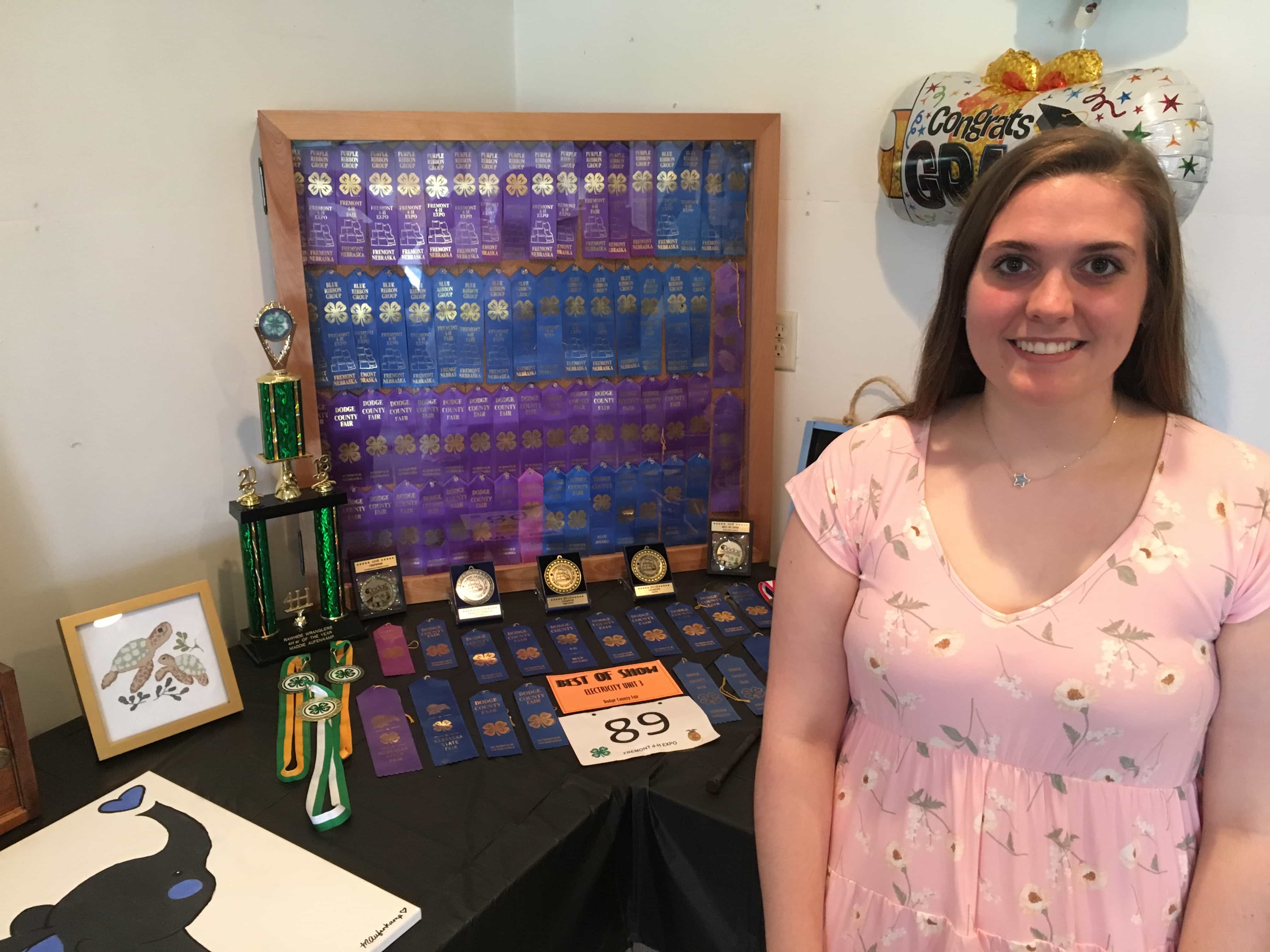 The Rawhide Wrangler 2018 4-H'er of the Year Award winner, Maddie, graduated from high school last weekend. We are very proud of her accomplishments in school, band and 4-H.
She plans to study criminal justice with a forensic science endorsement.
Maddie has a fun personality and a great work ethic. This combination will open a lot of doors in her future endeavors.
Happy trails, Maddie!
Arbor Day
May 10, 2021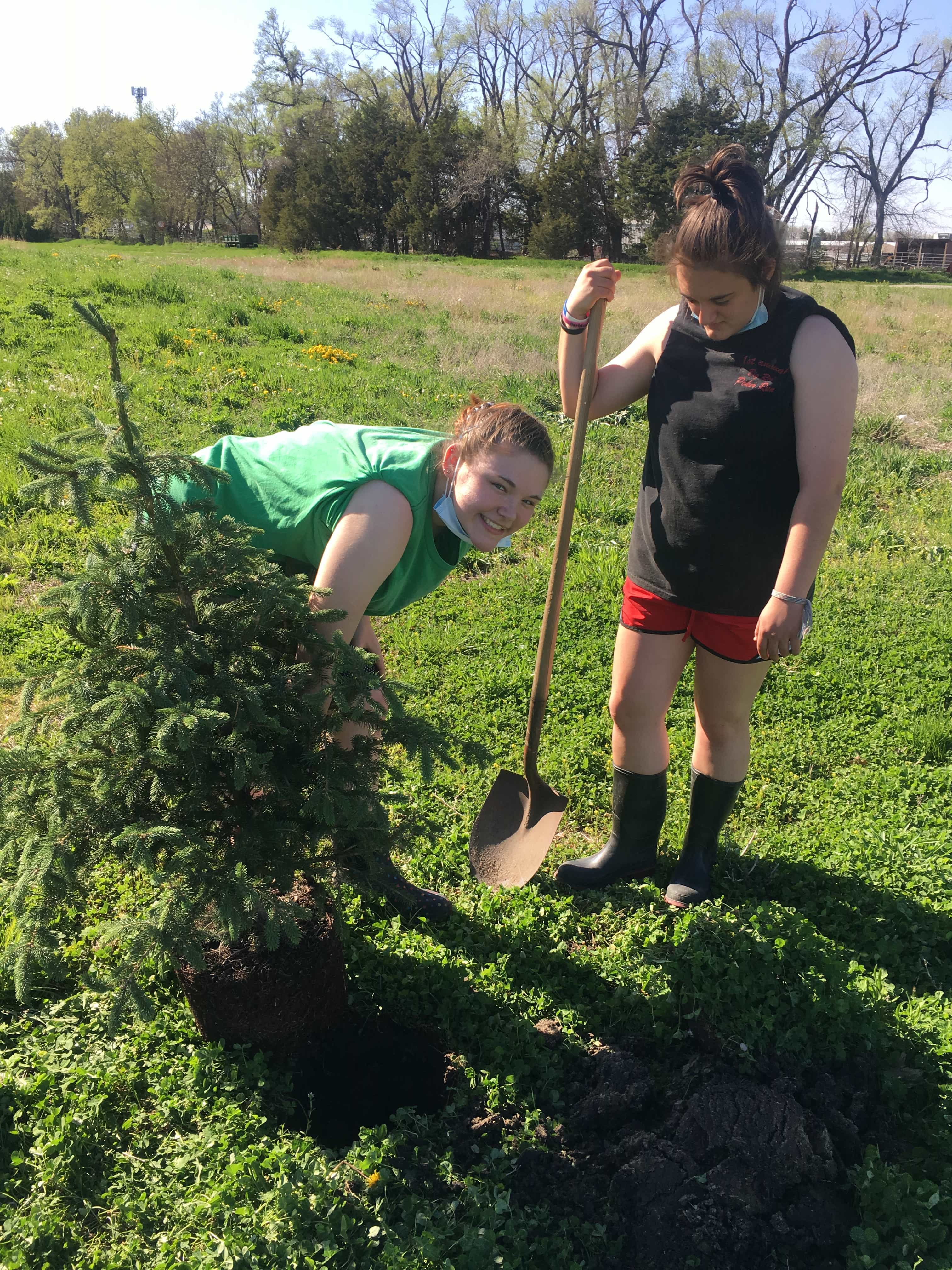 The Children's Home likes to celebrate as many holidays as possible. Our latest celebration, Arbor Day, consisted of planting a tree by our newest cottage.
There was no cake and punch at the celebration, but we did talk about the history of Arbor Day and have the opportunity to plant a blue spruce.
The best part of the event was hearing two girls talk about seeing the tree, after graduating from high school, when they come back to visit.
There was also discussion on what the tree's name is. Not heated, but lengthy discussion. The name of the tree is still undecided.
Prom!
May 3, 2021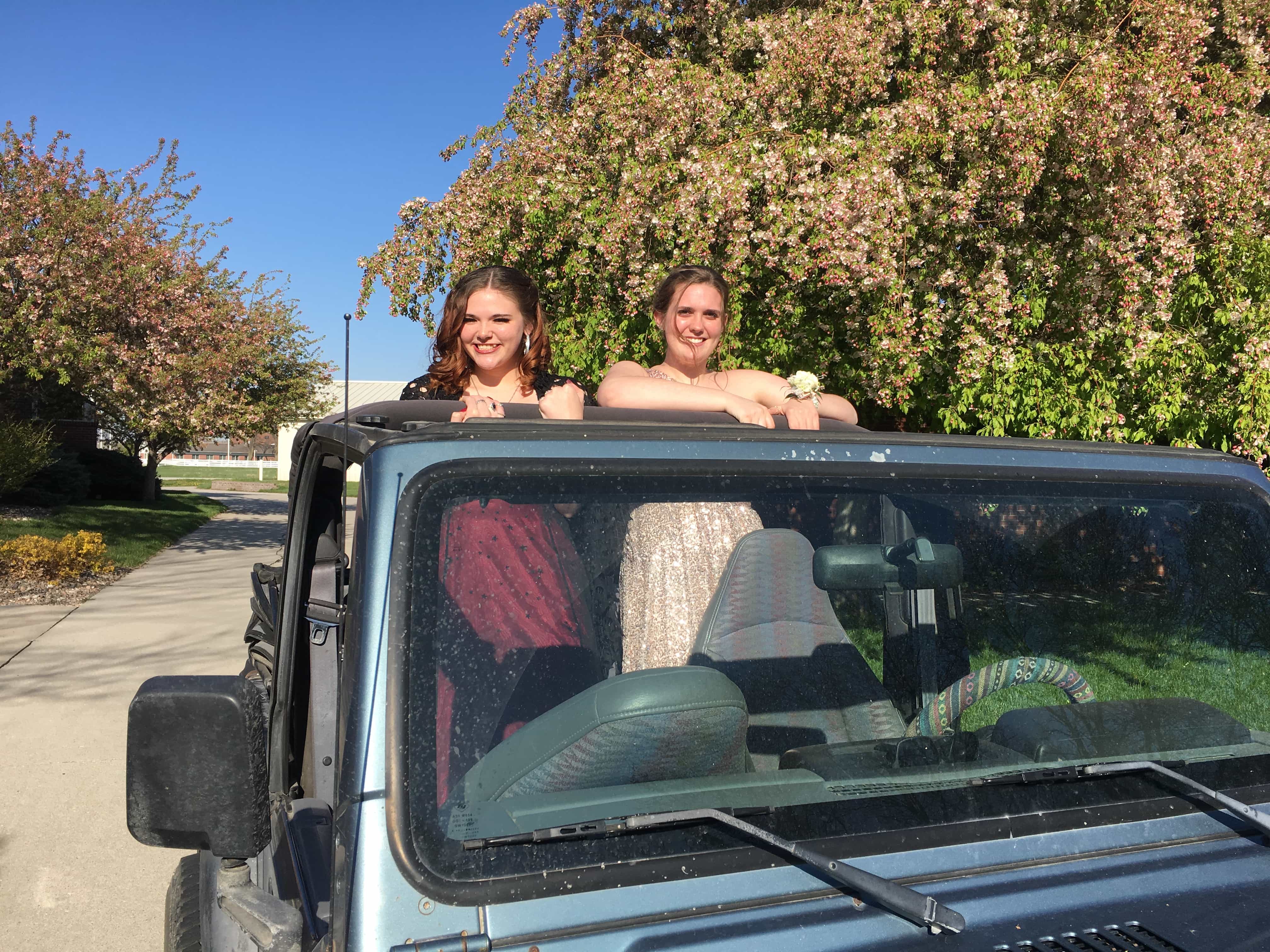 Only Juniors and Seniors can participate in Prom at Fremont Senior High. This year, we only have two girls who are in that age group. We have a young group of boys.
Preparation started a few hours before dinner. Nails, hair, make-up and dresses had to be just right for the big night.
It was a traditional Prom Night of festivities which consisted of dinner, dance and post-prom. The night ended at 3am.
Farm Crew
April 26, 2021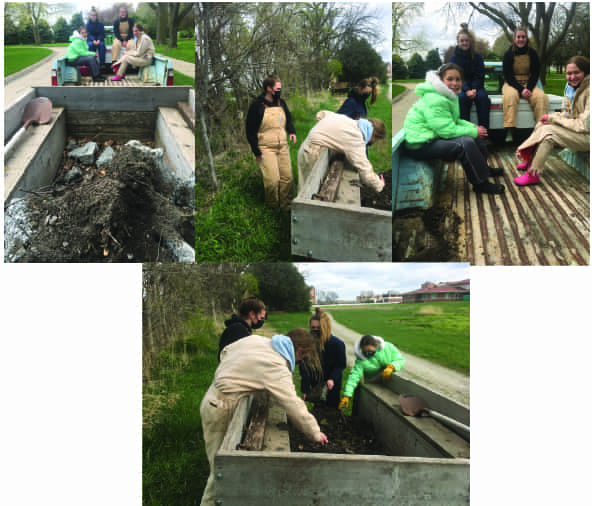 There are always plenty of thing to fix at the farm or on the Children's Home's 80 acre campus. We have one maintenance man.
Many projects get done by other staff members and a crew of children. The children get paid cash and maybe a malt if they do a good job.
Working on the farm crew is a great learning event for the children and a good way to complete a maintenance project.
Spring!
April 12, 2021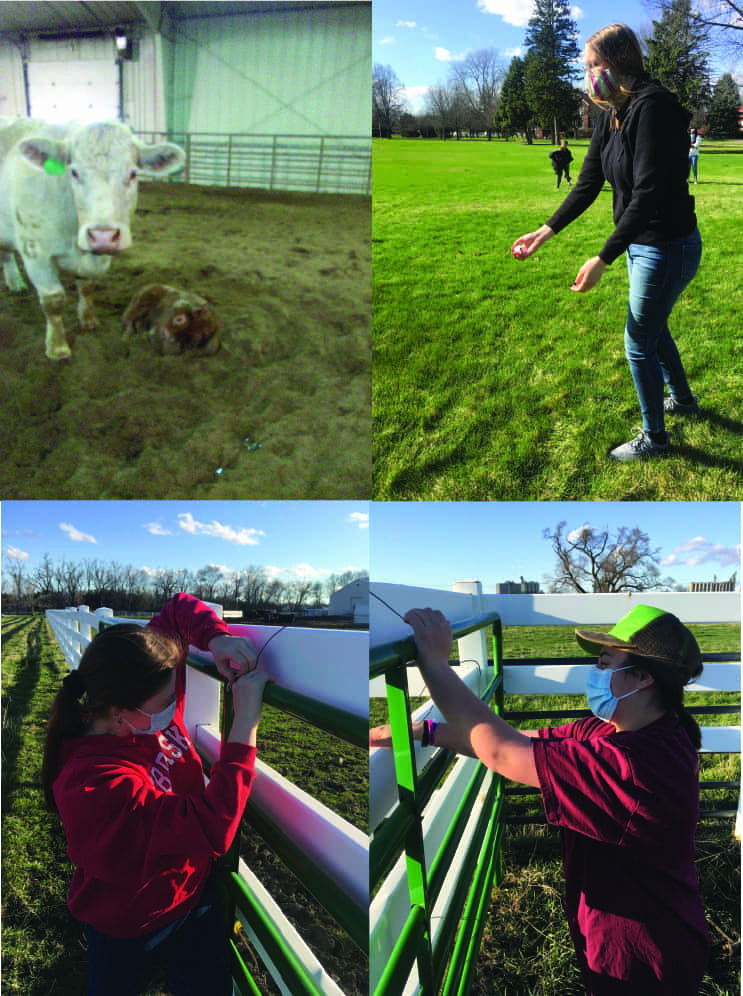 Spring at the Children's Home brings everything from an Easter egg toss competition to planting potatoes on Good Friday. Somewhere in there we finish calving, mend fences and have a traditional Easter meal.
Todd, our Youth Director, started the Easter egg toss competition. Youth toss an uncooked egg back and forth until the last one without yoke on their face is the winner. It's a messy, but good time.
Planting potatoes on Good Friday is easy to remember and usually has the most success. Potatoes grown here are consumed by children and staff and used as 4-H projects.
The first five calves of the year were born with no problems. The last two, unfortunately, didn't live. It was a tough experience for everyone.
Fixing fences is a chore that most people don't like to do. Our 4-H'ers jump at the chance to help fix fences. For whatever reason, it's usually a job that gets done in half a day.
Our motto of being a home away from home for the children here is something that we take very seriously. Some of the children will not have a chance to experience a traditional Easter meal, so we provide this experience for them.
After a long winter of scooping snow, spring was welcomed by all.
4-H Speech Contest
April 5, 2021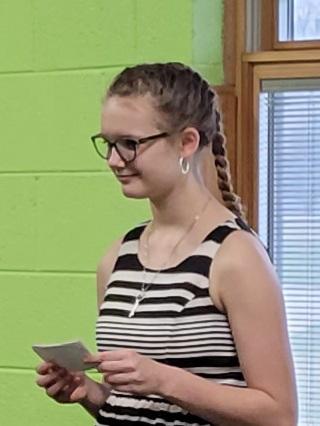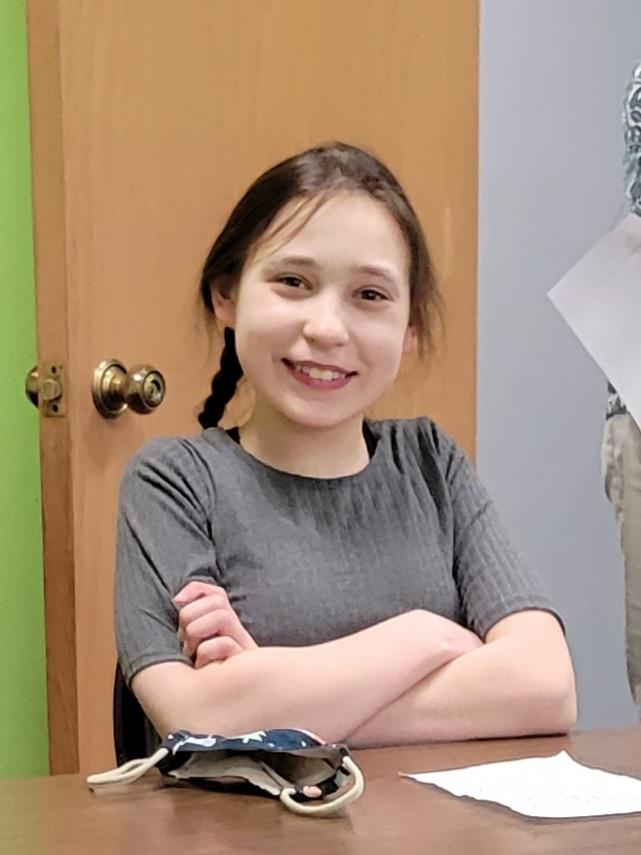 With safety precautions in place, 4-H'ers from the Children's Home's Rawhide Wranglers 4-H Club participated in the Dodge County 4-H Speech Contest.
It took weeks of preparation and practice for the 4-H'ers to be ready to compete. Most of them talked about their favorite 4-H project.
Our 4-H Club continues with speech projects, because it builds organizational skills, public speaking skills and self-confidence. There's also a feeling of satisfaction after completing a project.
Hopefully, the results of the speech contest will be ready for an upcoming blog.
Back to School
March 22, 2021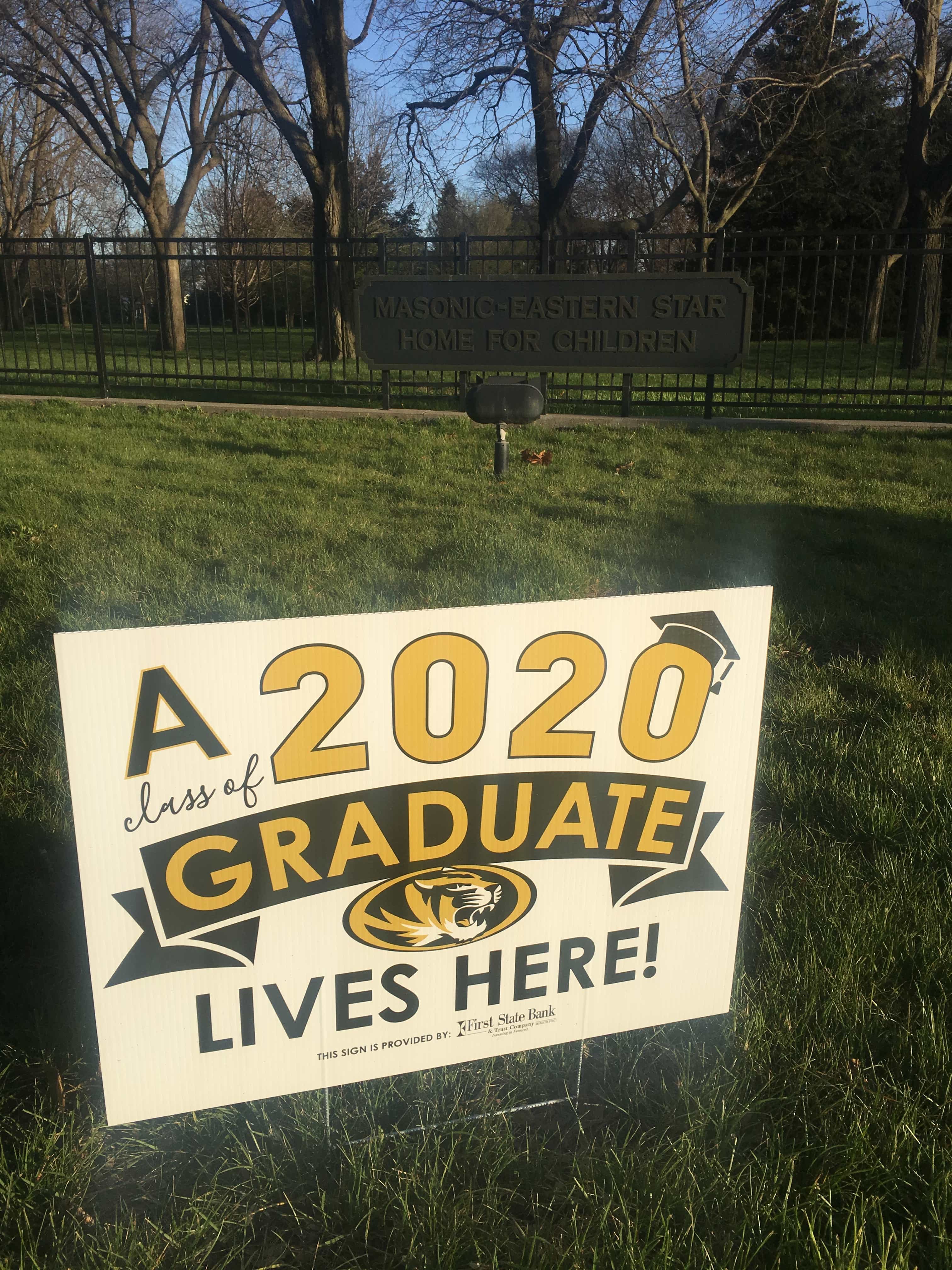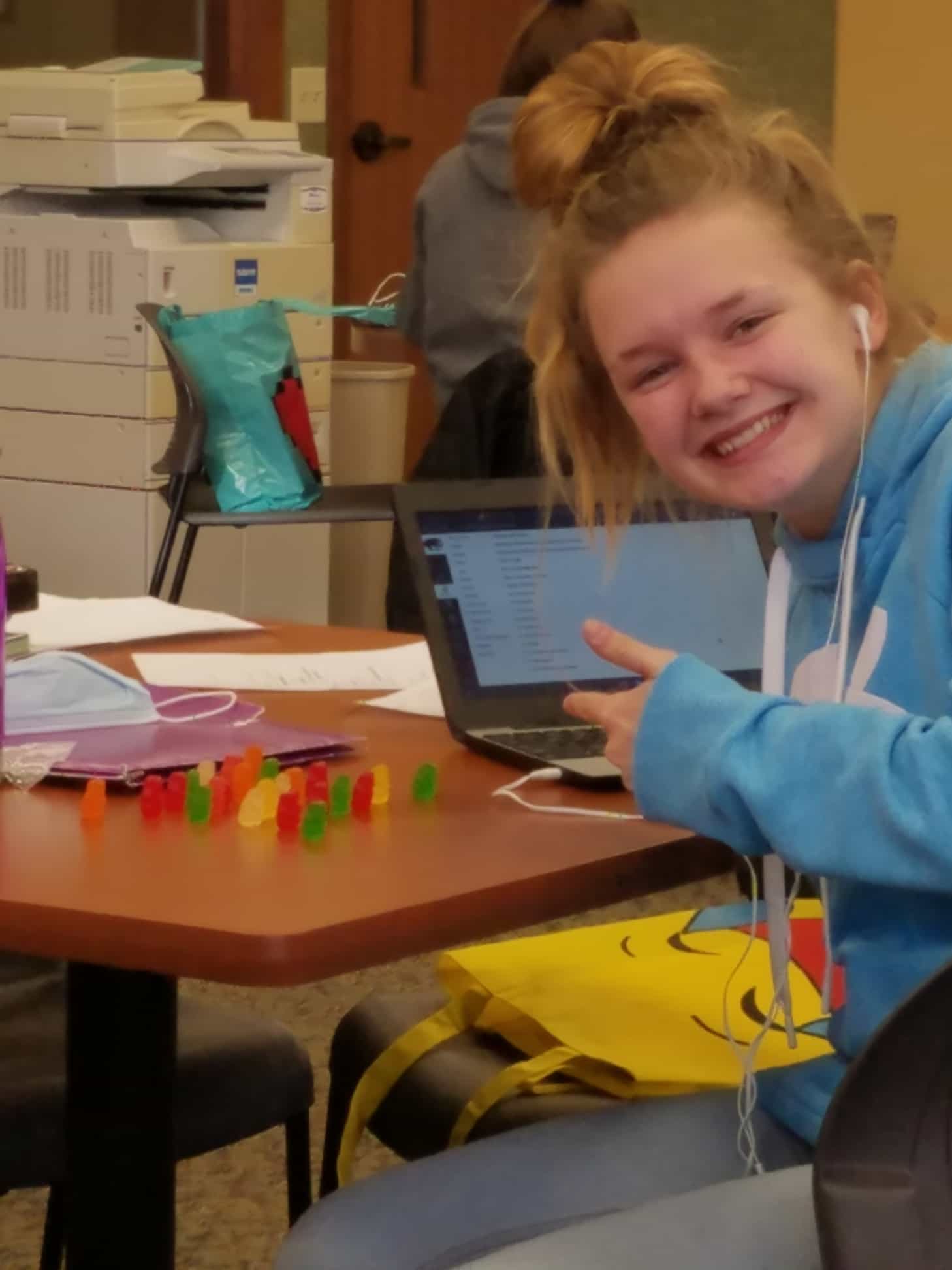 After three quarters of doing school online, students at the Children's Home will be attending school during the fourth quarter. This is due to certain coronavirus objectives being met in the Fremont community and on our campus.
Coronavirus protocols had to be adjusted to accommodate for the new daily routine, so the children and staff can continue to have as safe of an environment as possible during a pandemic.
The students are happy to go back to school and get back into an almost normal routine
Wheeler Visit
March 15, 2021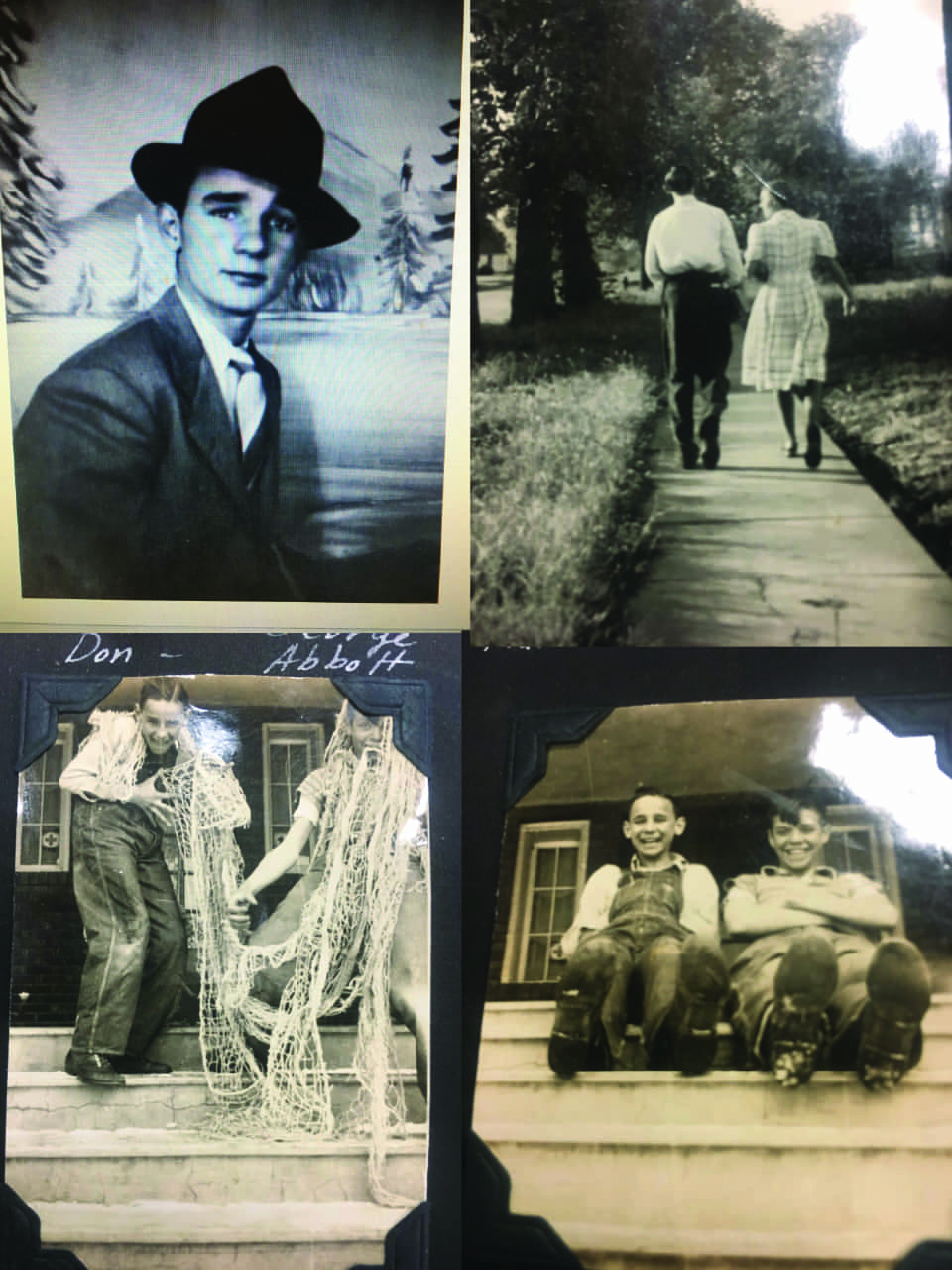 A few months ago, Jean Wheeler called the Children's Home and asked if she could schedule a tour during the month of March. Online, Jean shared photographs of her father, who lived at the Children's Home during the Great Depression.
We scheduled the tour when the children were in school, so she could visit the campus and community where her father, Don, lived for nine years. Fortunately, Don lived at the Children's Home at the same time as our former Board of Director's President and former resident, Ched House. Ched loved to tell stories about his experiences at the Children's Home.
The tour started with pictures of buildings that were frequented by the children in the 1930's - the YMCA, the Union Pacific Depot and the Junior Boys Cottage, to name a few. The barn where they used to milk cows before school is still intact, so that was our first stop. The Senior Boys Cottage was our second stop. The cottage basement where dances were held was our third stop on campus. We then drove into the Fremont community and visited Don's church, his probable fishing hole and his high school.
Jean remembers her father talking about how he liked his house mothers, the farm and the friends that he made on and off campus. His friends turned into lifelong friendships.
Don graduated from high school in 1939. He worked as a welder in Omaha, Nebraska until getting drafted into the Army in 1941. He served on an Army engineering/construction crew until WWII ended. His entire career was spent working for the Automobile Club in California. He met his wife in California and they had one child, Jean.
Rescued Goats
March 8, 2021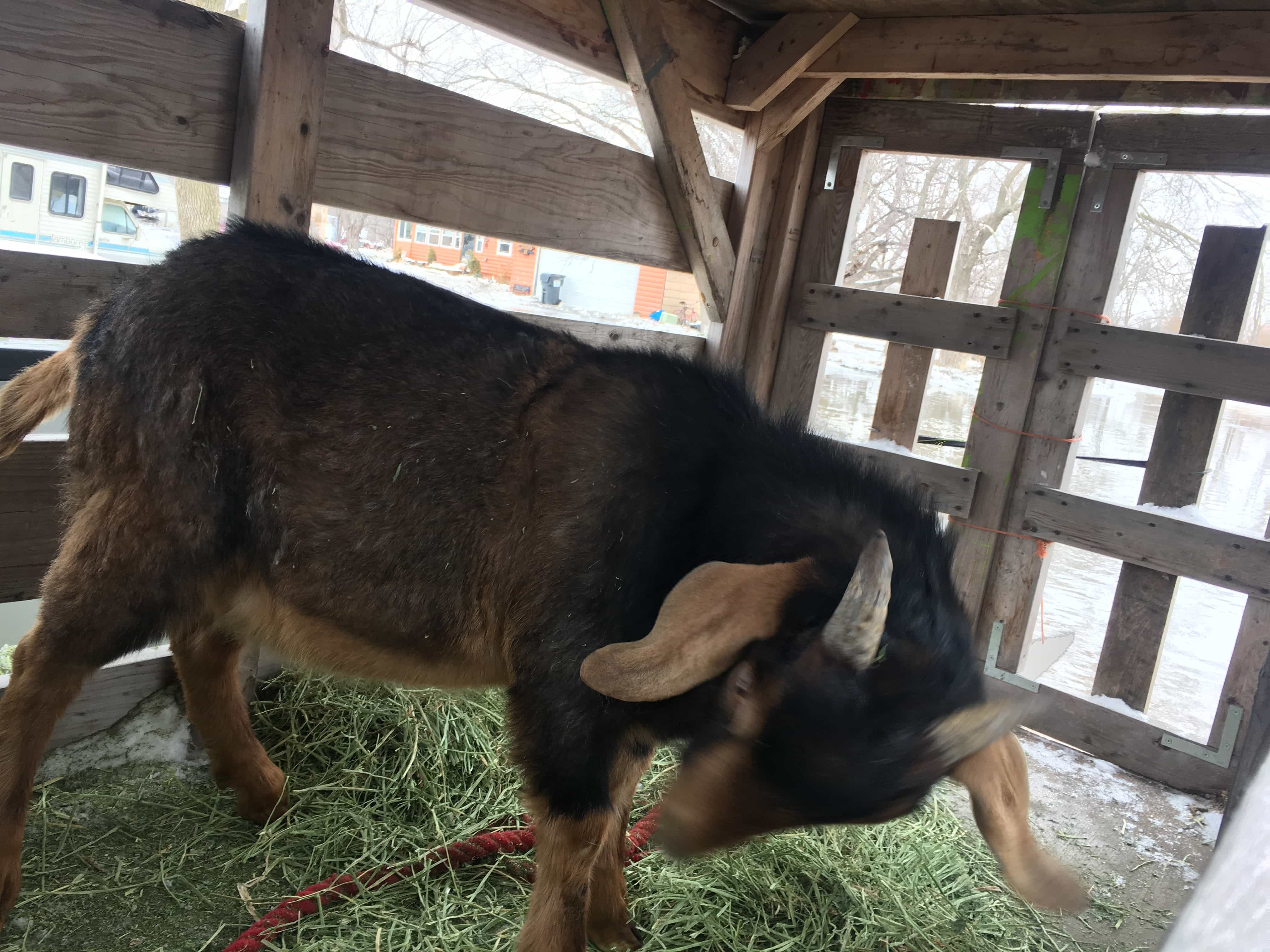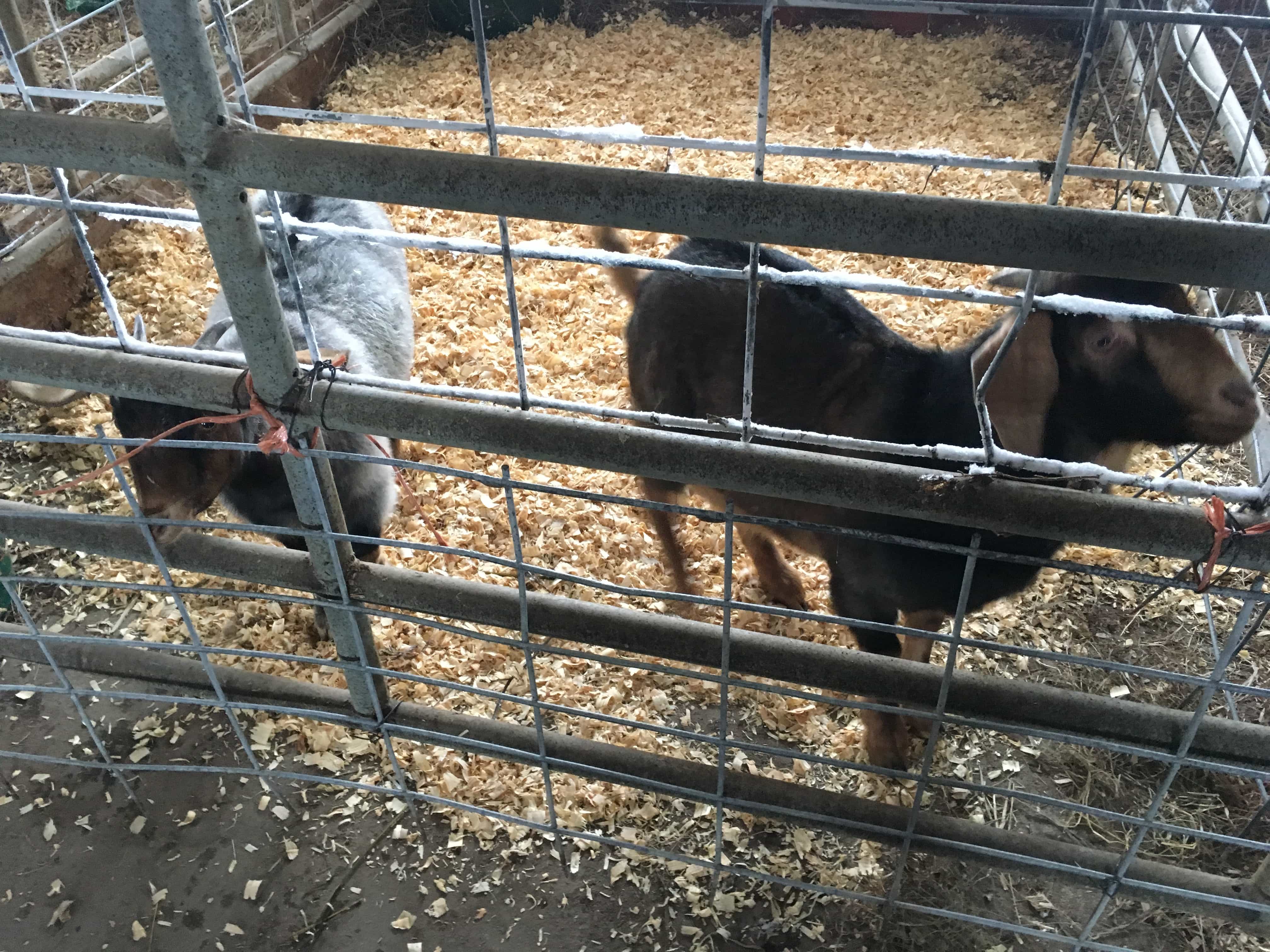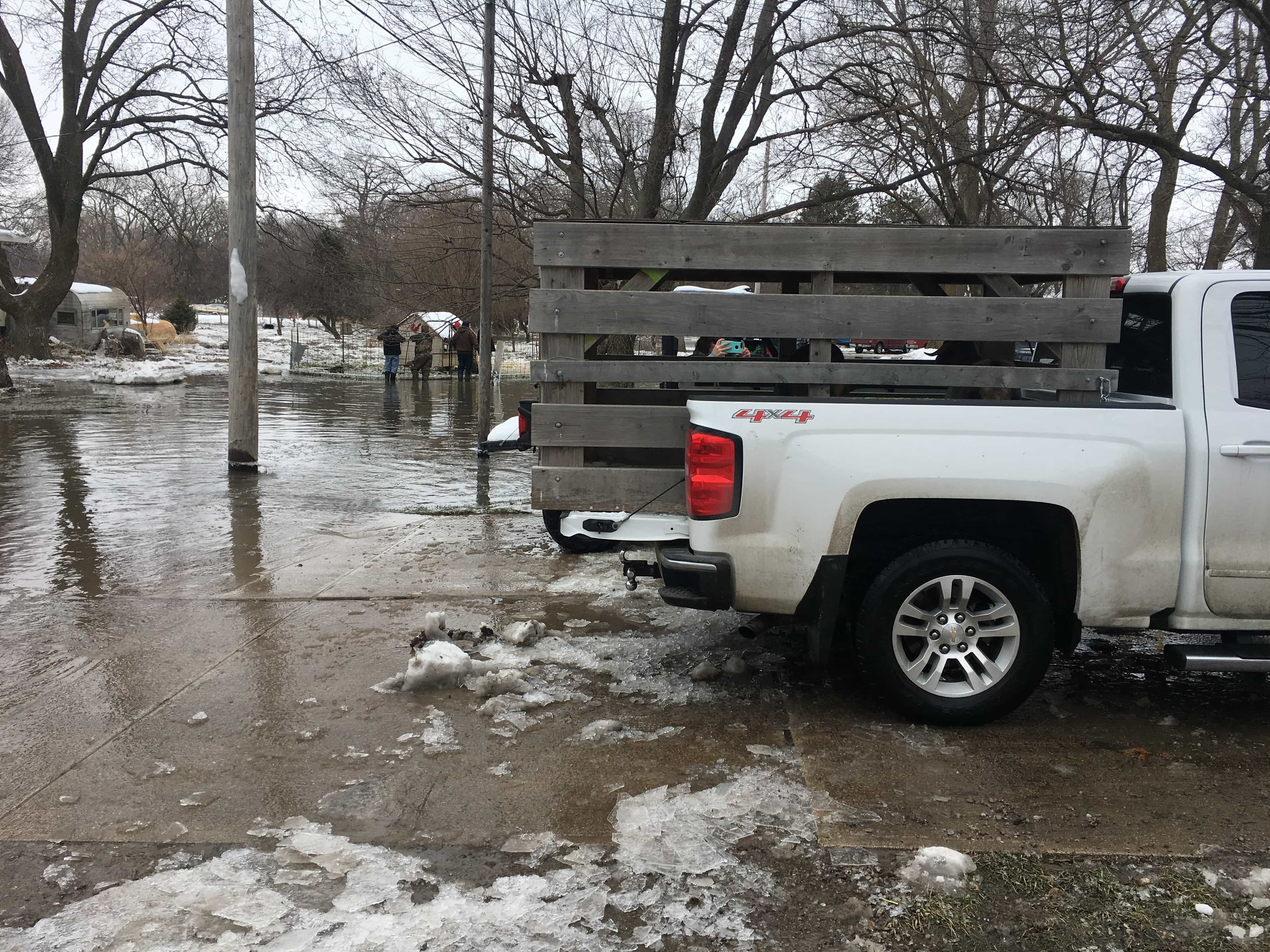 The Children's Home is located in a town called Fremont, Nebraska. Fremont is located between two rivers called the Platte and Elkhorn. Both rivers are great for recreation and notorious for spring flooding. The spring of 2021 was no different.
Flooding occurred a little early this year due to an ice jam on the Platte River. The ice jam caused some lowland flooding adjacent to Platte. Flooding did not enter Fremont.
A concerned local Mason called the Children's Home and asked if we would be willing to help rescue two goats who had a flooded yard. The owner of the goats was unable to help. We loaded the livestock crate into the truck, got our hip waders on and drove to and into the flood waters. No children were with us due to concern for their safety.
With the help of the local Mason and some concerned neighbors, the goats were loaded into the crate and taken to higher ground. Goats, Cookie and Willy, are warm and dry in their temporary location at the Children's Home's 4-H Farm.
It was almost a snag-free mission. After the goats were loaded, a soft spot was found in the flooded road and the truck transporting the goats got stuck. Forethought included loading a chain for such an occasion. Easy fix.
Pork Project
March 1, 2021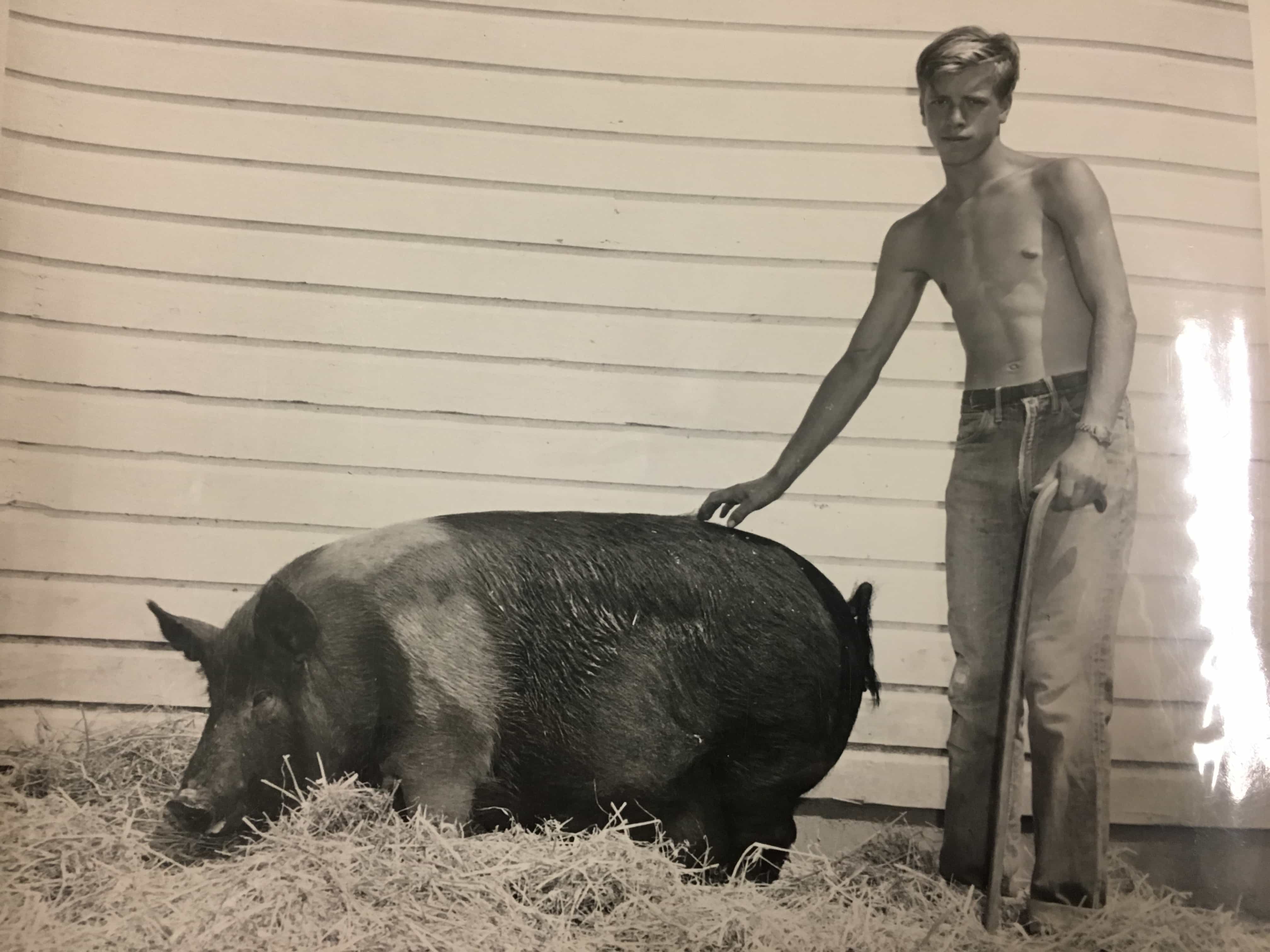 It's always fun to find an old photo. While looking for a photo for a former resident I found this photo of a prize hog and a proud 4-H'er. I don't know why the young man is shirtless.
The picture was not marked with a name. Please let me know if you recognize the 4-H'er.
Purple Ribbon Club
February 16, 2021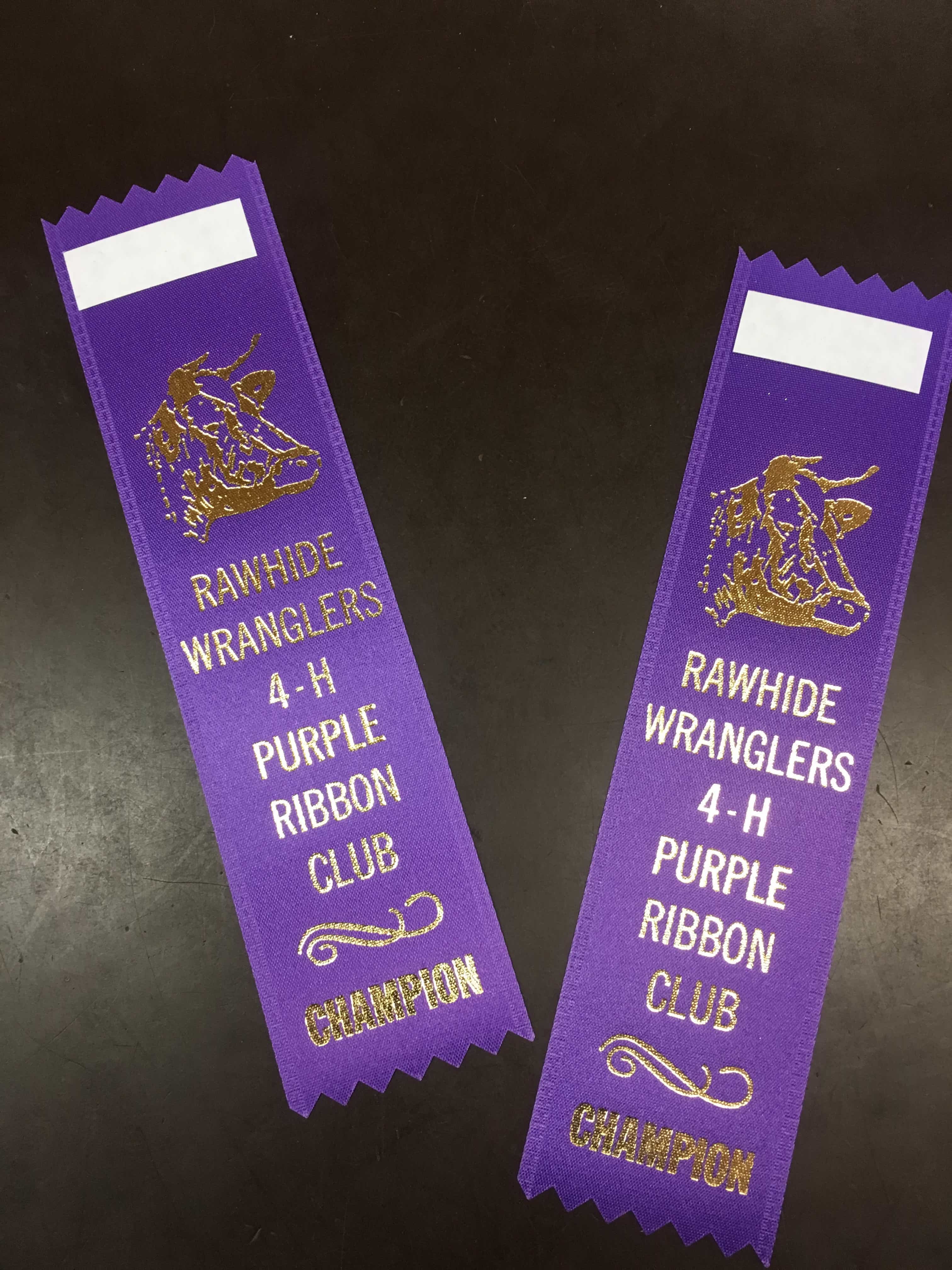 Raising livestock to show at fairs, and staying competitive, is an expensive game. It is a game that is well worth the effort, time and expense for the good of the 4-H'ers at the Children's Home.
Decades ago, livestock was given to the Children's Home by farmers and ranchers who were usually a part of the Masonic family. As time went on, farm machinery got bigger and farmers and ranchers got fewer. Livestock donations decreased at the same rate as farmers and ranchers.
Bonnie Brasel, who was a Children's Home Board member, saw the decline and came up with an idea to keep the livestock projects going: The Purple Ribbon Club. The Purple Ribbon Club enables all donors, even those from metropolitan areas, to help purchase, feed and care for livestock that 4-H'ers raise at the Children's Home.
Livestock projects help our 4-H'ers learn that hard work can help them earn a purple ribbon in life.
High GPA Awards
February 8, 2021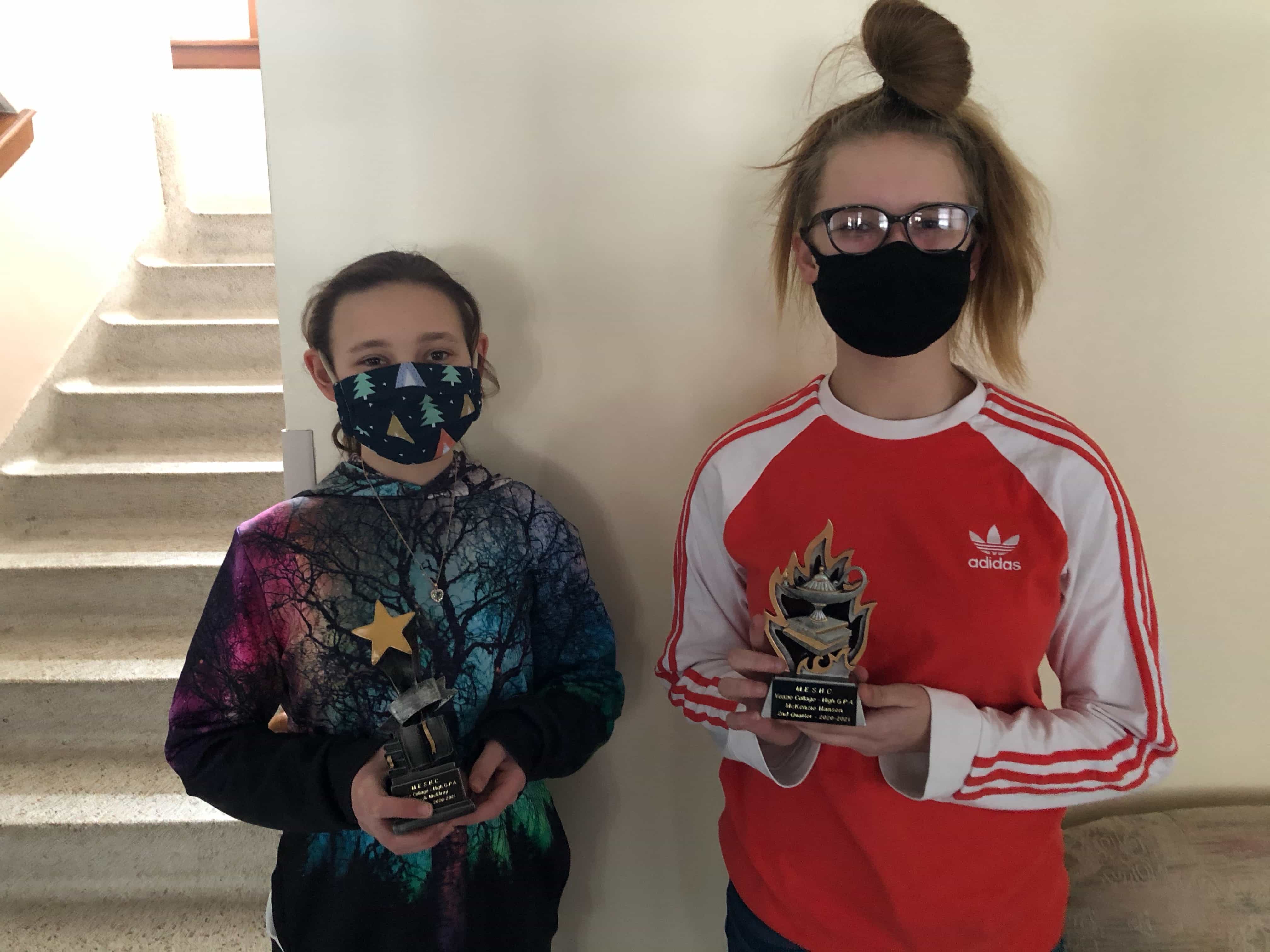 Baleigh –1st Quarter High GPA Award. McKenzie – 2nd Quarter High GPA Award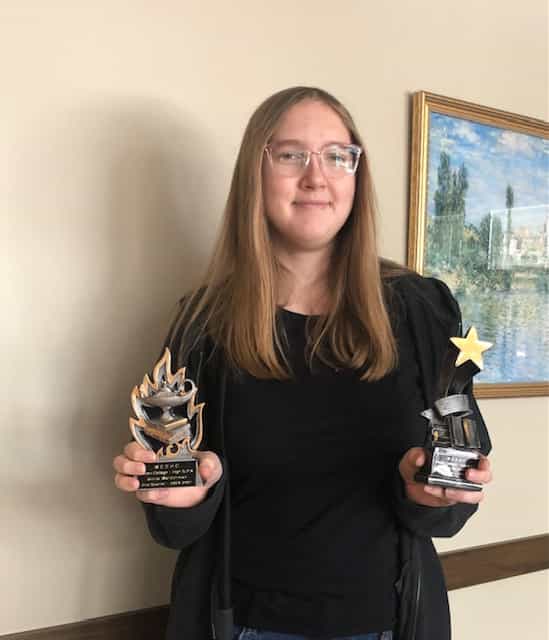 Jenna – 2 High GPA Awards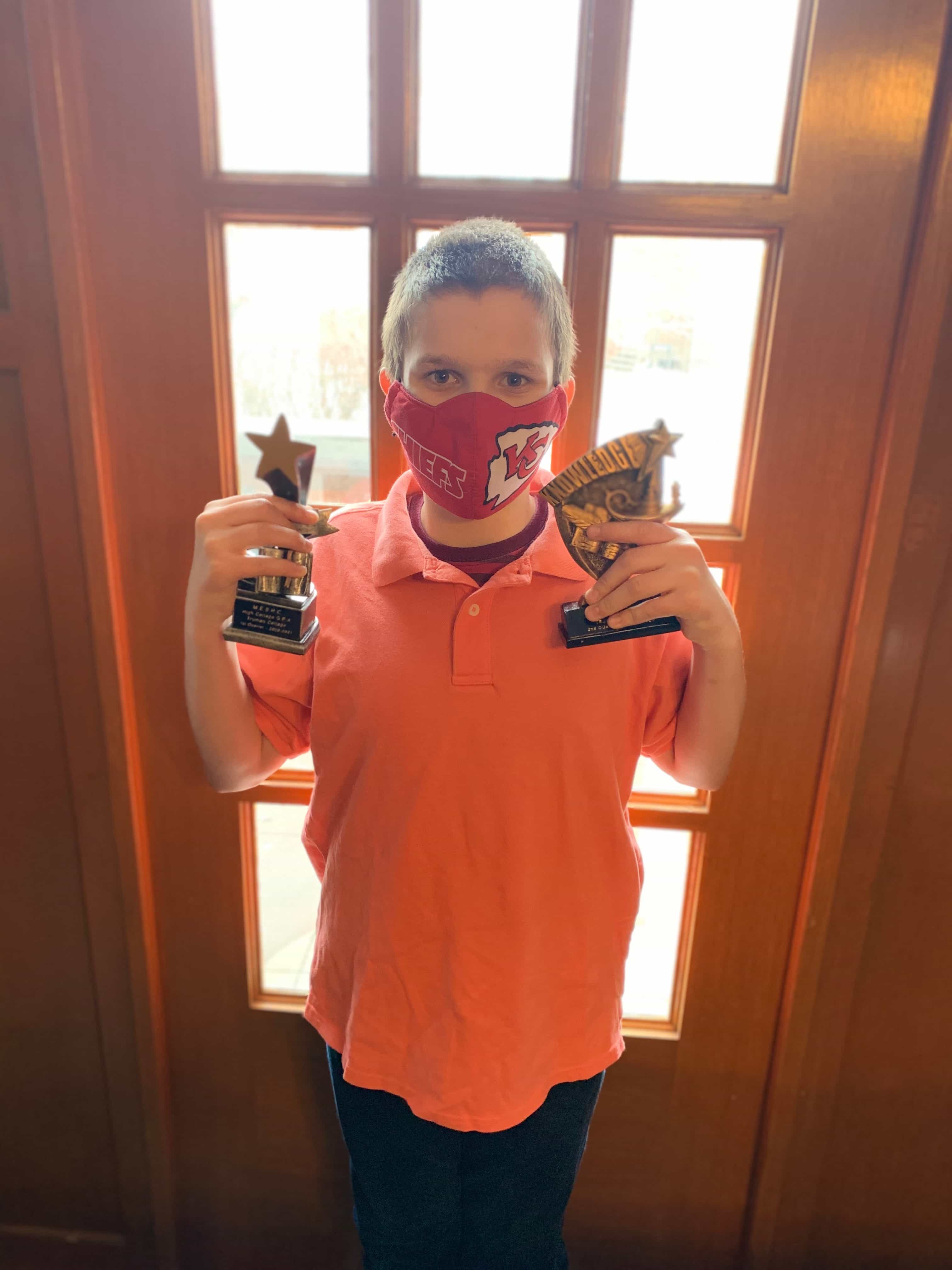 Tyler – 2 GPA Awards
My Uncle Thorvald once told me in his very broken Danish-English accent, "when you make plans, plan on changing them". I was in grade school and had planned on a fun activity upon visiting him. The day got moved around and the fun activity was not to be. It was a tough lesson to learn, but one that is still true to this day.
The children that live here did not plan on moving to the Children's Home. Things happen in a family that is usually out of the control of the child. That is when they need a home away from home, such as the Children's Home, until everything gets settled with their family.
Pictured are three children who have done more than accept that their life plans have changed – they have also excelled in school. Each won the High Grade Point Average Award in their cottage.
As you probably suspect, my Uncle Thorvald was a practical, no-nonsense man. He lived through World War I and his chosen profession was carpentry. He was not a man to explain why after telling me what to do or not to do.
He had a very plush green lawn where I liked to play with my shoes off. Upon my arrival at his house he told me to play in the grass with my shoes on. When he went inside I took my shoes off and played catch with his neighbor boy. I quickly found out that the other neighbor got a new dog that was not kept on a leash. Not a heel shot, but one that went between my toes. Another Thorvald lesson learned.
Dairy Queen
February 1, 2021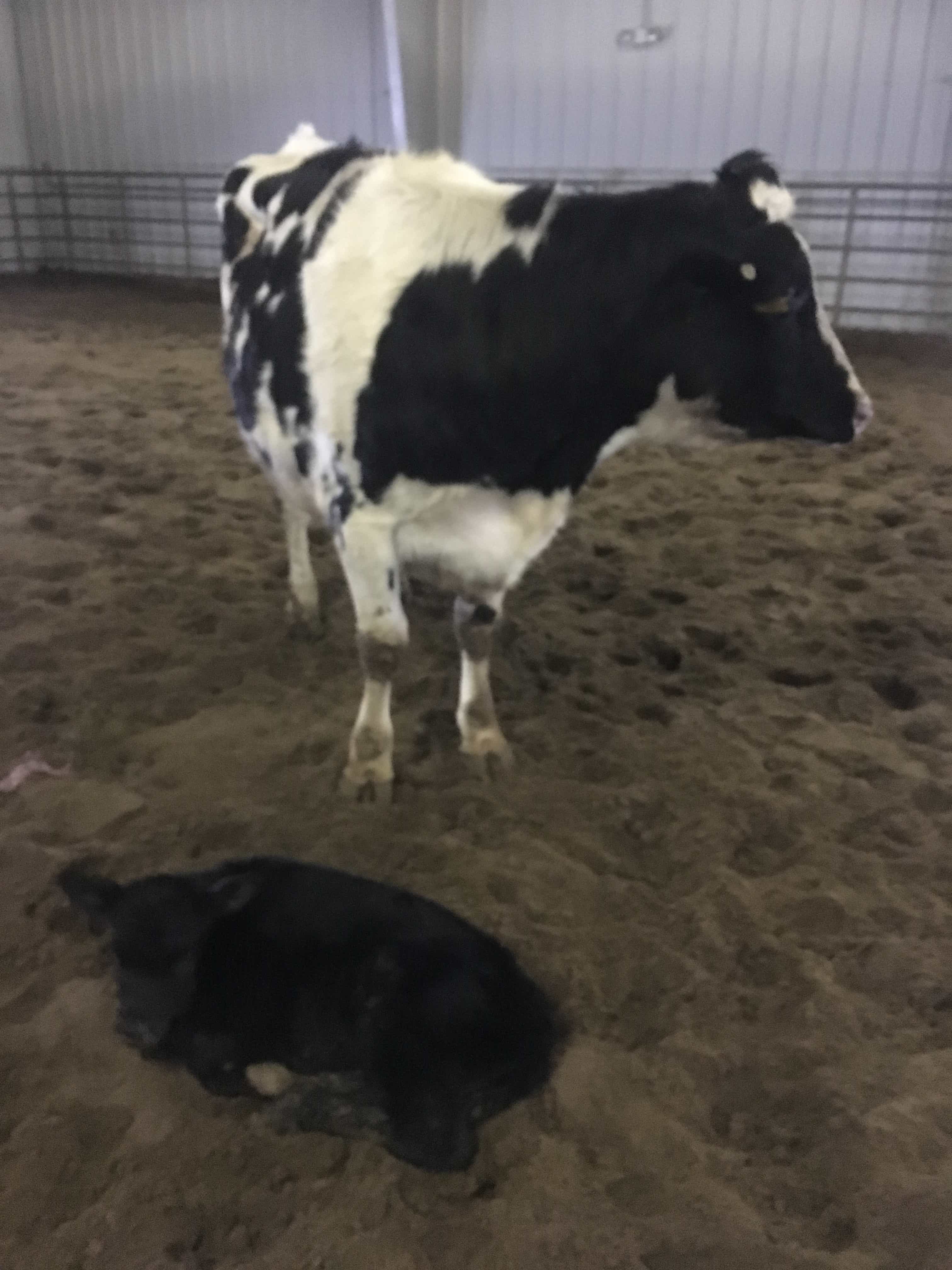 It was a pleasant surprise to find that the Children's Home's Holstein cow, named Dairy Queen, had a baby overnight last Sunday. The baby heifer is healthy, except for a tender front leg.
Dairy Queen was the second cow to give birth this year. There are eight more expectant mothers in our very small herd of cattle.
Calving is a great experience for the 4-H'ers and very economical for our 4-H Club.
Practice Makes Permanent
January 25, 2021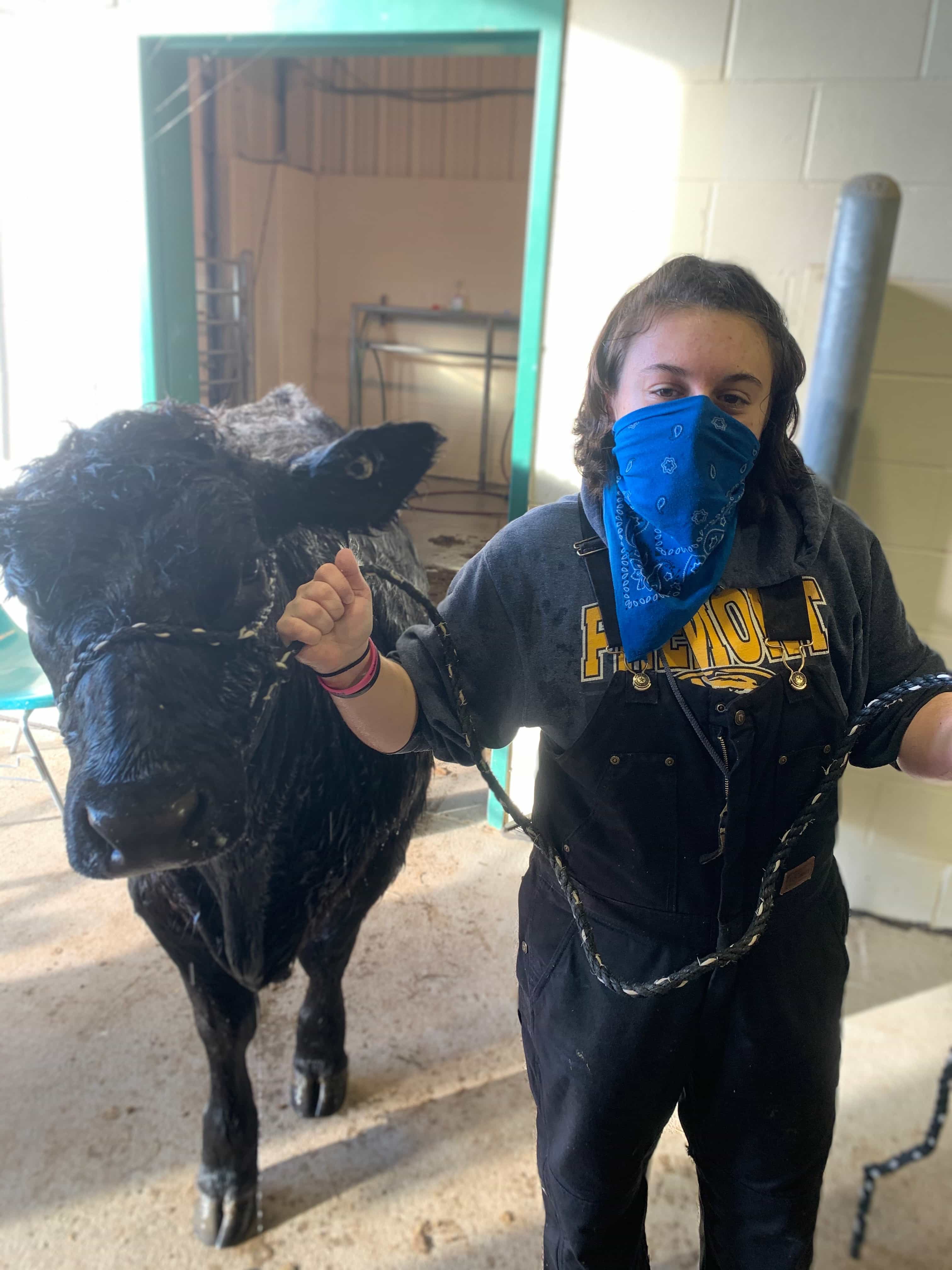 One of my favorite coaches was both my grade school basketball coach and my high school track coach. He was everything that you want in a coach. He was knowledgeable about what he was coaching, created a professional relationship with each player, knew how far to respectfully push each player, and he believed in repetition.
Coach verbally stressed, "practice makes perfect - practice makes permanent". He reminded us of this as we practiced plays until everyone was perfect and muscle memory made it permanent. The same philosophy was coached in a high school track environment that lead his teams to win numerous state championships.
Repetition is mandatory when working with livestock. Practice is good for the 4-H'er and the animal. We have had to make some accommodations during the pandemic, but we strive to practice with the livestock five out of seven days – almost year round. Practice makes perfect – practice makes permanent.
Pictured is Harley working with her calf. It looks like she's going to hold up a train with her bandana on, but the bandana is used in an effort to follow corona protocol, even at the barn.
Leftover Christmas Candy!
January 18, 2021
In addition to the candy in their Christmas stockings, each cottage was given a jar of candy by a group of gracious donors in Lincoln, Nebraska. It will last until the next wave of sugar around Valentine's Day.
Fortunately, each child is given a "Welcome Box", when they move in. The Welcome Box has many useful things inside some of which are a toothbrush, floss and toothpaste.
Click here to go to our Amazon Wish List of Welcome Kit items
Agriculture Technology Building
January 11, 2021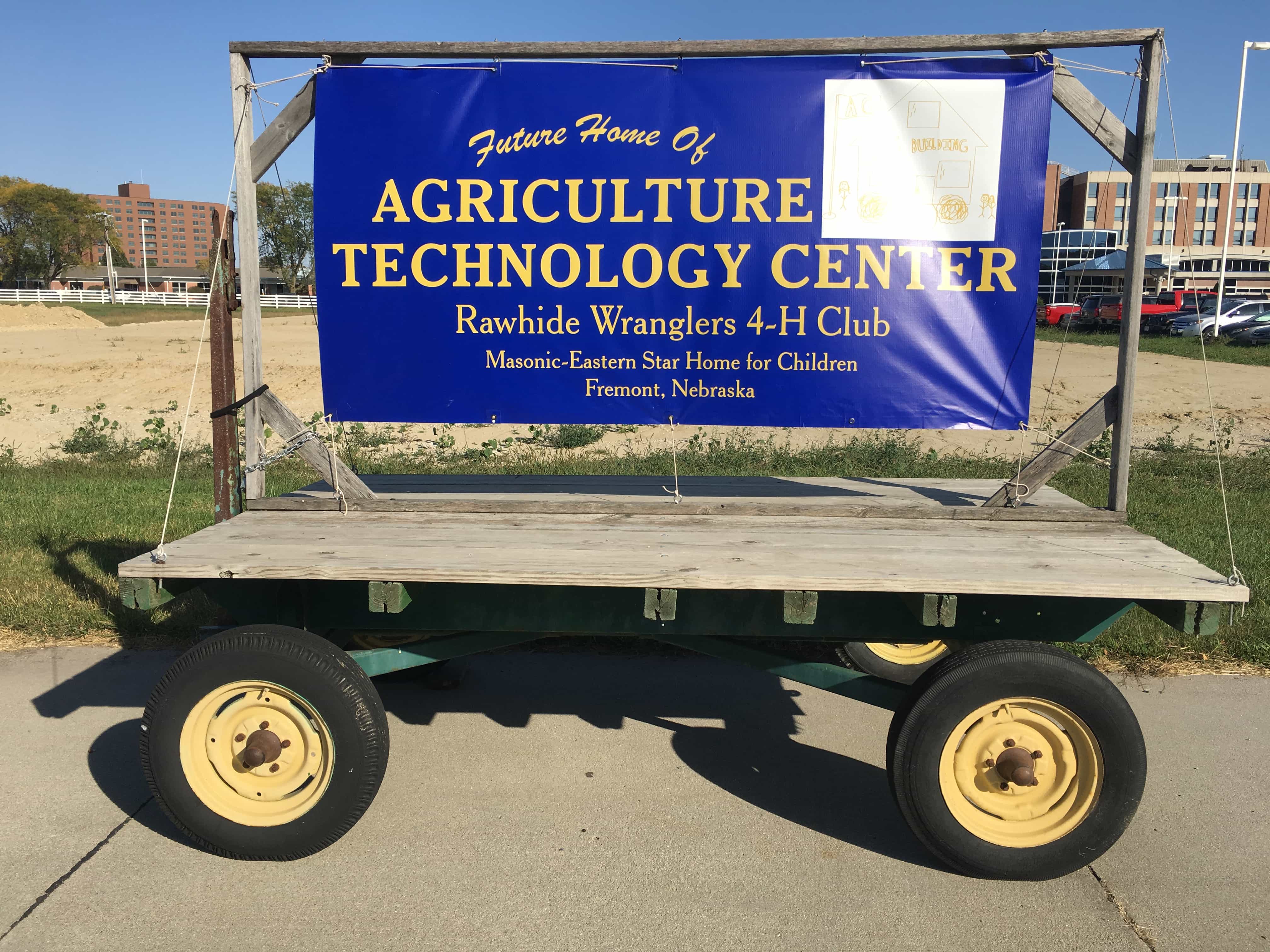 The possibility of a new Agriculture Technology Building is slowly becoming a reality. Working on 4-H projects in a central location will be a welcome convenience and add quality to each 4-H'ers learning environment.
The blueprint for the Ag. Tech Building is still on a piece of typing paper, but the vision is becoming clearer.
It is also possible that Fremont High School will want to use the facility during times when 4-H'ers will not be using it. This collaboration would benefit students from the community and the Children's Home. Very unofficial at this point. Wishful thinking.
More to come on our blog as things transpire.
Thank You!
January 4, 2021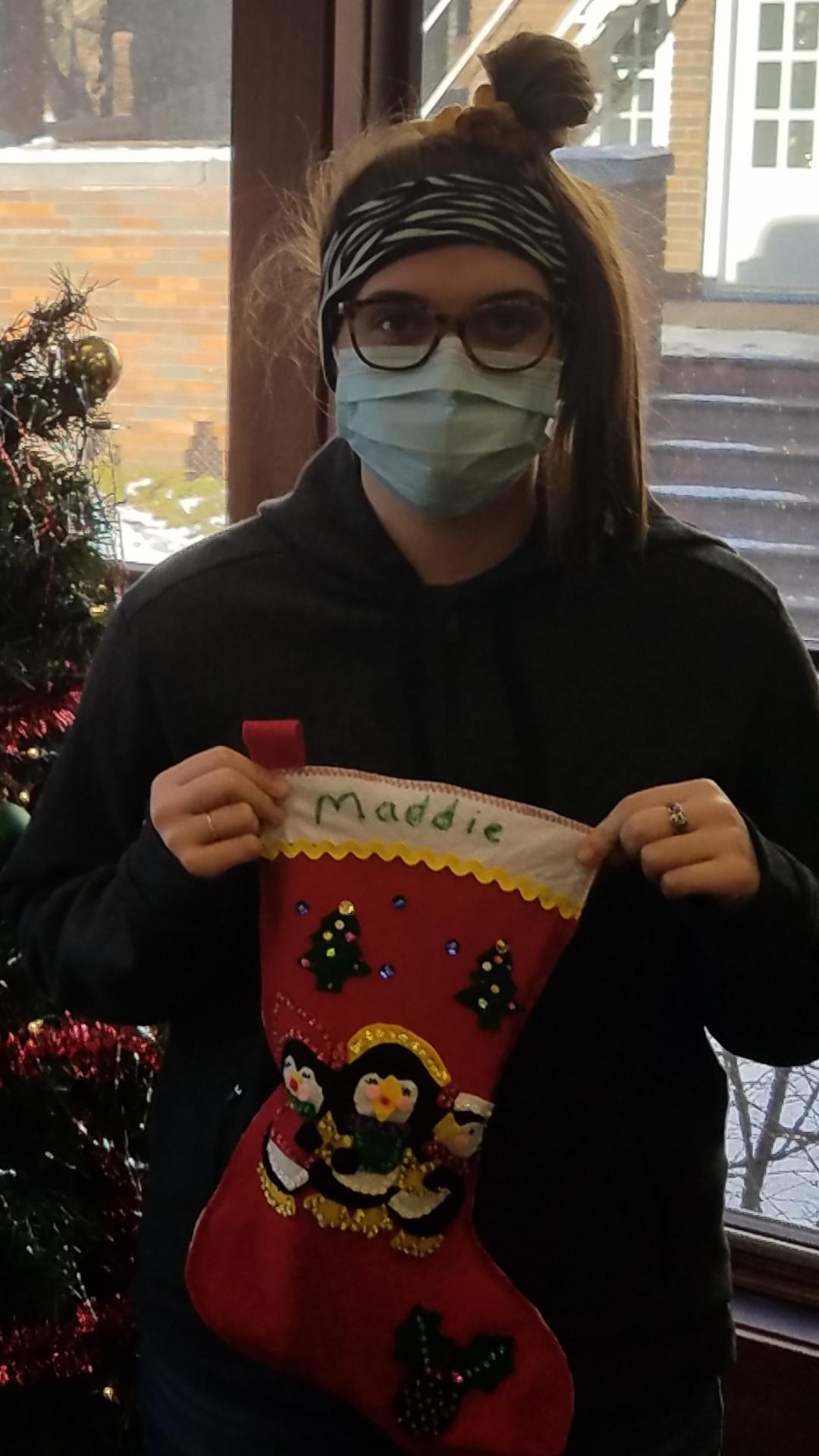 Our thanks to all of the Santa's who made a pandemic year brighter for the youngsters at the Children's Home.
Santa put forth extra effort this year by leaving a little something for each child, each morning, during the month of December.
Presents were opened after an especially large breakfast. Children were also treated to a traditional turkey dinner.
The spirit of Christmas was present at the Children's Home.
First Snowman
December 21, 2020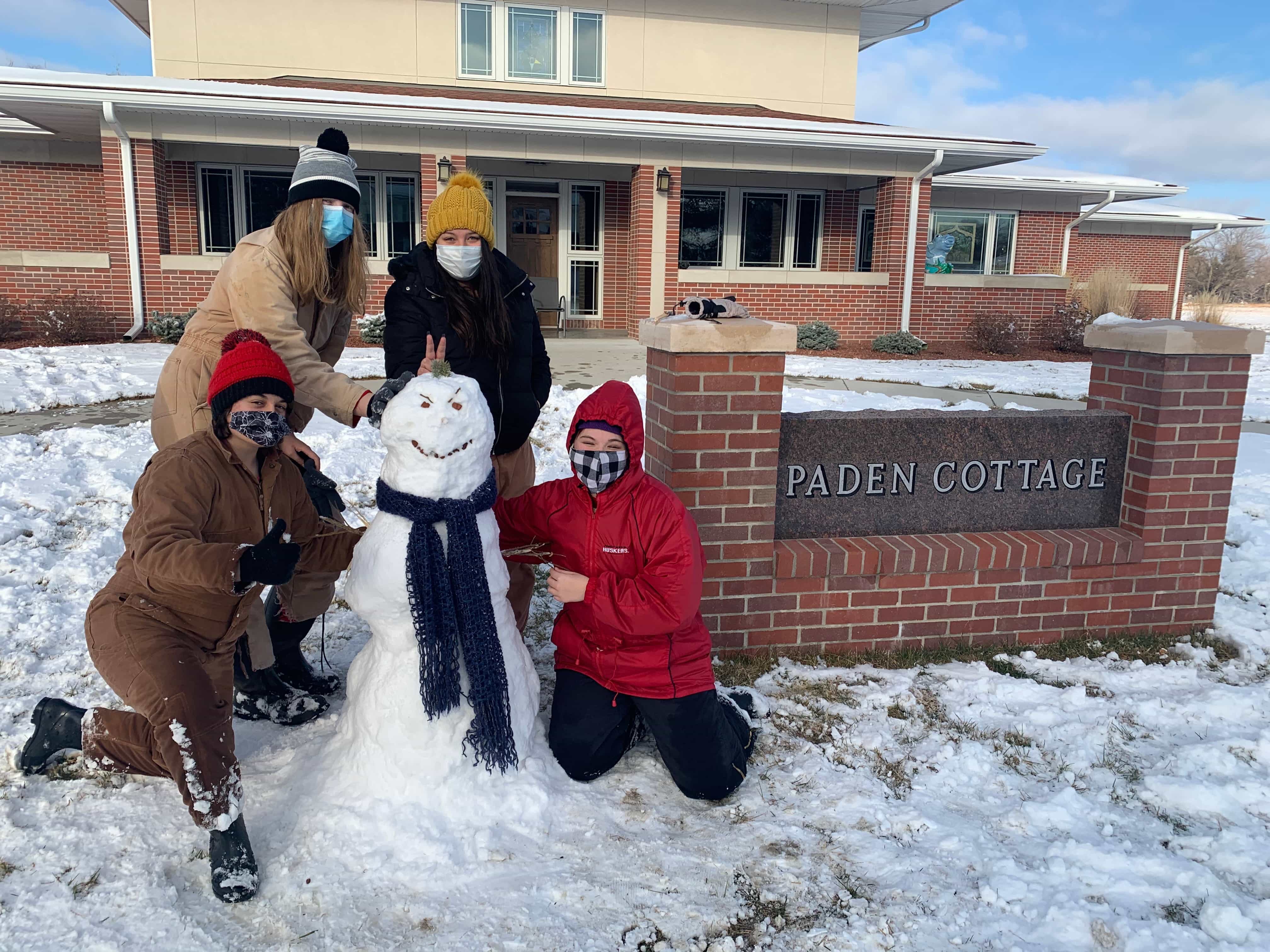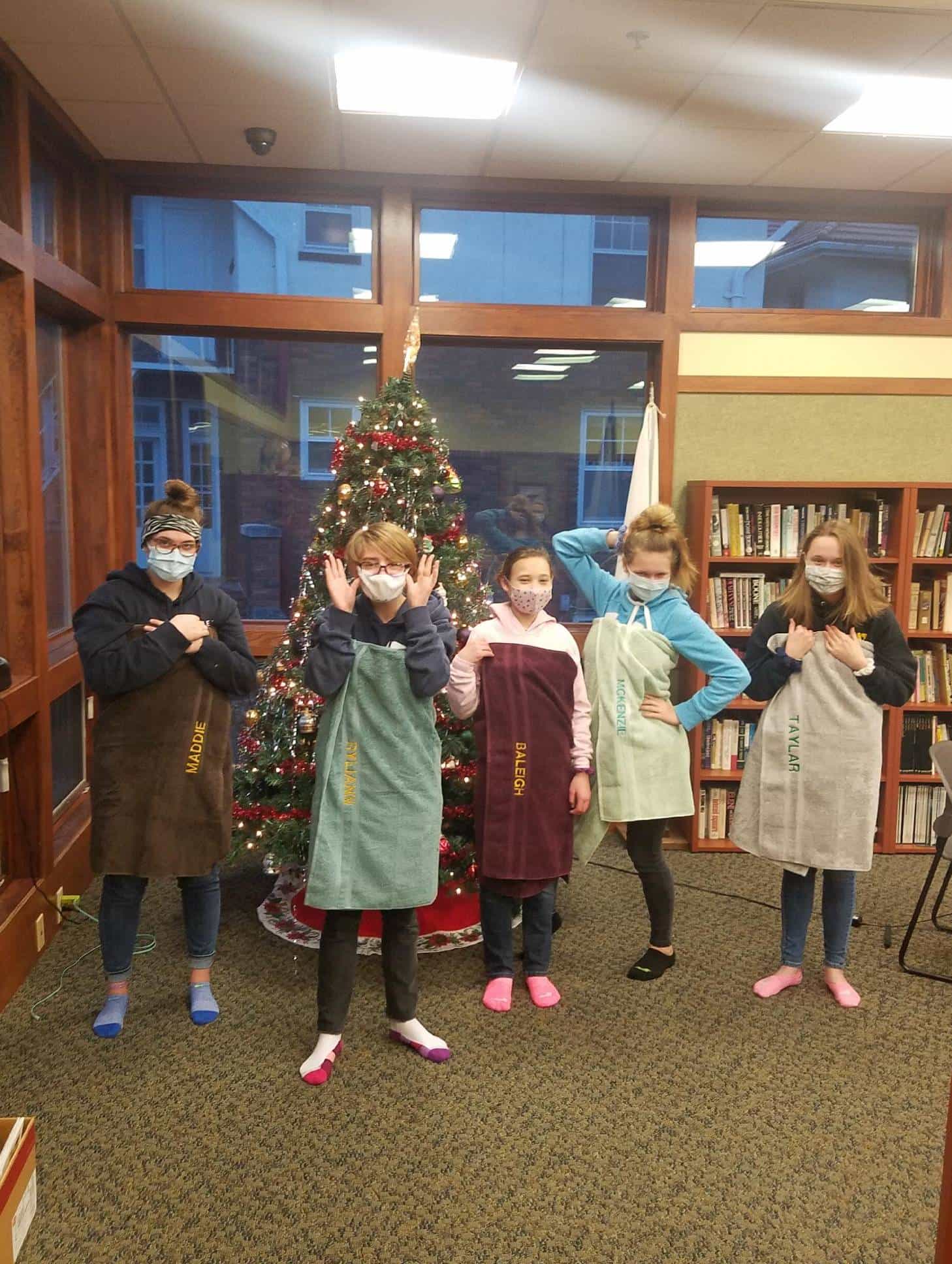 The award, if there was one, goes to the girls in Paden Cottage for building the first snowman on campus for the winter of 2020-21.
The girls named him Little Nick. The girls intend him to be one of Santa's elves – thus the name.
If you look closely, Little Nick has a scowl on his face. He just found out that the Husker football team will need to wait until next year, hopefully, to experience a winning season.
Also pictured are the girls of Veazie Cottage. They are sporting their Christmas gift from the members of the O.E.S. in North Bend, Nebraska. All of the children receive a bath towel with their name sewn on it. The members in North Bend have been giving the children towels for decades.
Daily Gifts
December 14, 2020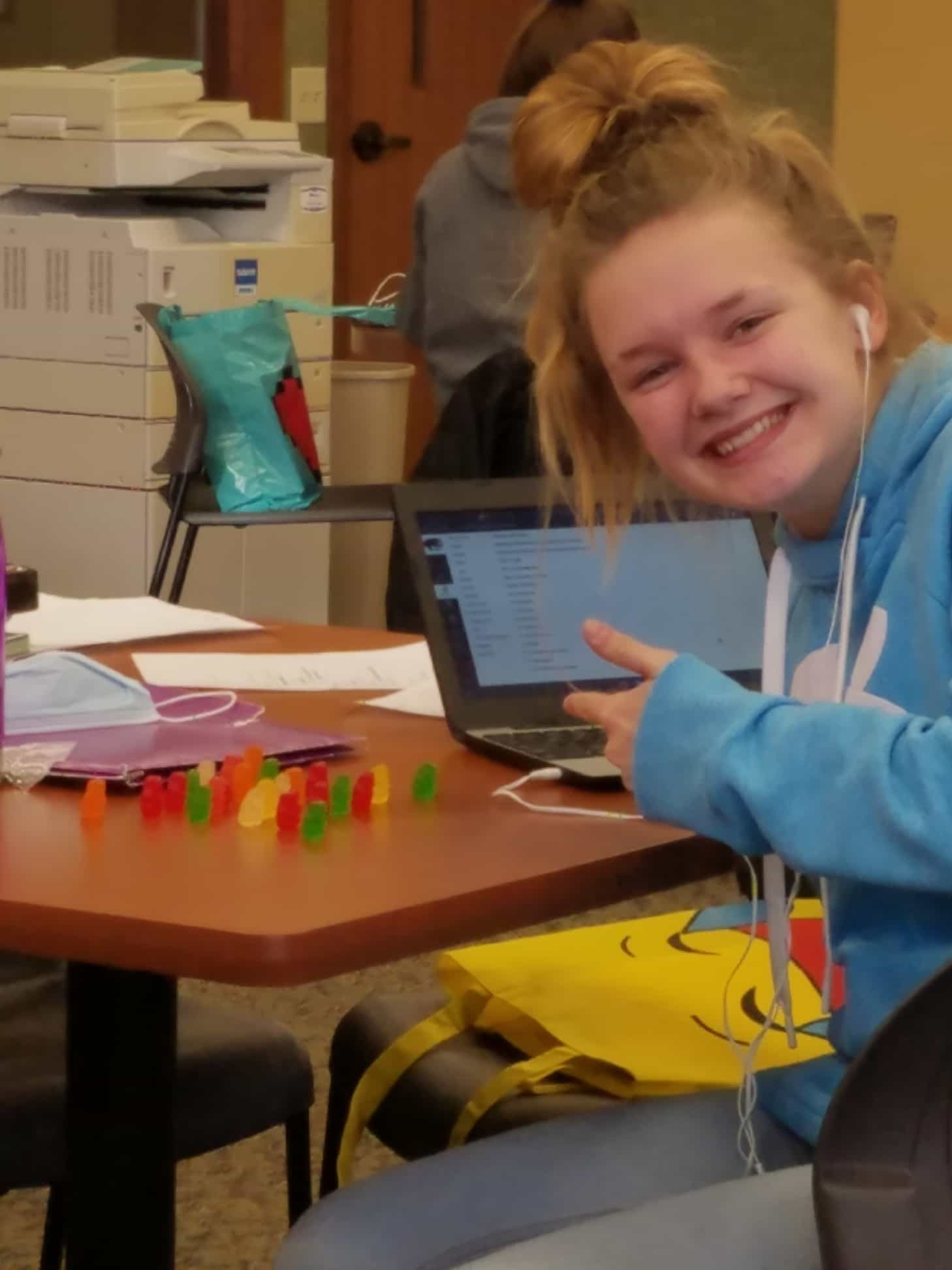 Starting on the first day of December and lasting until the day presents under the tree are opened, Santa has made sure that each boy and girl at the Children's Home had a gift waiting for them at their study hall desk. Gifts ranged from a candy bar to a scooter.
This is not common procedure by the gift giving man. Other years, gifts from Santa and other gracious donors are opened at one time. As all of us know, the year 2020 has been and still is a challenging year. It has challenged everyone's morale.
This tiny gesture to show the children that someone cares enough to give them a daily gift to enlighten their day, has been enough to raise their spirit.
Thank you, Santa and all of the other gracious donors/elves that helped him.
Pictured is McKenzie. She lined up her gummy bears before homework began.
4-H Projects
December 7, 2020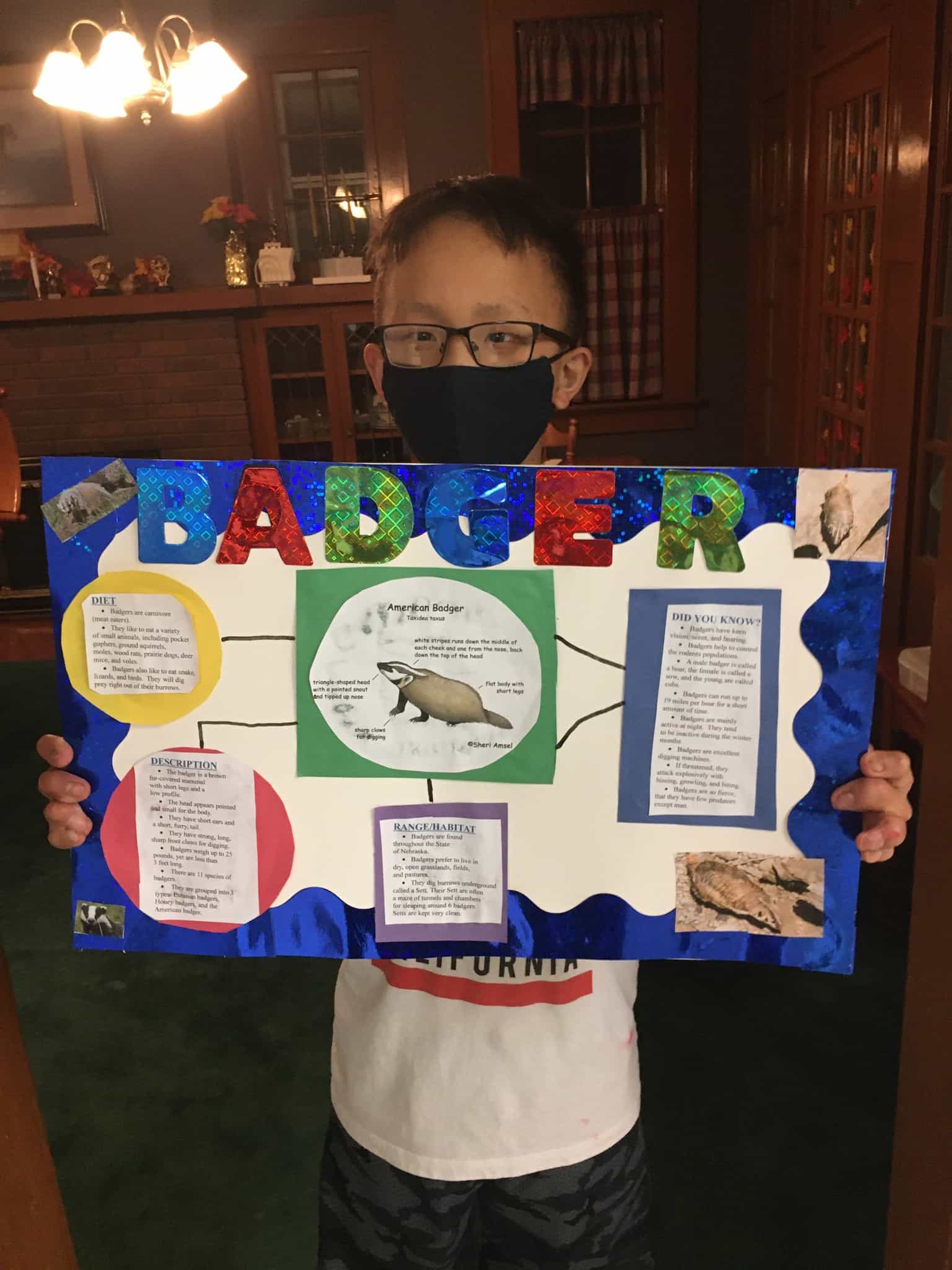 As I've mentioned before, the Rawhide Wranglers 4-H Club is much more than a summer livestock 4-H Club, it's a year 'round 4-H Club. Off-season 4-H is designed to teach life skills, hobbies, vocational skills and how to be a good neighbor.
Baking, gardening and first aid are a few of the many life skills that the Rawhide Wranglers learn about.
Hobby projects are a choice by each 4-H'er. Some 4-H'ers choose to build a rocket while others learn about the outdoors – such as the young man in the attached photos. Woodworking is a hobby project that all Rawhide Wranglers partake in.
Rawhide Wranglers get a taste of a few different hands-on vocations such as welding, electrical and carpentry. We hope to have a new centralized location someday to make the learning environment more efficient. Everyone does a career project, so they can learn about their possible career choice.
Last, but not least, is reminding and/or teaching the 4-H'ers how to be a good citizen. Volunteering in the community, respecting others and learning appropriate social skills are a big part of being in a 4-H Club.
The Rawhide Wranglers 4-H Club earned the Nebraska 4-H Club of Excellence award this year. This award is granted to well-rounded 4-H Clubs.
Christmas 1964
November 30, 2020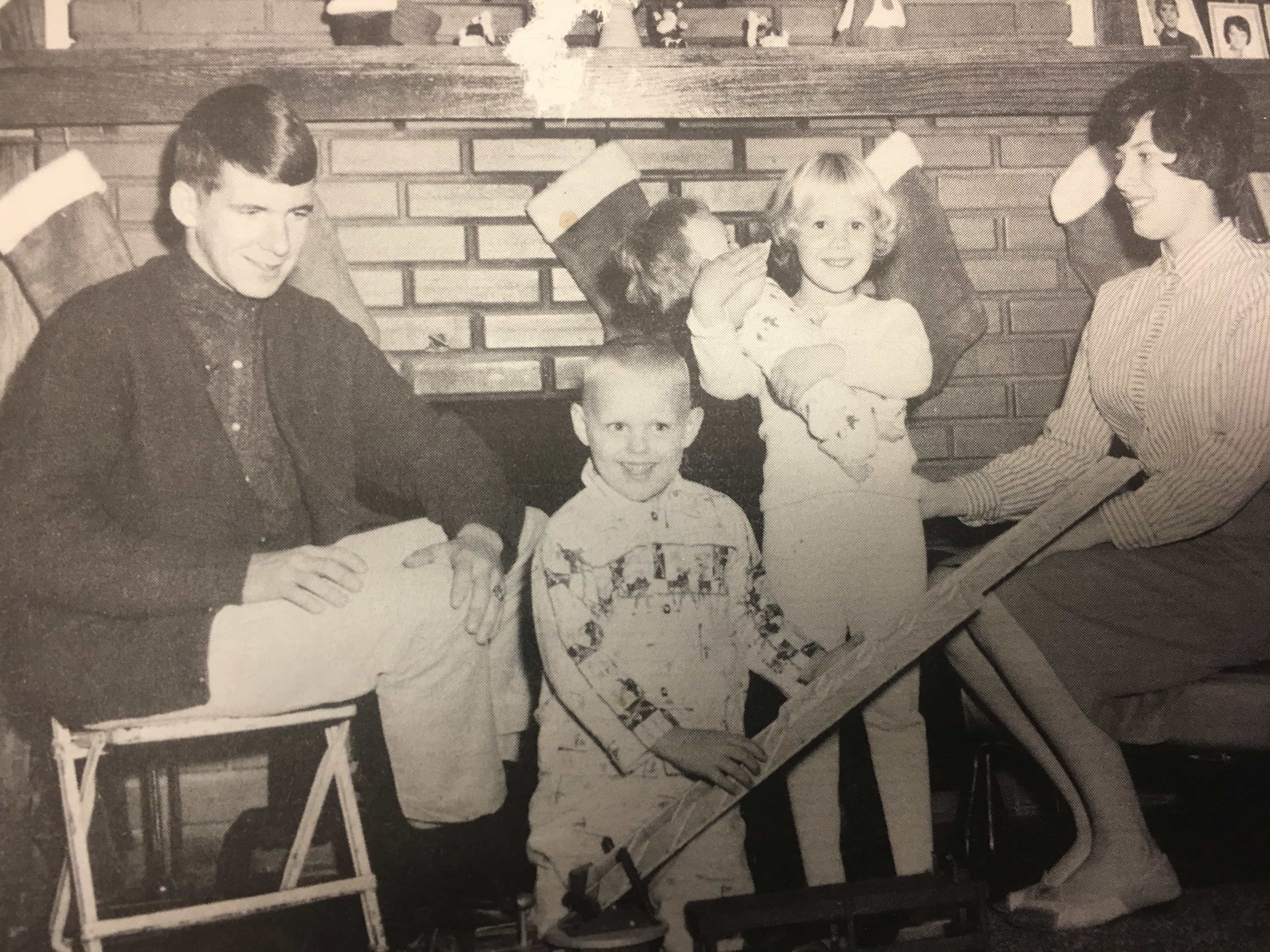 Every once in a while a picture surfaces that is fitting for the season. The cancellation of a few meetings during the pandemic has given me time to clean my office. While cleaning, this picture of four children that lived in the Children's Home in 1964 caught my eye, so I thought it timely to share it with others.
A few years ago, when I first saw the picture, I thought the older children were staff members. After contacting someone who lived at the Children's Home in the 1960's, I discovered that they were in high school. Probably best that I'm not a bartender.
The boy with the firetruck lives in Fremont and does contract work for the Children's Home. The high school girl was found by an interesting coincidence a few months after the photo was found. In 2015, she lived in California and came to Nebraska to visit friends
Sandy, the high school girl in the photo, recalls many fond memories of the Children's Home, but some of the best were the memories of Christmas. Talking about the Christmas décor, meals and gifts brought a smile upon her face.
Ice Storm
November 16, 2020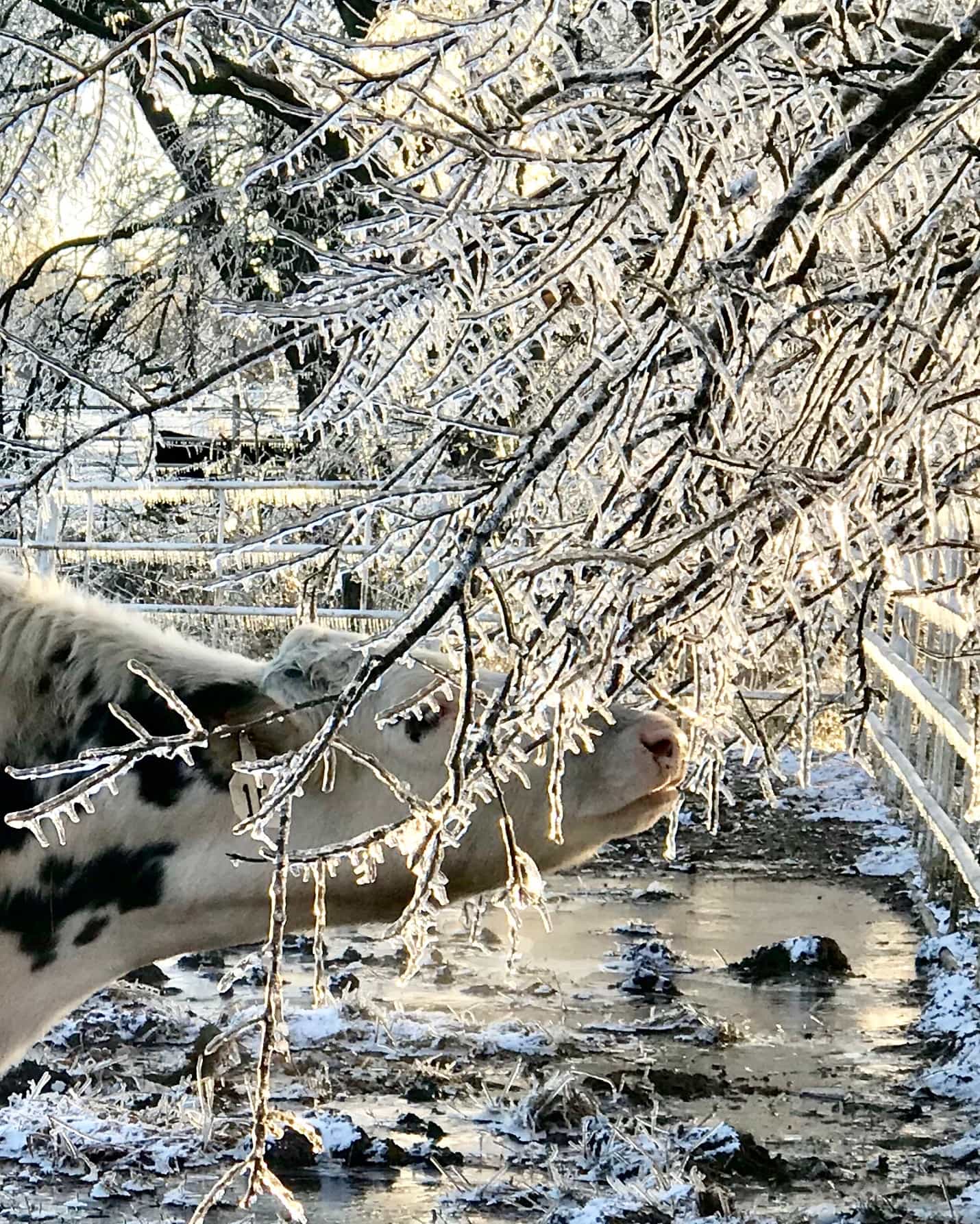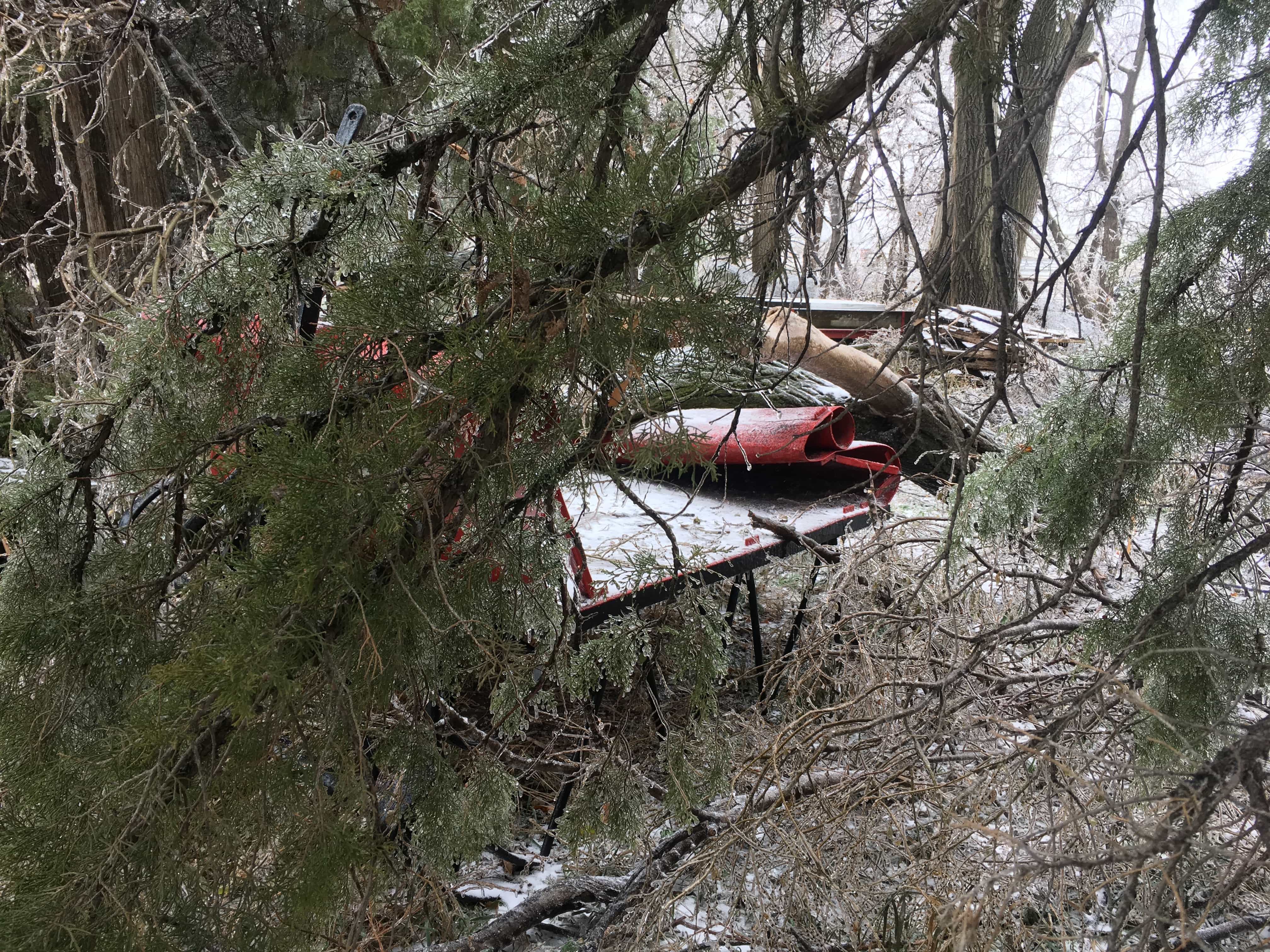 Between wind storms and ice storms, we shouldn't have to trim many trees this year. The recipe of rain followed by freezing temperatures in Fremont, Nebraska, produced significant damage on the Children's Home's collection of trees.
Fortunately, the only building damaged was the donkey shed. A tree limb went through the roof. Some of our retired neighbors asked if the donkeys could stay at pasture another month. The pasture is adjacent to the neighbors and away from the damaged shed. Thankfully the donkeys were out to pasture and uninjured.
Pictured is a calf that took the liberty of eating a few icicles after the storm. Teresa Giesselmann's keen eye for a good picture produced this result.
Halloween Party
November 9, 2020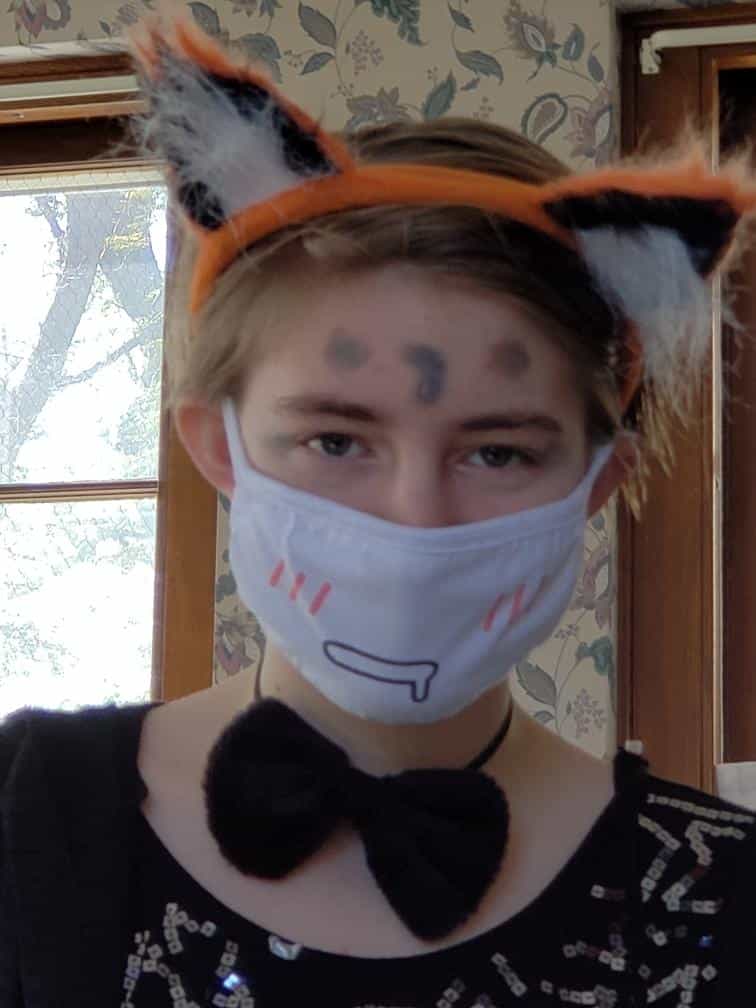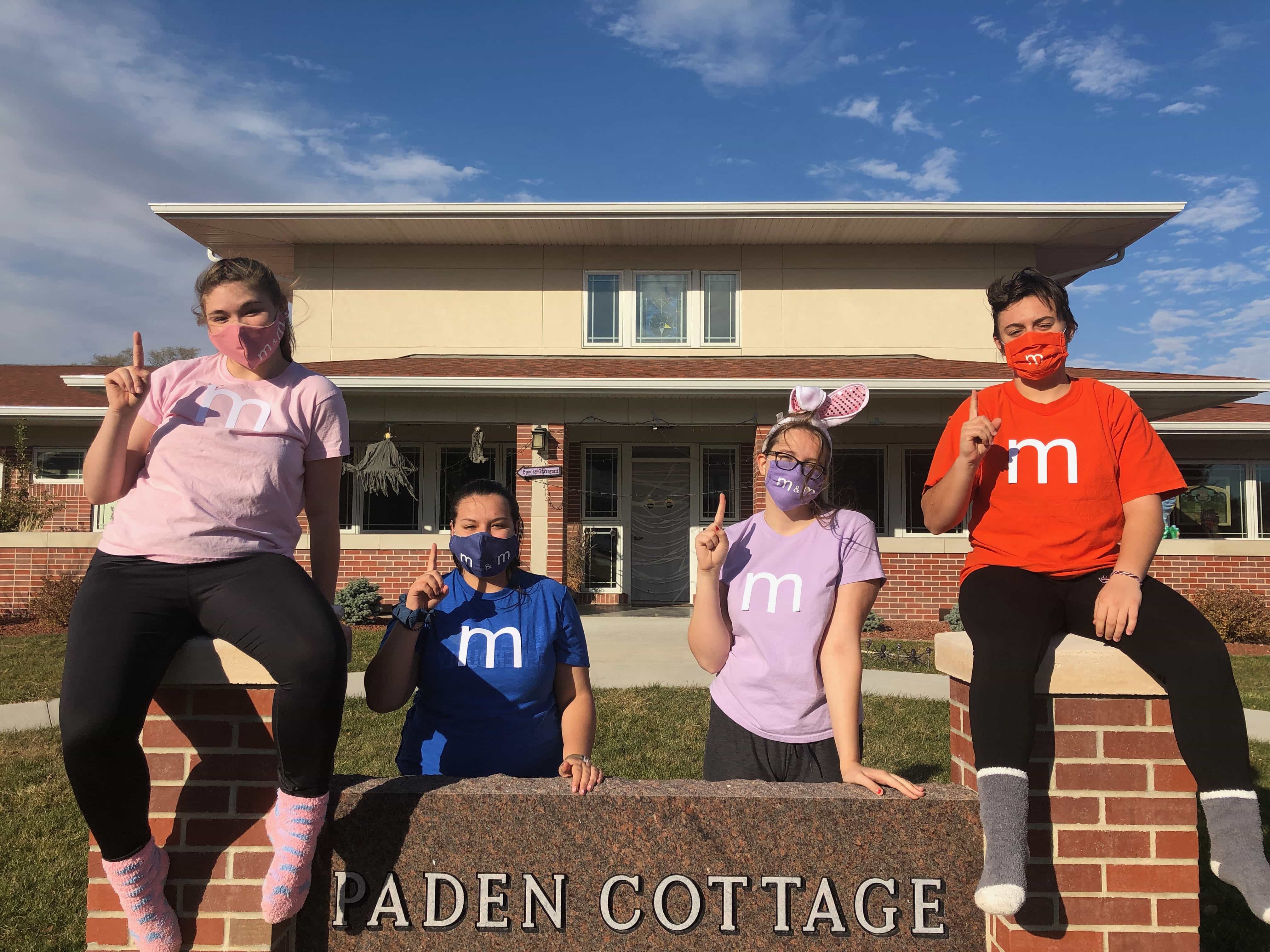 Everyone had a great time at their Halloween Party. The children watched a few spooky movies, played some traditional Halloween games and had plenty of treats, thanks to some very gracious donors.
Due to the corona, it was not a traditional Halloween Party. We usually go to a corn maze, roast marshmallows on an open fire, watch a few scary movies and eat candy. We can get back into the swing of things in 2021. For now, we will be happy with a Corona Halloween Party.
Christmas Postcard
November 3, 2020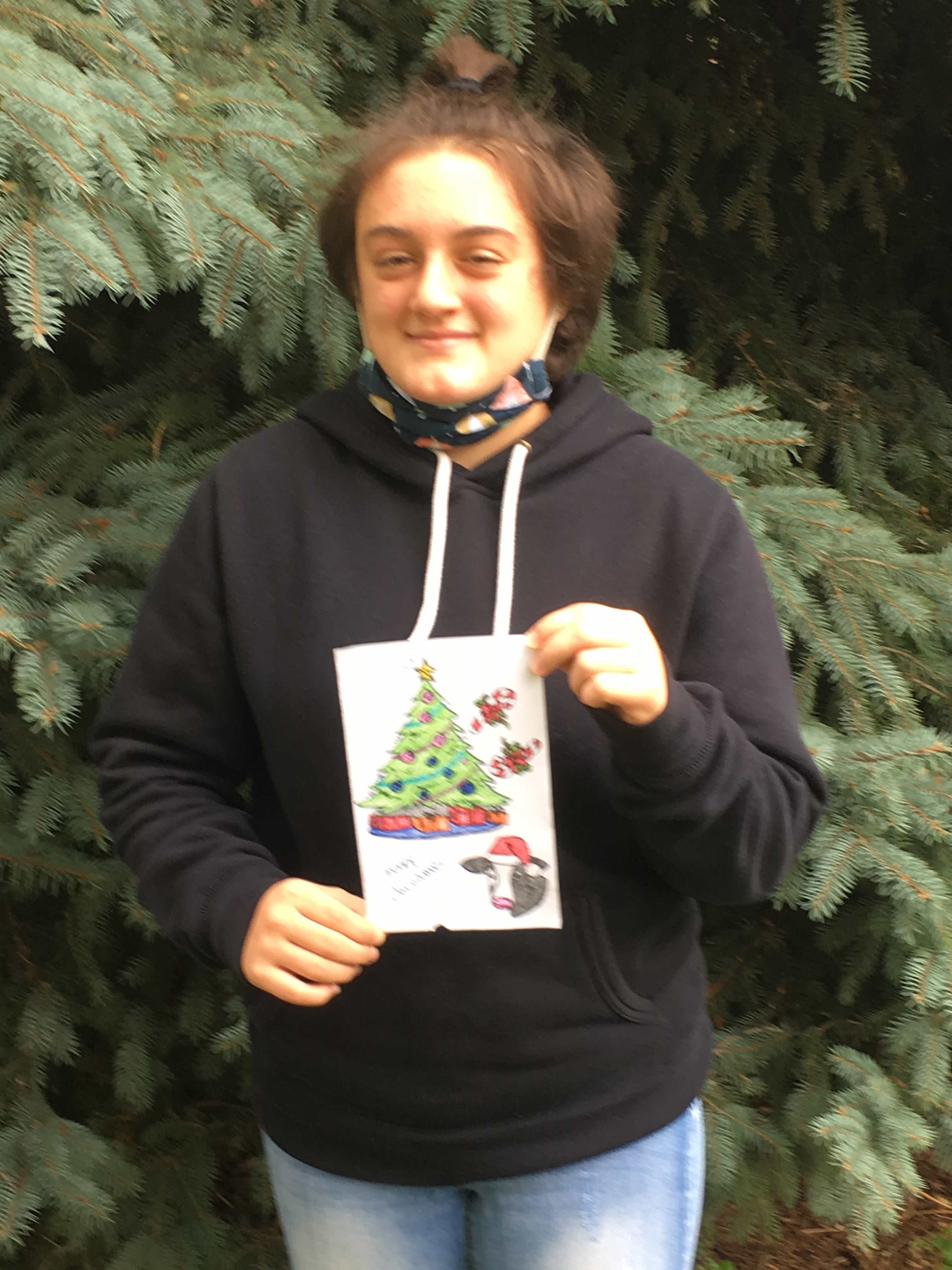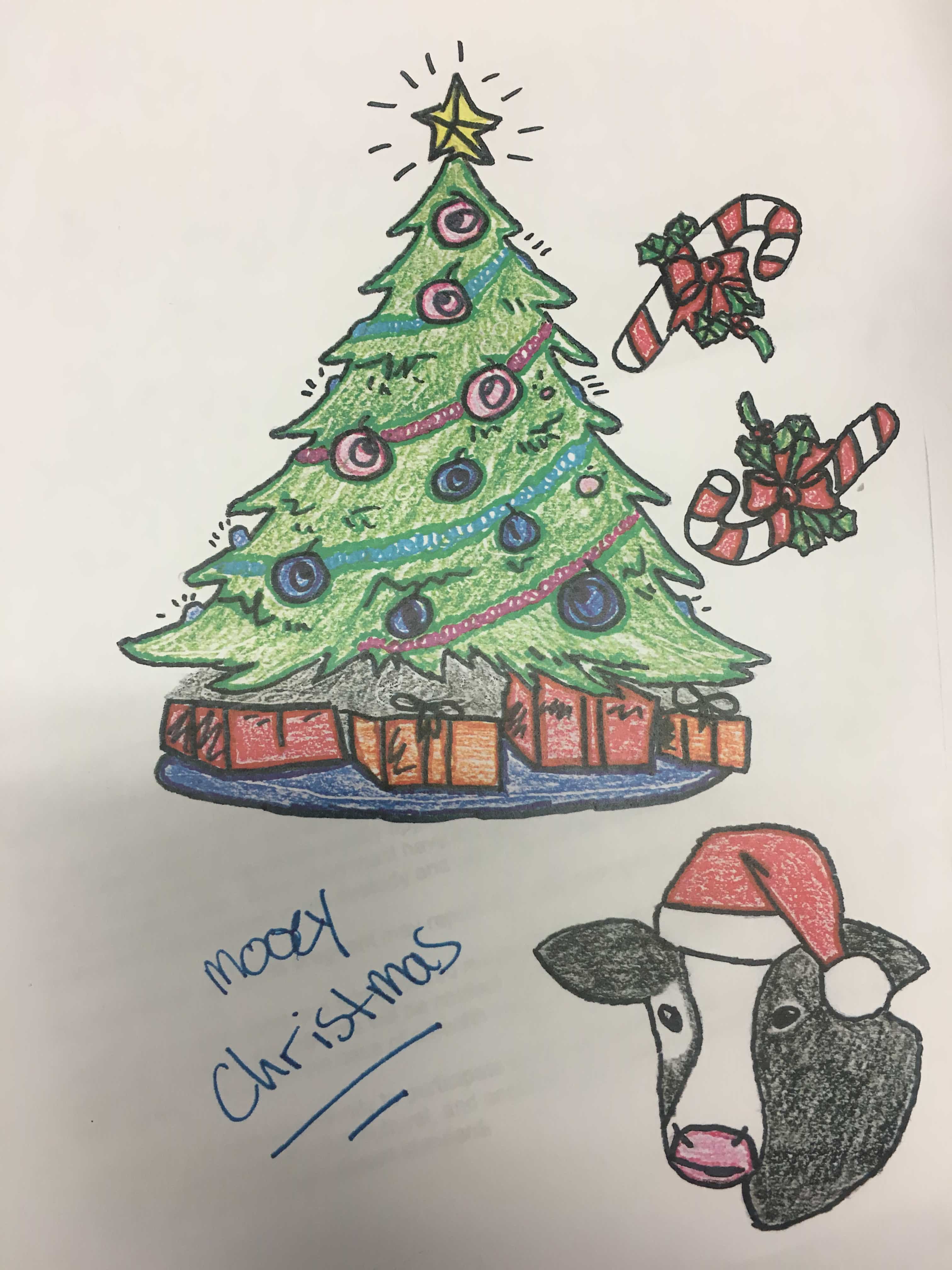 Harley was the proud winner of the 2020 Christmas Postcard Contest. Her combination of a Christmas tree, cow and candy canes covered most of the bases on the Children's Home's campus.
The three items are probably on Harley's top 10 favorite list too. She is front and center when Christmas trees need to be decorated, her 4-H Beef projects are always contenders and, like most kids, she won't be passing up the candy.
Woodworking/Art Project
October 26, 2020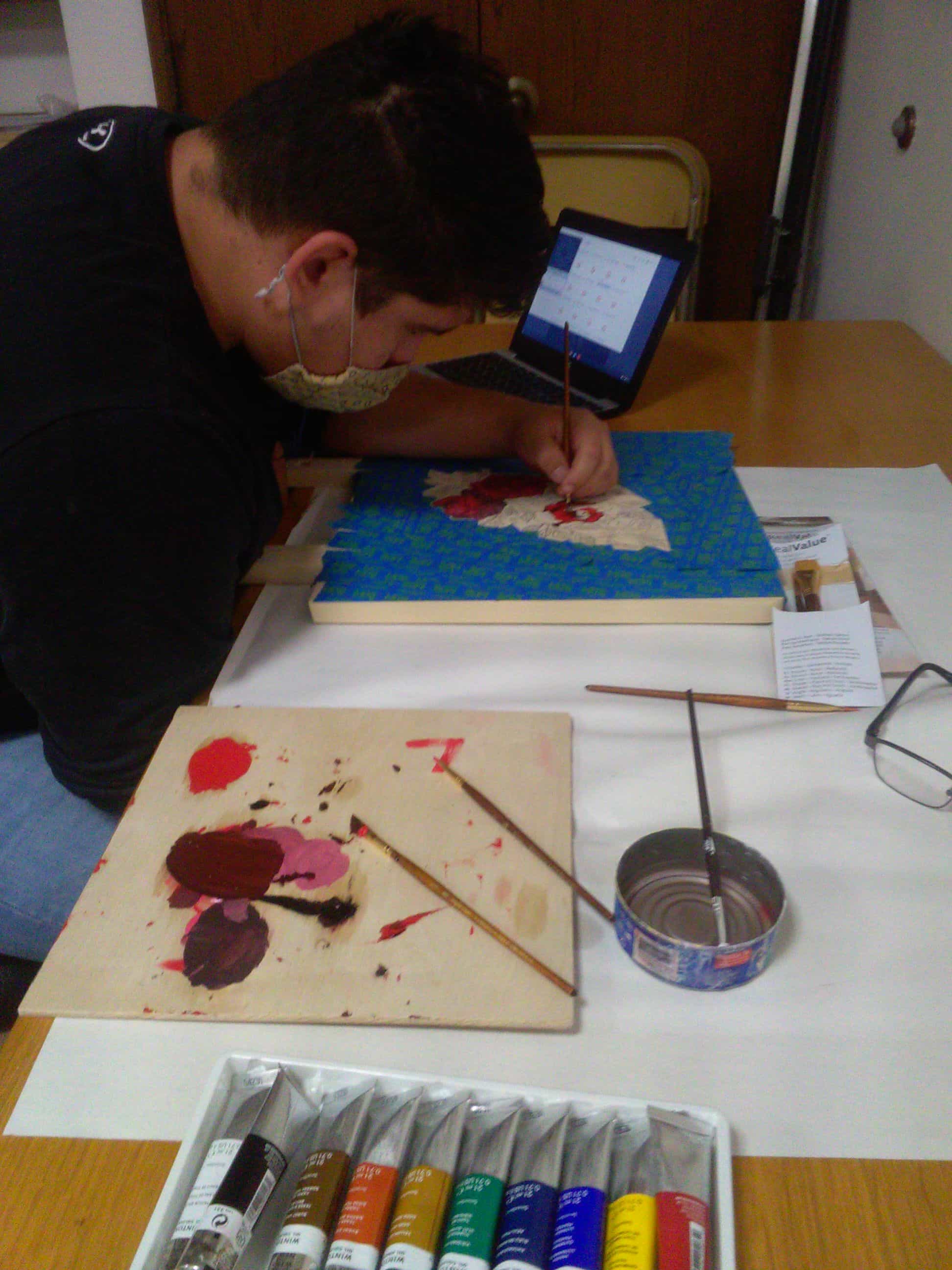 Isiah has been diligently working on his shop project for the past few months. The project combines two of his best talents – woodworking and art. When finished, his craftsmanship will have produced a Swiss chair called a sabine.
The chair is portable, so it is designed to breakdown. This means that Isiah needed to make very precise edges and holes. The woodworking segment of the project is finished. He is now working on the art. Isiah seems to be handling his nerves well, because he knows that if he makes a mistake during the painting process, it will affect his final plans for the project.
Isiah plans to have the project done before Christmas. I'm sure we will have a photo of his finished product in December. Until then, please wish Isiah a steady hand.
Halloween Decorating Contest
October 12, 2020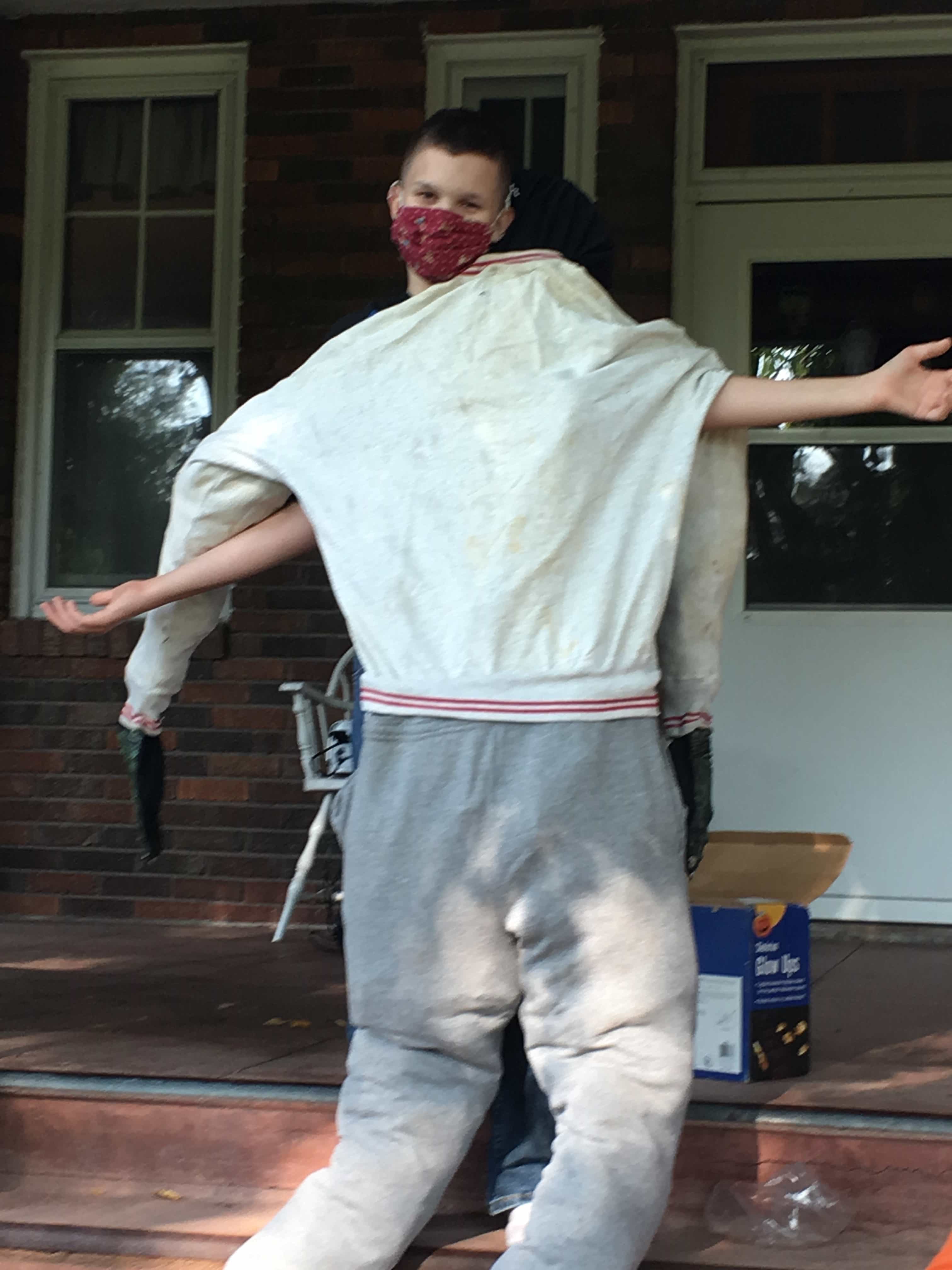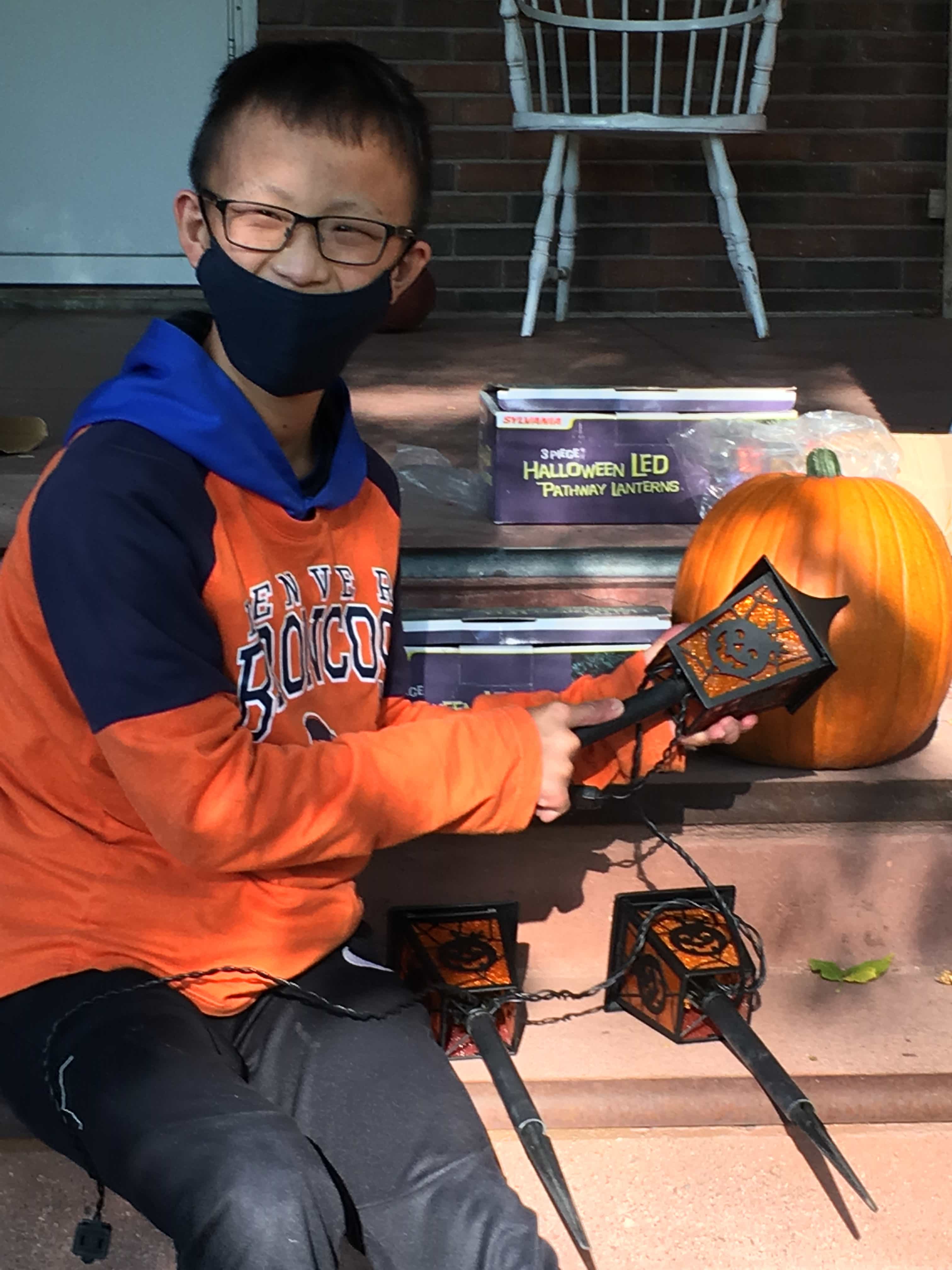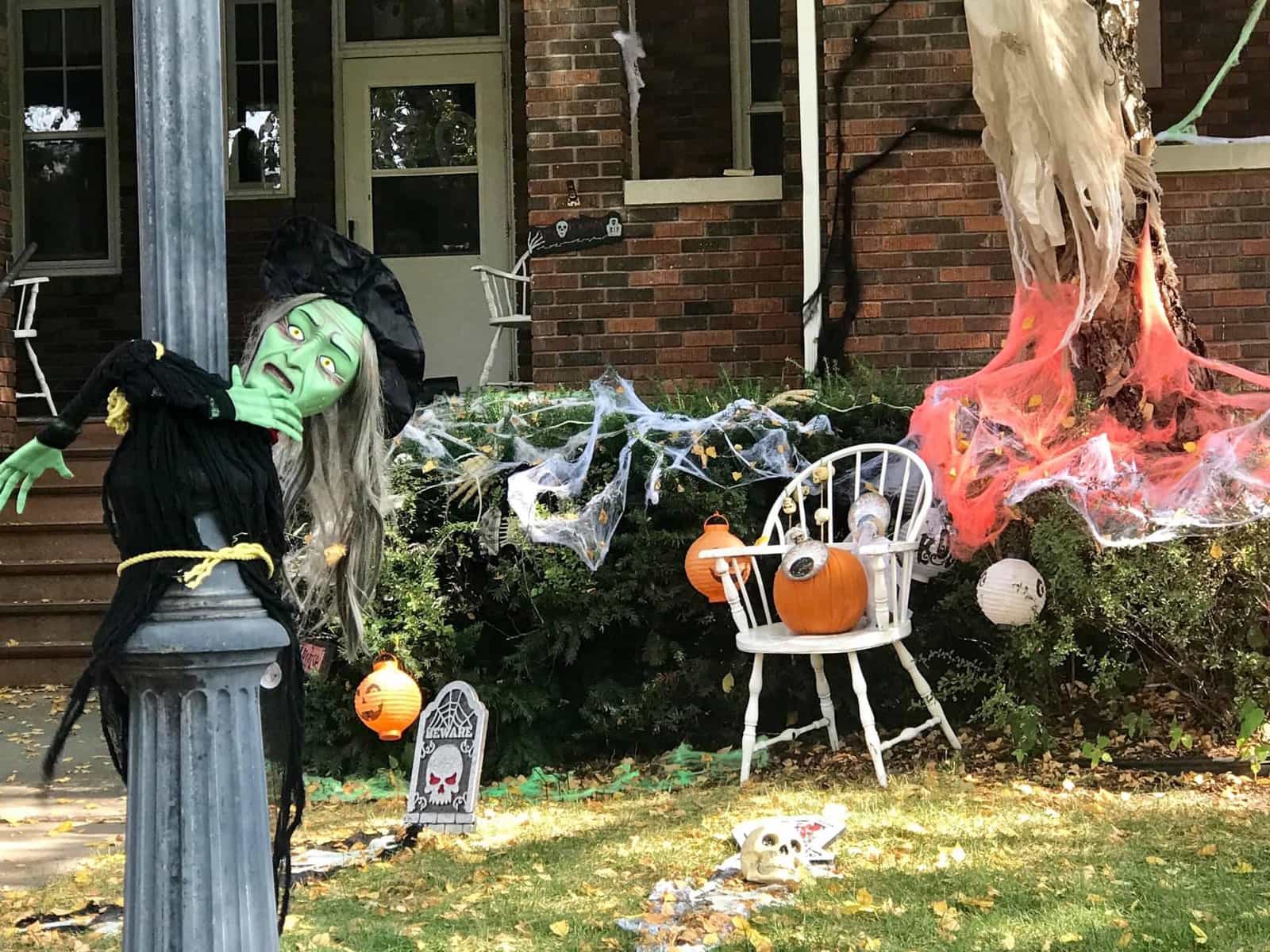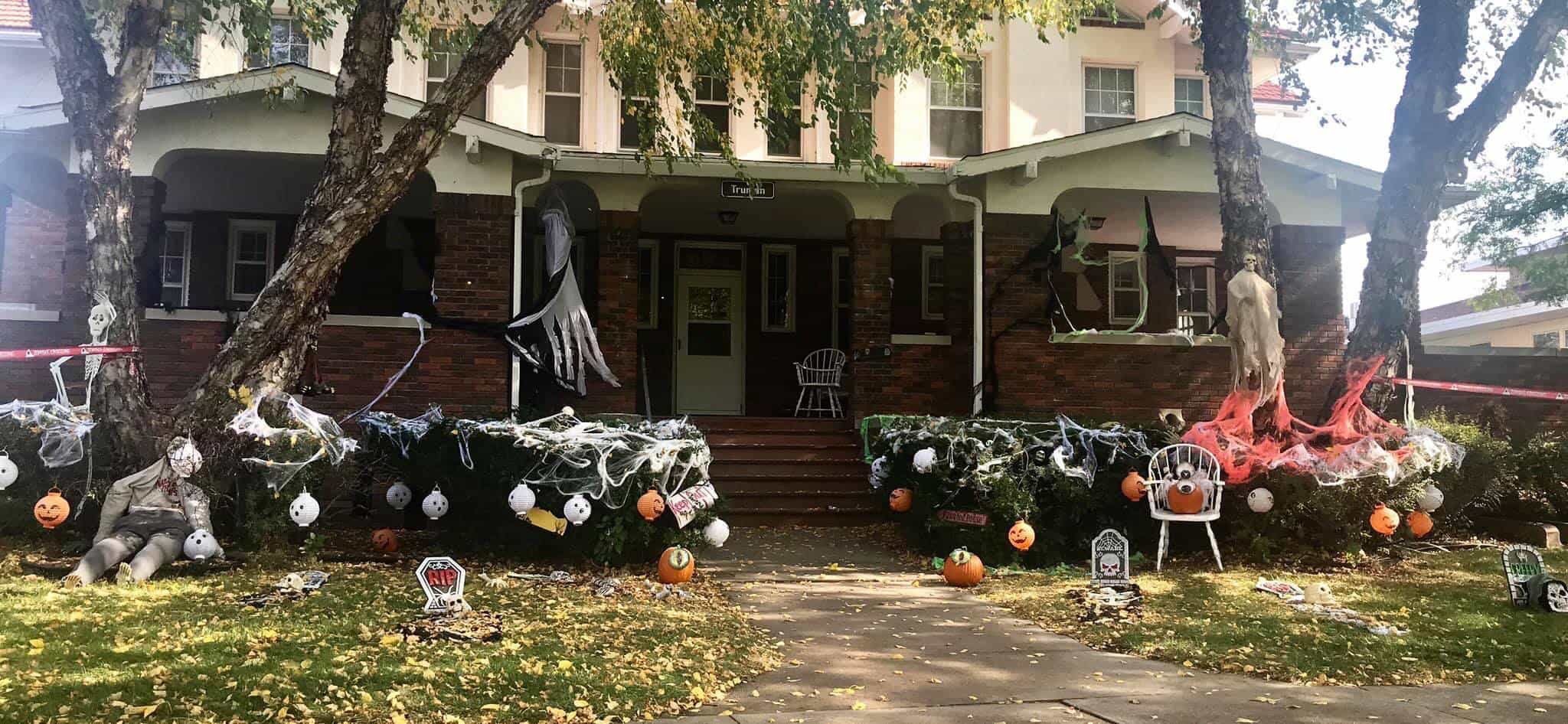 The boys in Truman Cottage won the 2020 Halloween Decorating Contest! The girls in Paden Cottage were a close second.
A few years ago, a local Haunted Halloween trail went out of business and donated their decorations to the Children's Home. They have been a welcome part of our Octobers ever since.
The boys might have won the contest, but everyone was a winner, because everyone had a good time decorating their cottage.
Beam Me Up!
October 12, 2020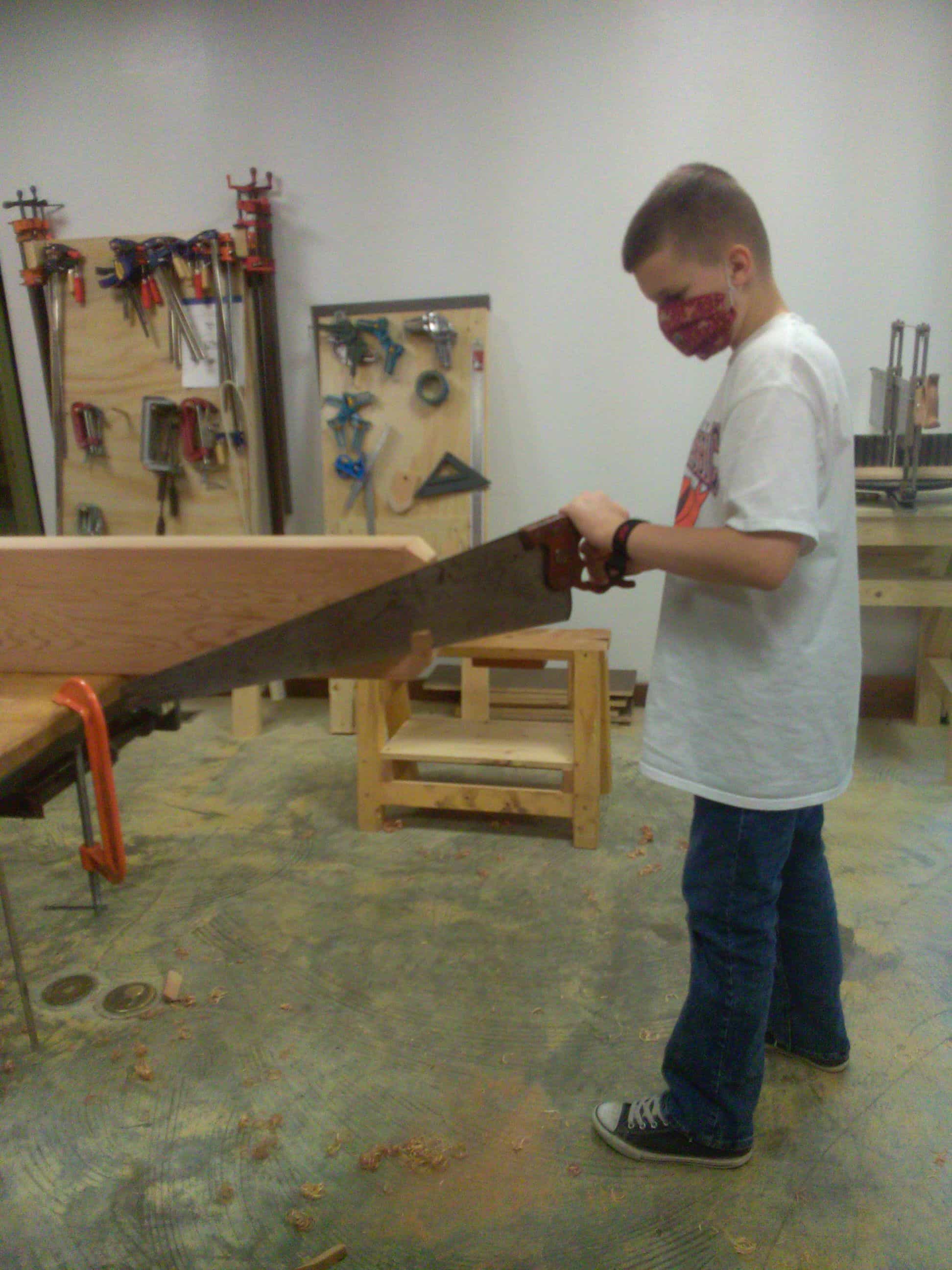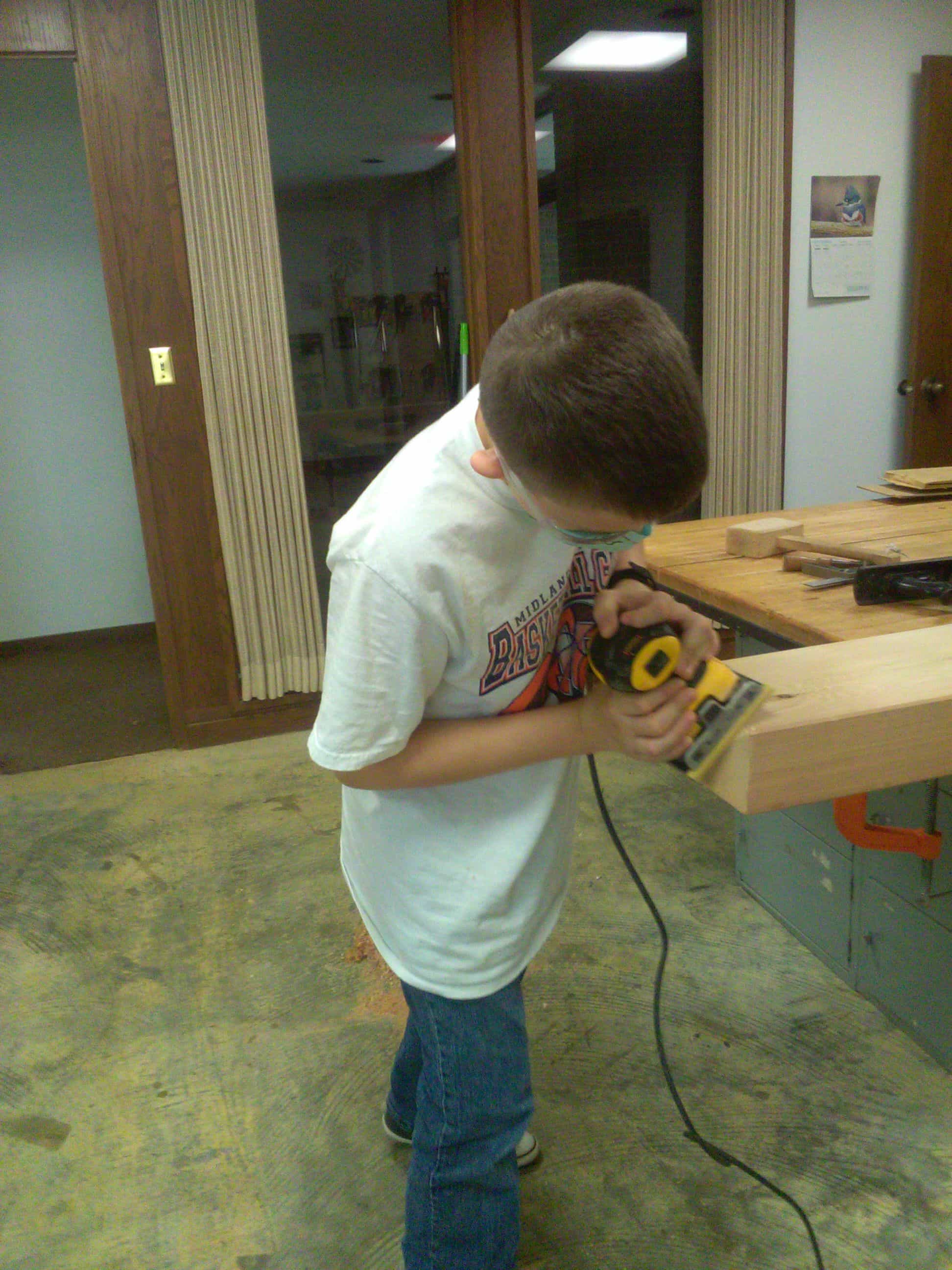 During one of the storms last summer, a part of the office's pergola was damaged. Of the damaged parts a beam had to be replaced. Fortunately, the woodworking class stepped up and volunteered to prepare the beam for replacement.
Pictured is Tyler who is working on the beveled end of the beam. The class will cut it to the correct length, prime and paint it, so it will be ready to hold up the 2x6 boards that make up the top of the pergola for another 50 years.
This was a practical project that will be a positive memory for the woodworking class. When they come back to visit for their 25th Reunion, they can look above the front office door and say that they helped replace the beam. I'm sure that there will be a few autographs on the beam to prove their statement.
A few of you might recognize the woodworking shop. It used to be the O.E.S. state office. They moved to Lincoln and we repurposed the building into technology shops. The technology building is very popular, but getting a little tight. We would like to build a larger building in the near future.
Drawing Contest
October 5, 2020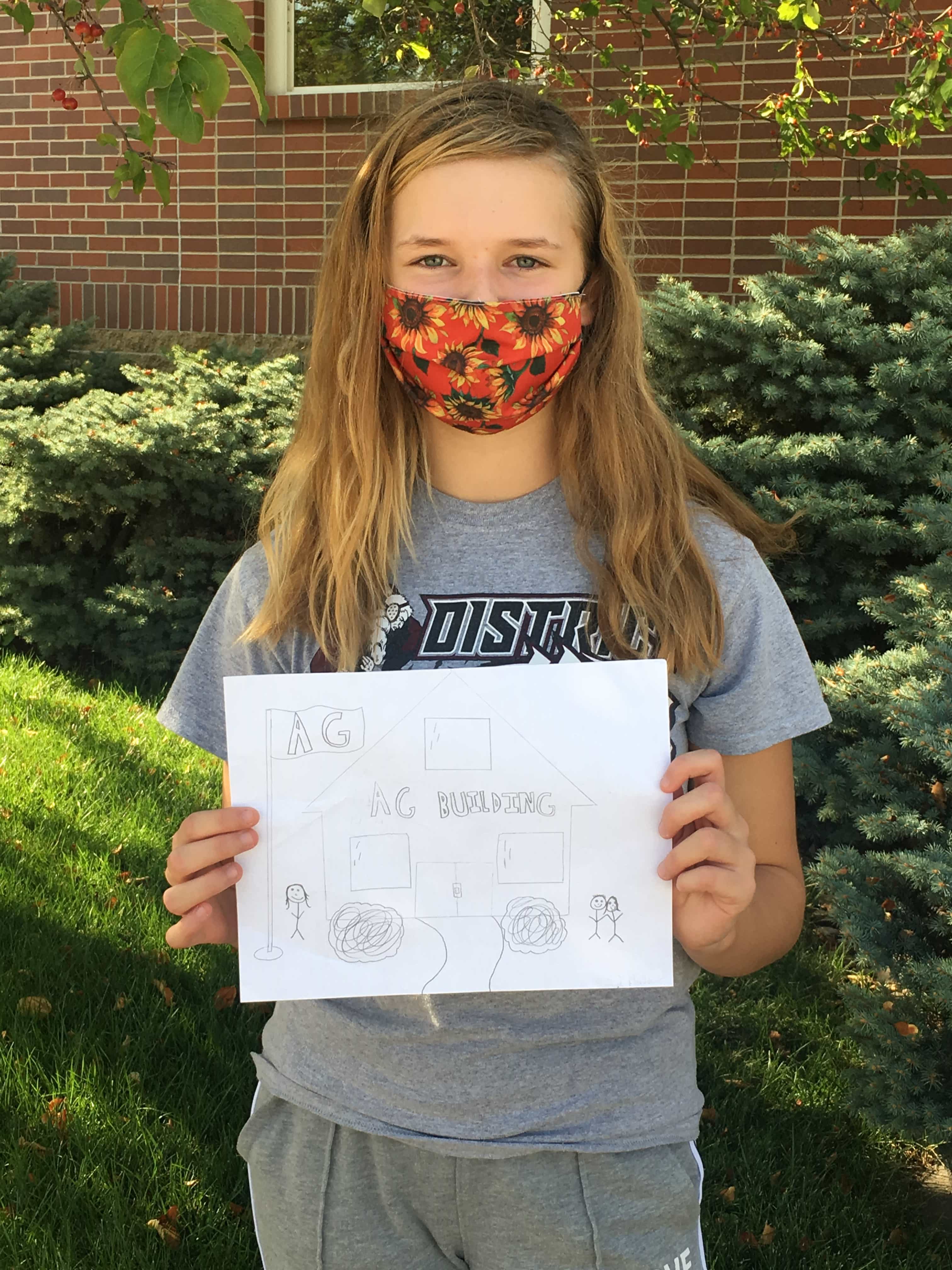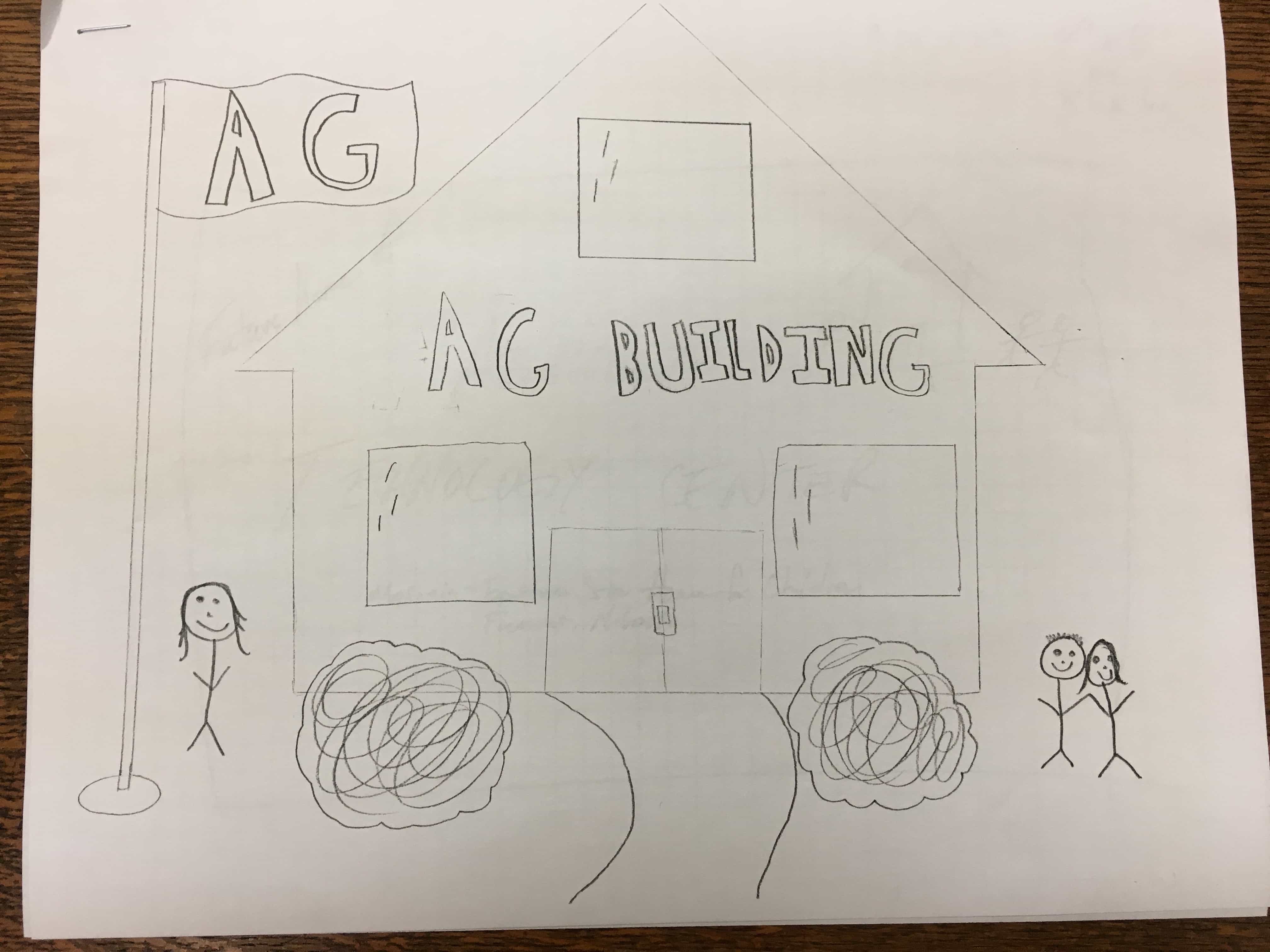 With the new Agriculture Technology Center on the horizon, much of what goes into the mind of the planners is safety, affordability and practical use. How does a child view such a project?
M-ESHC's Board President, Leona Paden, suggested that we put a sign in front of our flattened out pile of dirt that will be the foundation of the new building. We went a step farther by adding a drawing of the building, by one of the 4-H'ers, onto the sign. Kenzie was the big winner of the drawing contest.
Fun at the Farm in the Fall
September 28, 2020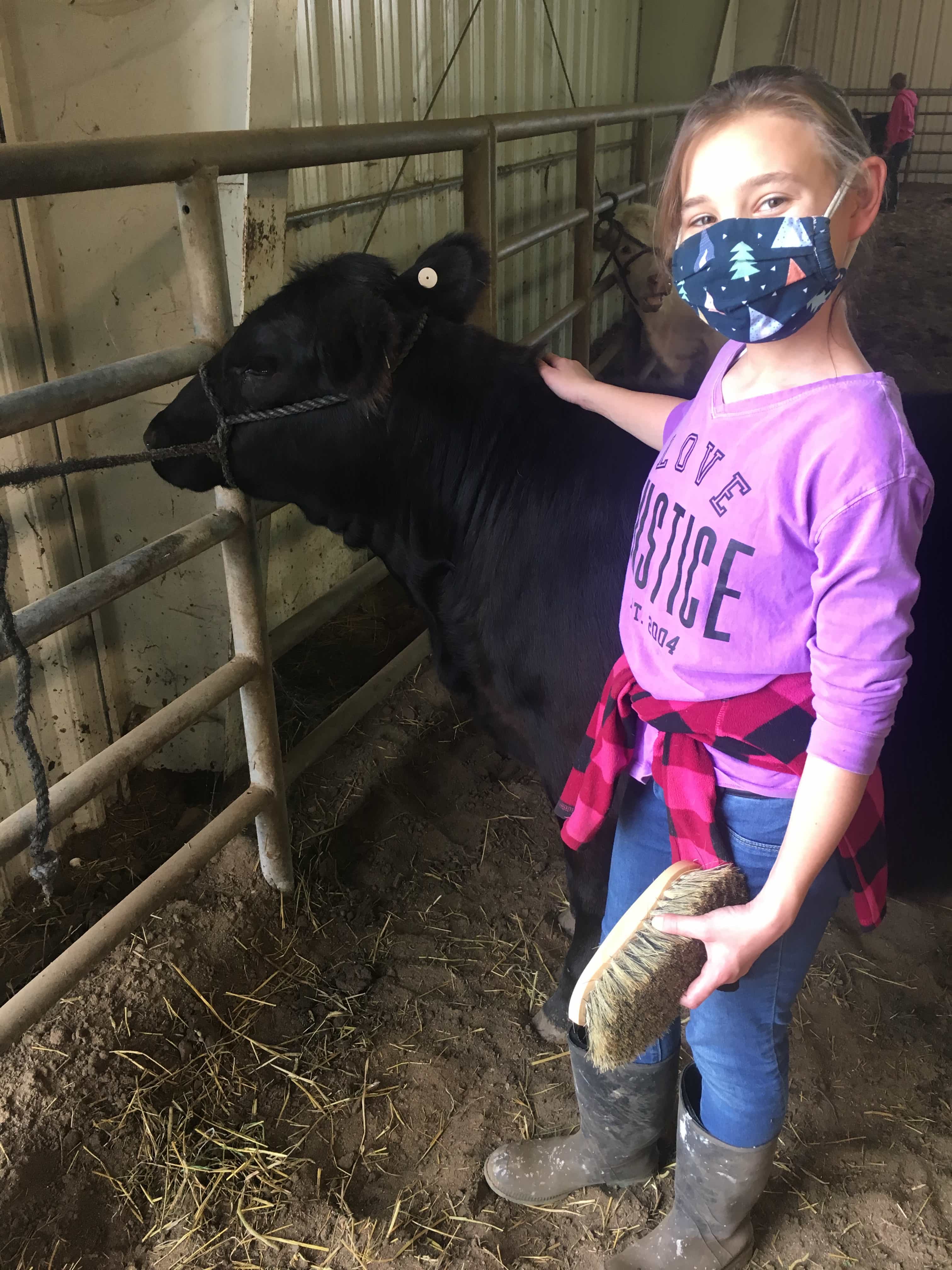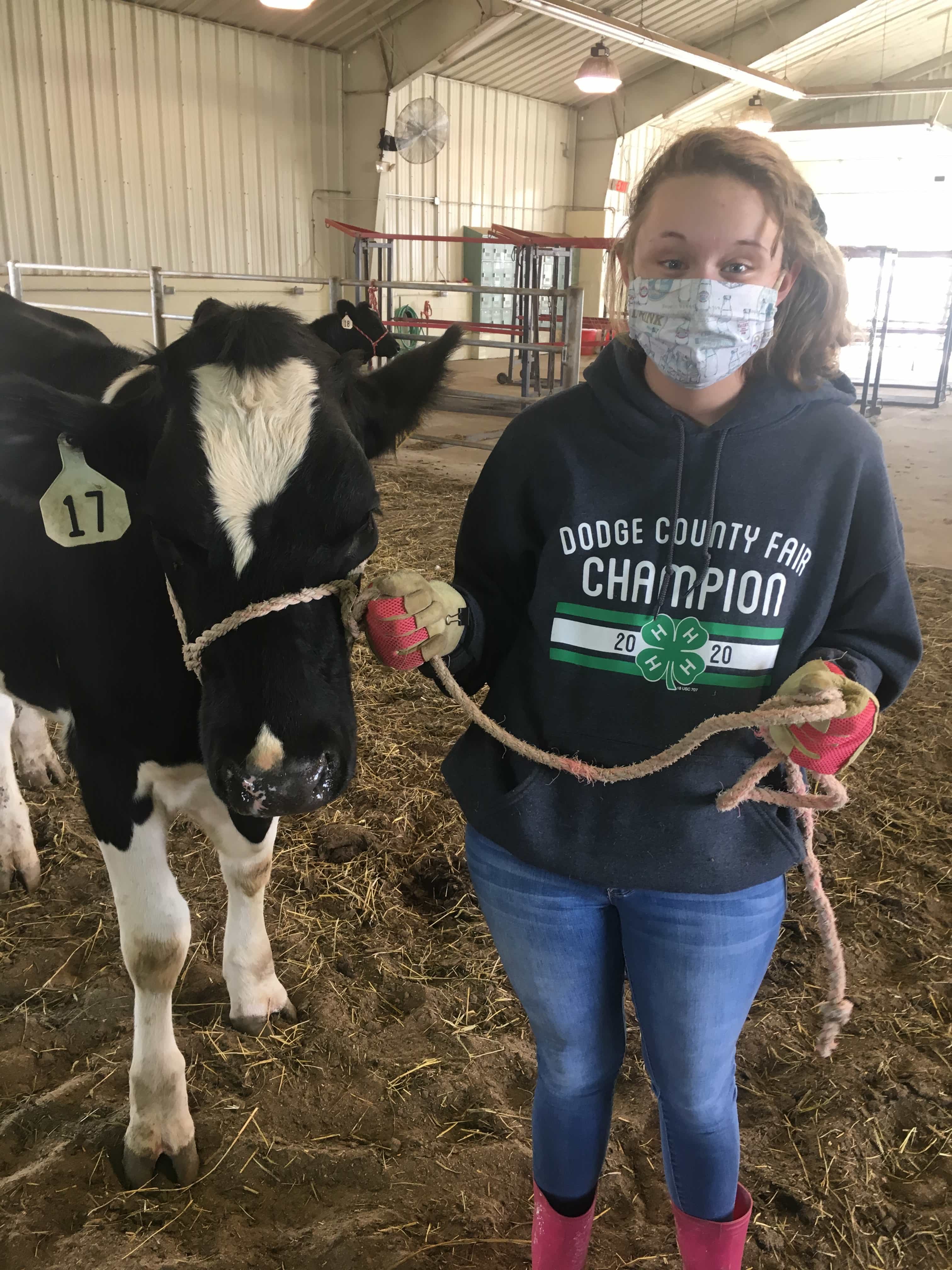 Putting a halter on a calf's head seems easier than it is. Most of the calves are still skittish around people, so having someone put a rope type object around their face can be a challenge. Patience and perseverance usually prevail. This is a great experience for our 4-H'ers. For many of them, the barn is their favorite building on campus, even when their calf makes them think they are in a rodeo instead of a fair.
Masonic Charities Golf Tournament
September 21, 2020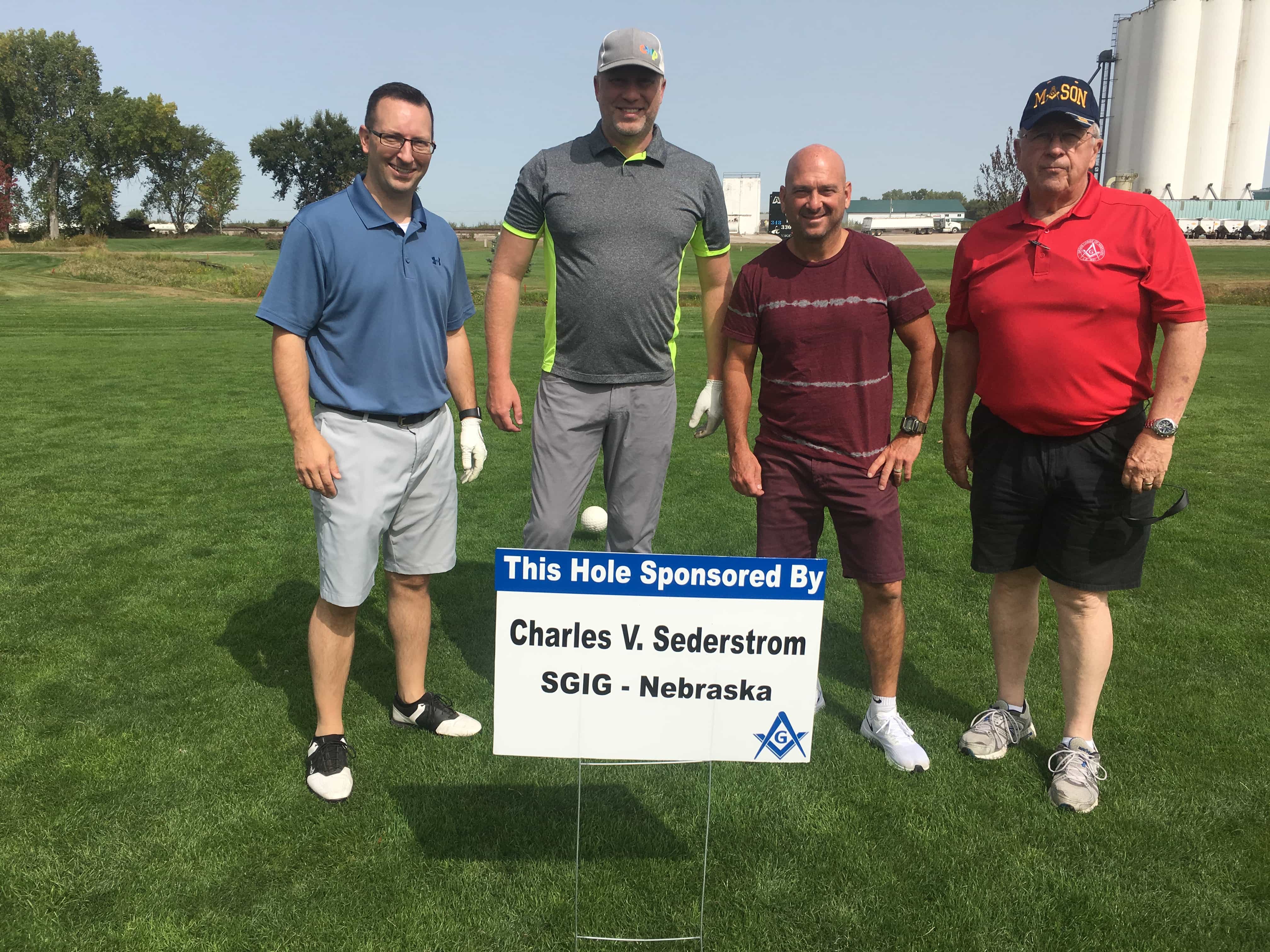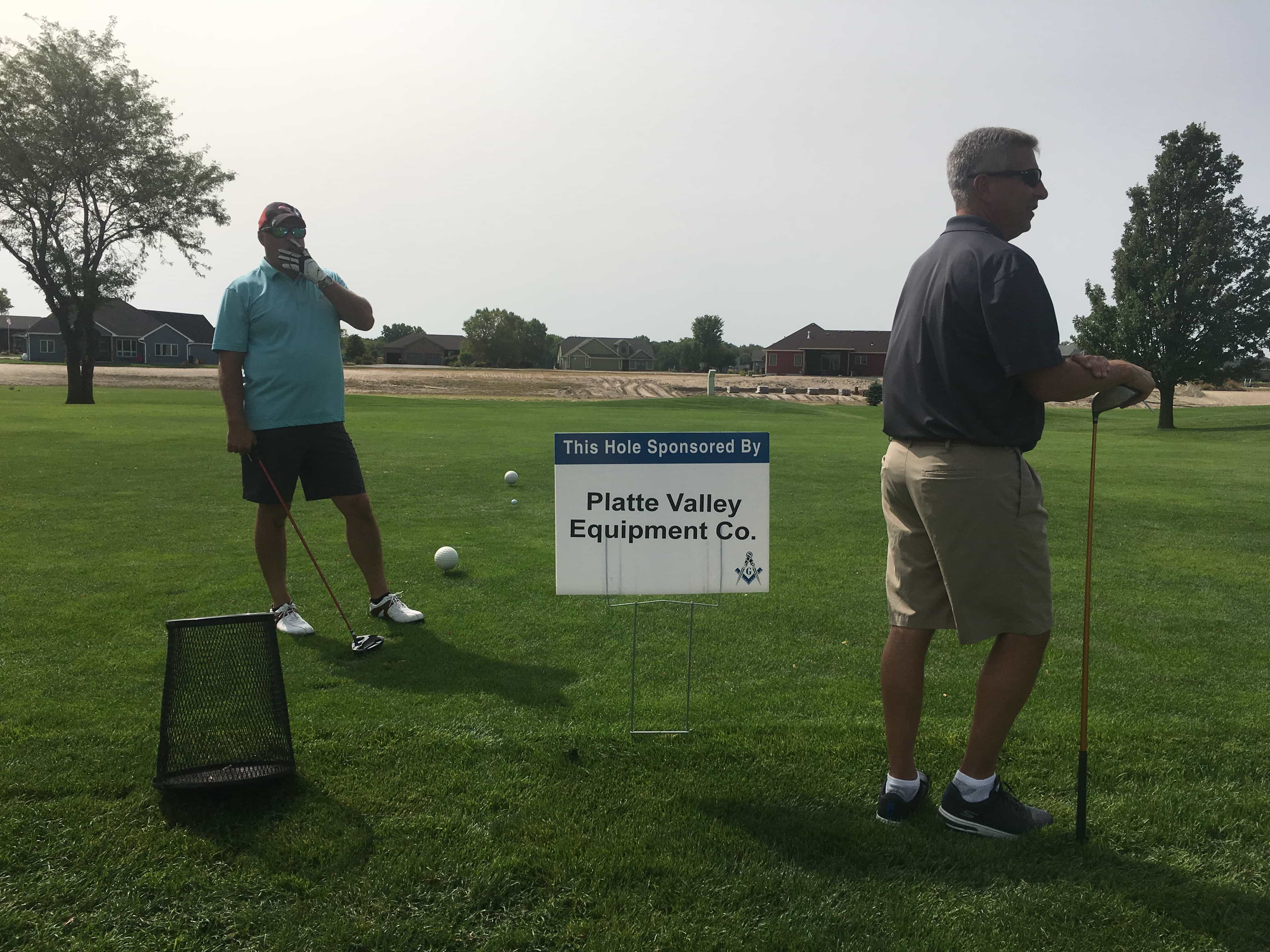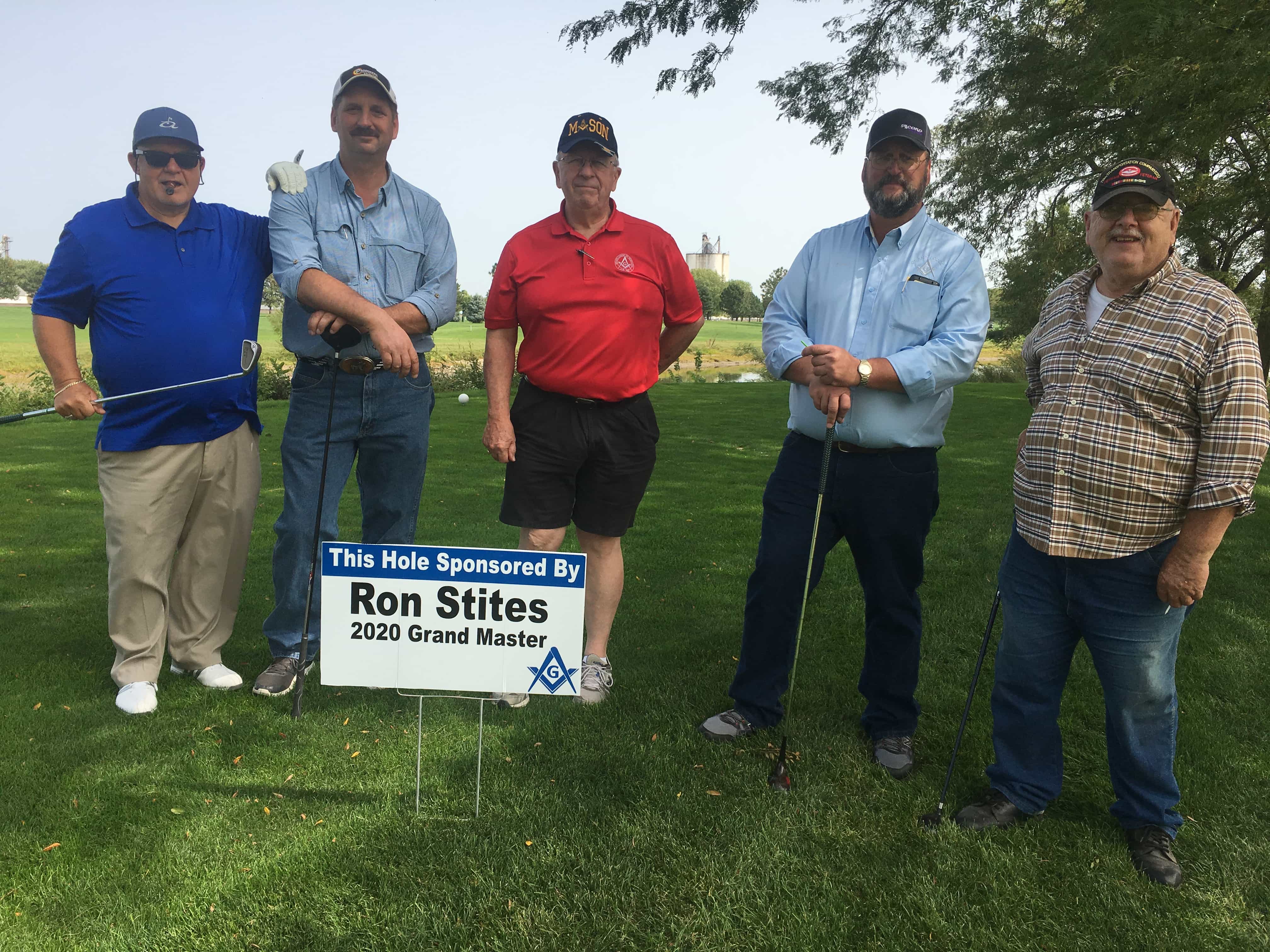 There was a record number of golfers at the 2020 Masonic Charities Golf Tournament. Perfect weather and steaks done just right made for a great day at the North Bend Golf Course.
The Children's Home receives part of the proceeds from the golf tournament. Those funds will be used in the Grand Lodge Game Room at the Children's Home.
Our thanks to the golfers, sponsors and volunteers. A special thanks to Craig and Steve for grilling brats and steaks all day. This is their 12th year of grilling at the golf tournament.
Kentucky Derby!
September 14, 2020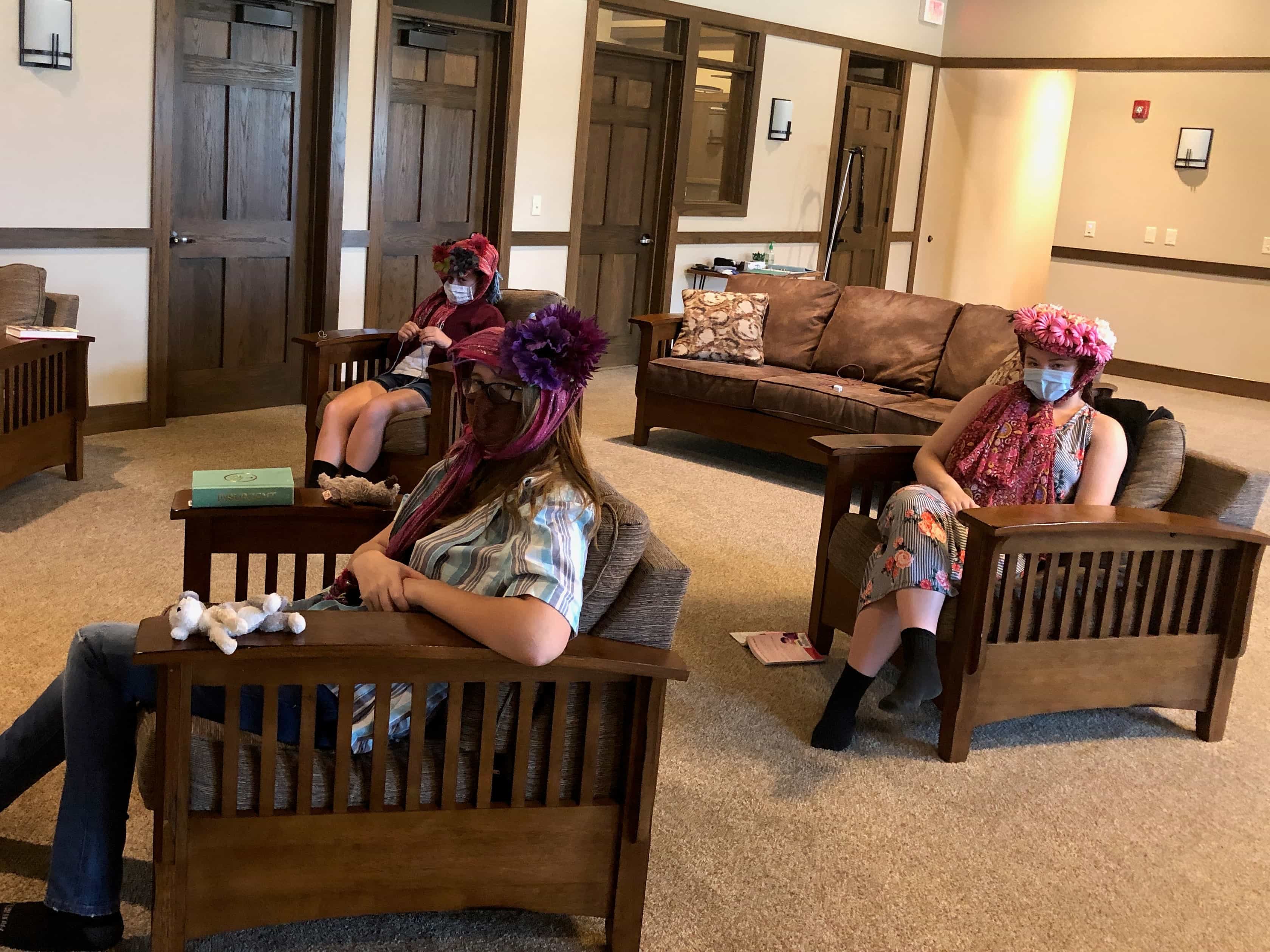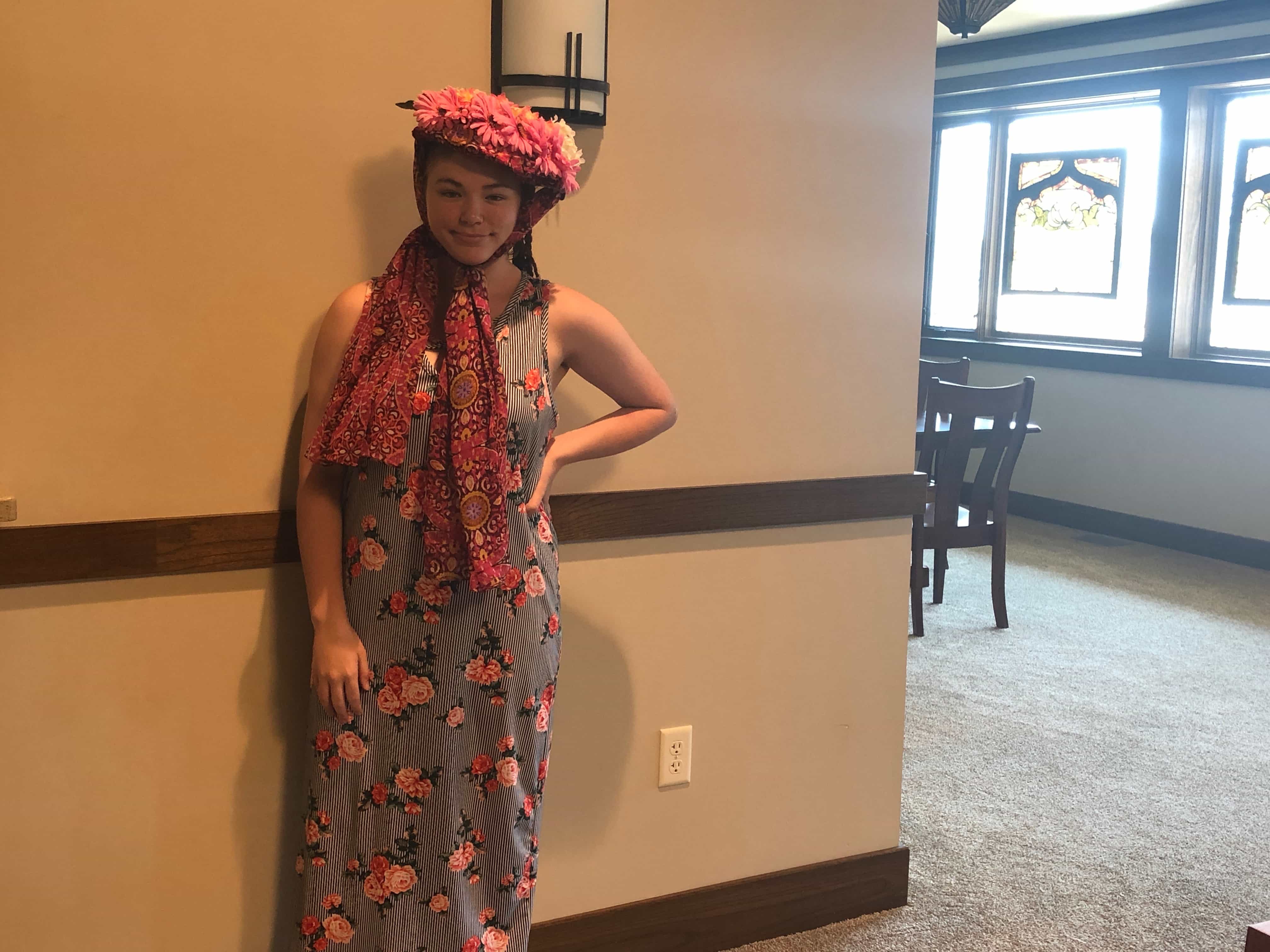 It was a big day at Paden Cottage. They put their sewing and creative skills to work, so they could watch the Kentucky Derby in style.
Sorry – no mint juleps or gambling on campus.
4-H Champions!
August 31, 2020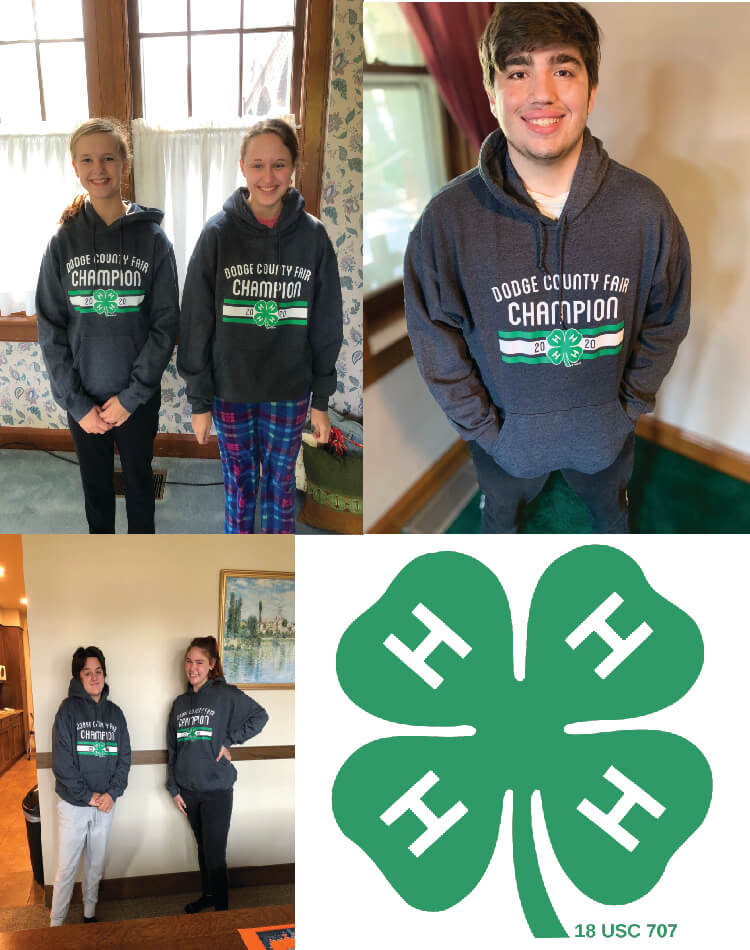 Five 4-H'ers earned Championship status at the Dodge County Fair
Projects: two woodworking, one baking, a career poster and a safety poster.
Quilts and Cows!
August 24, 2020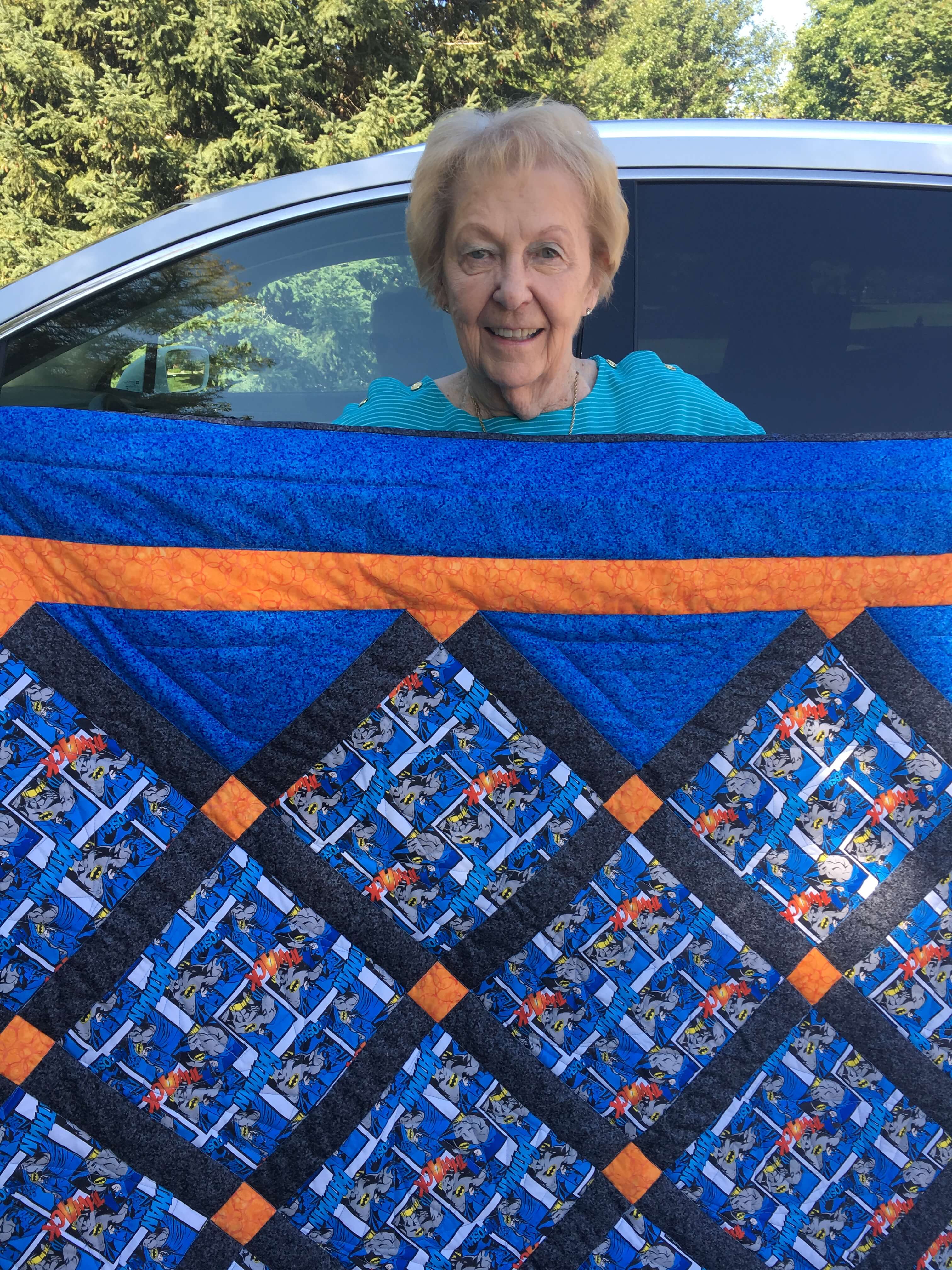 Sharlene saw that Ethan, aka Batman, was a huge Batman fan. She made a quilt with a Batman theme and gave it to him as a high school graduation present. He was very excited to get it shortly before joining the Military.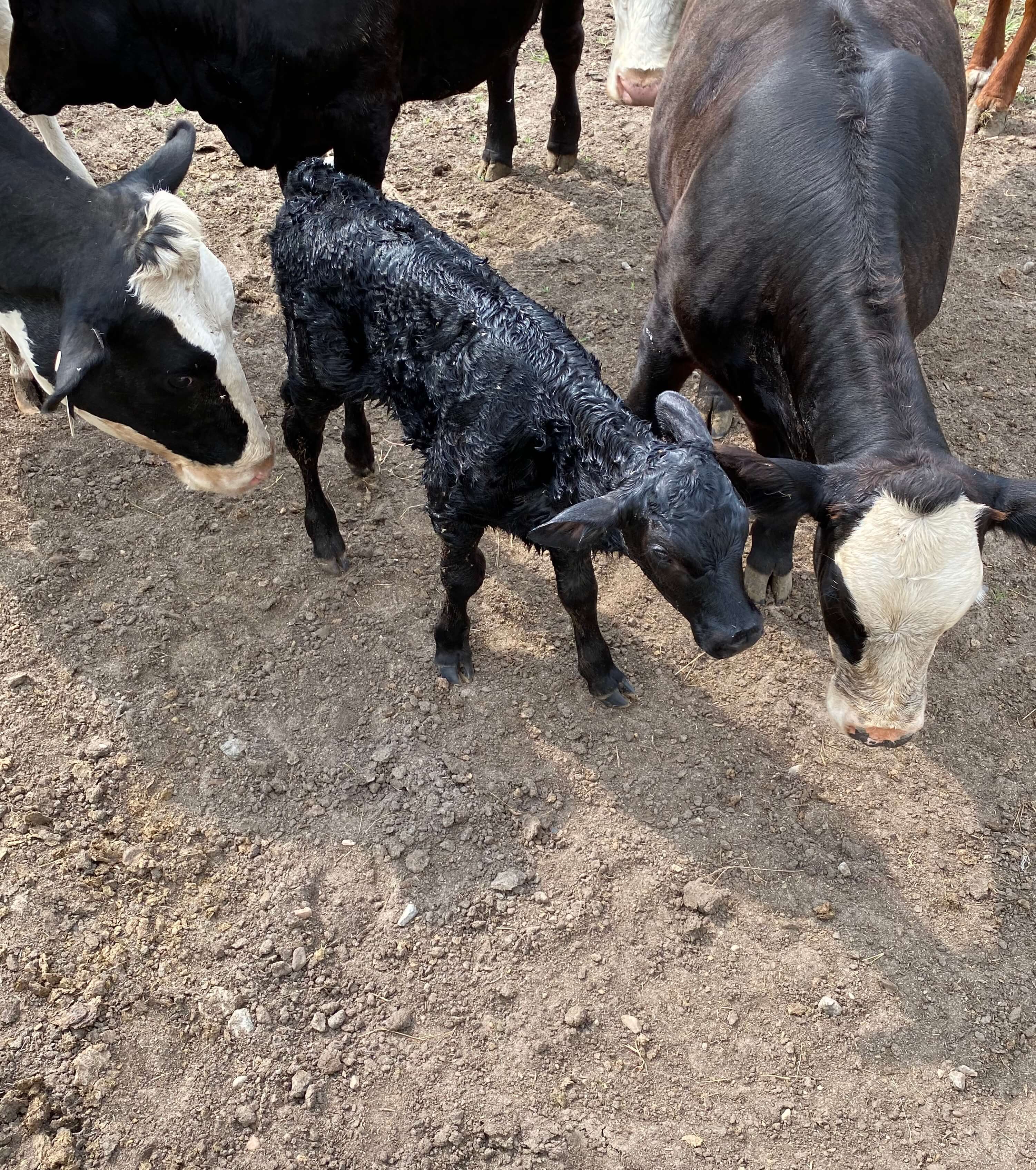 Our last calf of the year was born on August 23, 2020. Rumor has it that the Holstein/Angus might get the name Michelle Jordan – after the famous basketball player Michael Jordan. Michael wore the number 23 and Michelle was born on the 23rd.
Grand Lodge of Iowa Tree Damage
August 18, 2020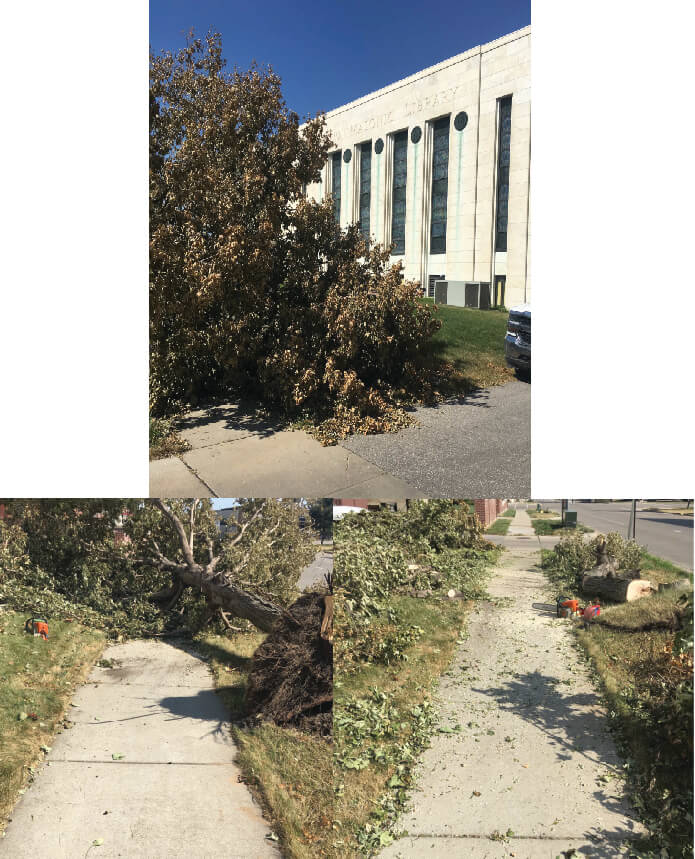 In Cedar Rapids clearing fallen trees from the Grand Lodge of Iowa's Masonic library and museum after the storm went though the state.
Iowa masons were very gracious to the Children's Home after the 2019 flood. It's the neighborly thing to do.
Tree Damage
August 17, 2020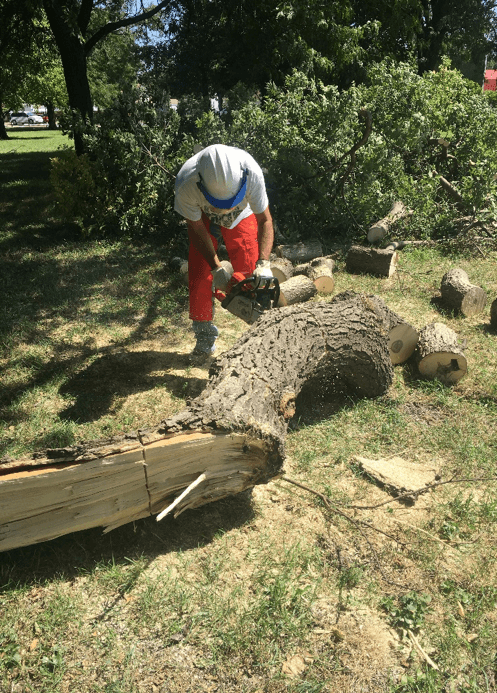 Todd, the Children's Home's Youth Director, pitched in to help clear the campus of 3 downed trees and 8 large branches that were damaged in two separate wind storms. Todd has a lot of experience pitching in. He was a professional baseball pitcher in Europe before coming to the Children's Home.
Koda Finishes Basic Training
August 3, 2020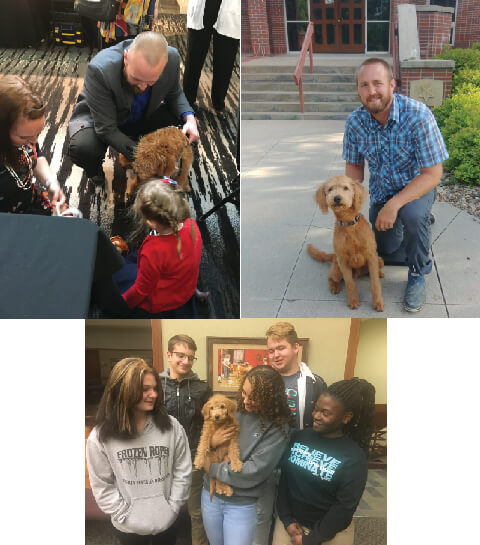 Koda and TJ completed basic training for comfort dogs and their handlers.
Because of the pandemic, some of the training had to be Zoomed. Koda and TJ stayed focused, did their homework and passed their test.
Even after the training that stresses discipline, Koda has a lot of puppy in him. He needs puppy energy to keep up with the children. Koda also has a knack of spotting a child who needs some cuddle time.
Koda and TJ make a good team. Together they made it through basic training and together they will give the children something that only a pup can provide – a lot of fun, unconditional love and a touch of comfort.
Lonely Walter
July 27, 2020
Walter, our miniature donkey, will miss seeing the members of the Rawhide Wrangler 4-H Club. The 4-H'ers will be putting the finishing touches on their 4-H projects, so they can take them to the Dodge County Fair.
Baking, sewing, woodworking and career projects are some of the many projects that will be in competition at the fair.
The 4-H'ers are hopeful that their projects are chosen to go to the Nebraska State Fair.
Project photos will be posted once the results from the fair are in.
Welcome Back!
July 19, 2020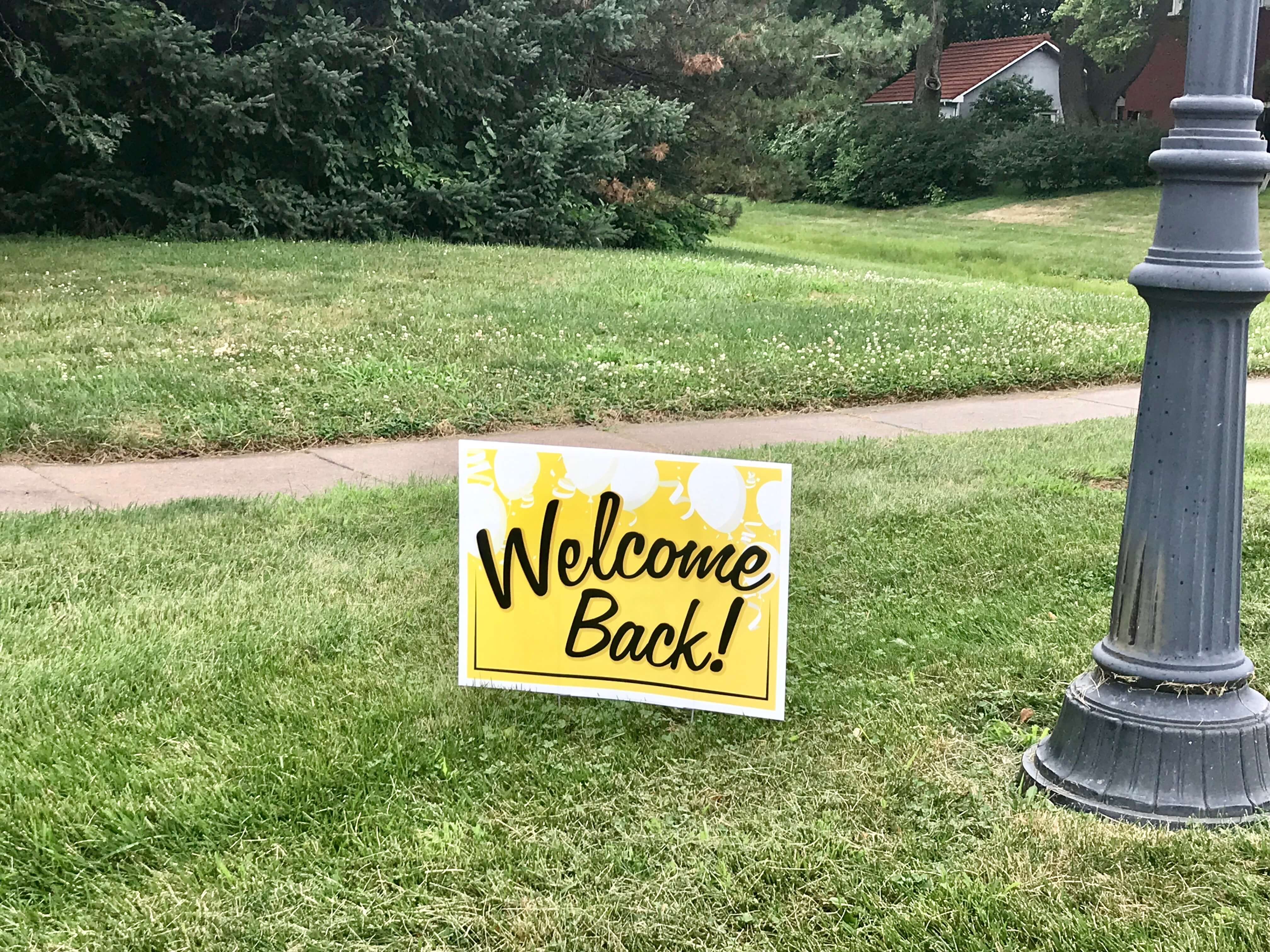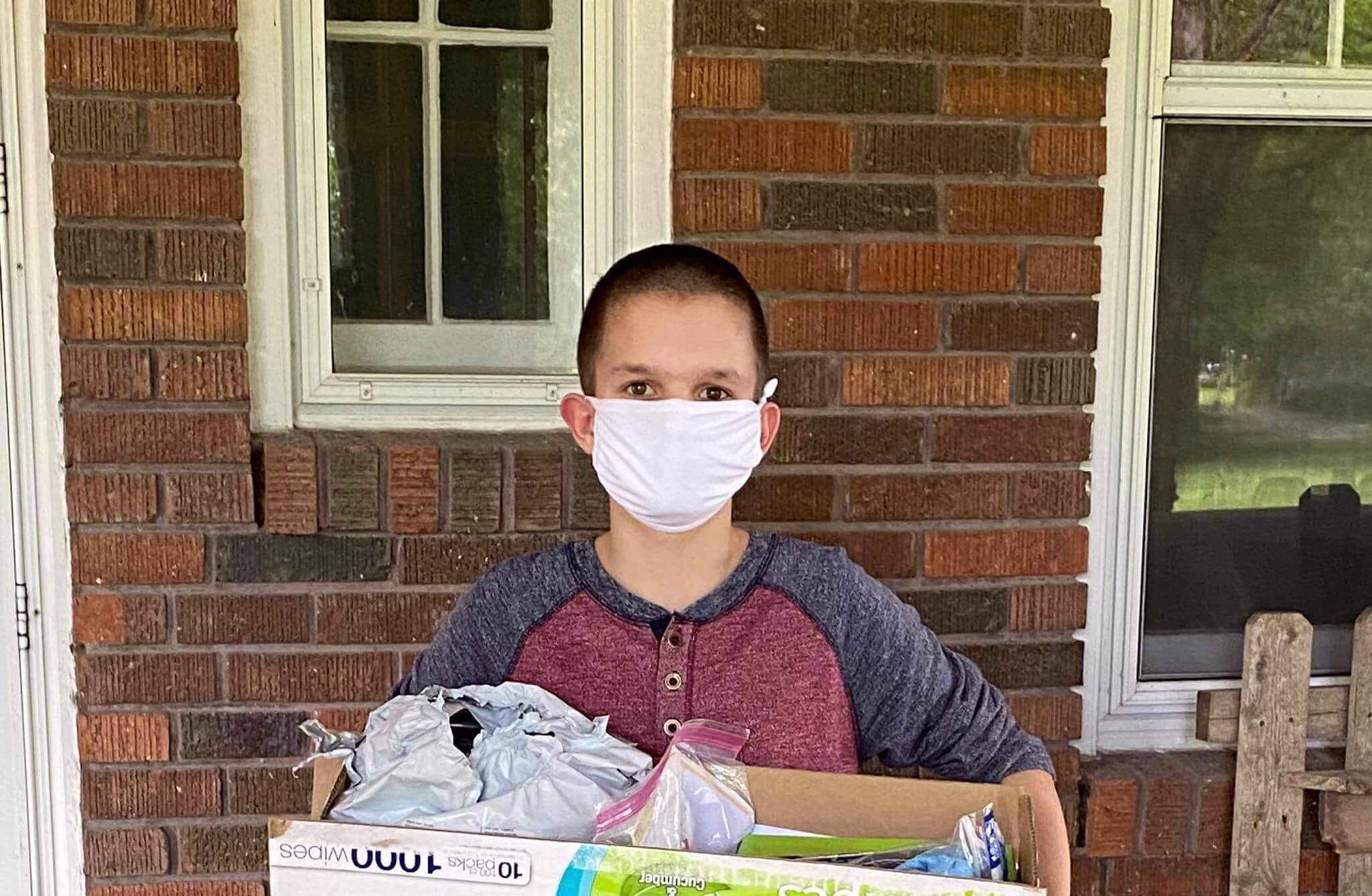 It has been a strange and not-so-fun year so far. But these signs at our entrance sure bring some hope!
The first wave of youngsters moved back July 15. The rest will trickle in before school starts in August.
A small number arrived on the 15th, and although there are a lot of policies and procedures that need to be followed, we are hoping this is the beginning of a sense of normalcy.
4-H During a Pandemic
July 3, 2020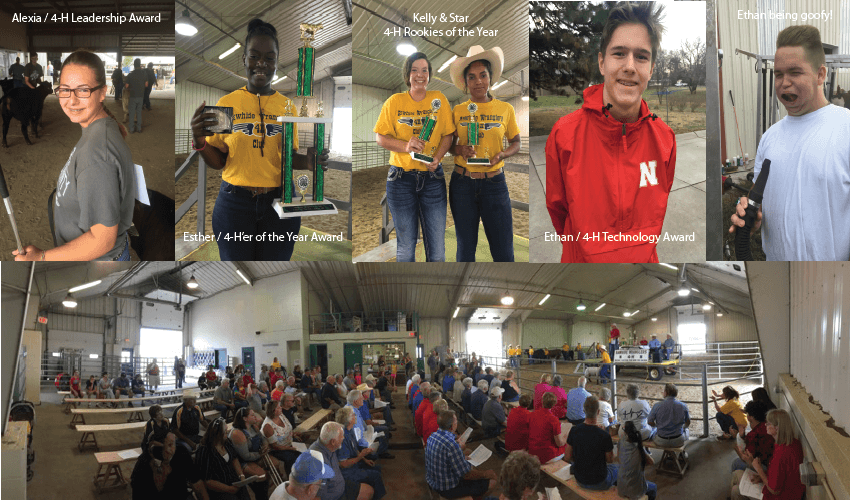 The county fair is going to happen in Dodge County, Nebraska!! It will be a modified version, because of coronavirus concerns. Whether it's a normal fair or a modified version, the Children's Home's Rawhide Wrangler 4-H'ers will be able to enter their projects into a competition. The hopeful fruits of their labors will exist during a pandemic.
Since the beginning of March, children have been working on their 4-H projects and Basic Agriculture Technology classes online. Most of the 4-H'ers have completed their automotive (modified), career, baking, art and fishing (modified) projects. They will have up to 18 online projects to complete by the end of the summer.
Beef projects will also be extremely modified this summer. In the middle of June, we have a Calf Draft on our Facebook site. The Calf Draft generated a lot of attention from current and former Rawhide Wrangler 4-H Club members and many other interested parties. The Calf Draft was a fun way to keep our 4-H'ers interested and a way to keep things partially normal for them.
Lightning might strike me for saying this, but the pandemic has served as a positive learning event for our 4-H'ers and the staff. It has taken the ability to problem solve to a new level. After a little bit of postage and a few ingredients, who would have thought that microwaved rice crispy bars could have been taught via Zoom.
I'll leave you with an analogy from the original Rocky movie. This stage of the coronavirus is like Rocky between the 14th and 15th rounds. Rocky's eyes were swollen shut from getting pummeled by his opponent, but he wanted to keep fighting. He asked Mick, his trainer, to cut his eyelids open. Our 4-H'ers and our communities are like Rocky between the 14th and 15th rounds. Nobody wants to throw in the towel. We want to keep fighting and learning through methods that most people wouldn't have imagined.